If you are a seasoned welder, you already know the importance of good protective gear when you are on the job. For beginner welders, protective gear and clothing are a must in a dangerous profession like welding.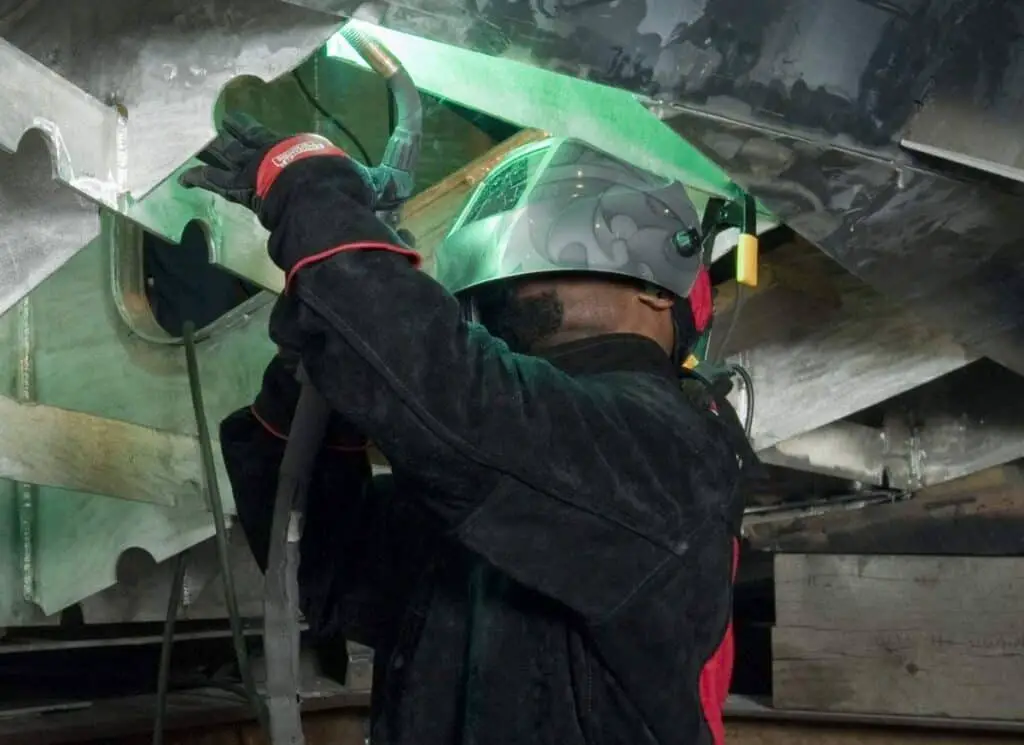 Regardless of if you are a pro or a hobbyist, you need to be protected from molten metal, heat, fumes, metal fragments, and anything else that exposes you to danger. A welding jacket is a fundamental piece of protective gear.
Our team, made up of pro welders, set out to research and find the best welding jackets to assist you in the task of finding one that suits your needs.
With so many jackets available, deciding which one to buy is incredibly challenging. For this reason, we asked the pros to clue us in on exactly what they look for in a welding jacket.
After a month of testing on the job, we made our choices among cotton and leather jackets. Our overall favorite is the Lincoln Electric Welding K2989 Jacket. We liked the outstanding protection this jacket offers together with breathability thanks to its combination of leather and cotton in its construction.
Another jacket that grabbed our attention for its outstanding quality is the West Chester Ironcat 7005 Cowhide Jacket for welders that want full leather protection.
What We Looked for in a Welding Jacket
We started with a list of factors to evaluate in our search for the best jacket for welders. This is what we considered.
1.) Material. The material or mix of materials that a jacket is made of is of primary importance. This material or combination of materials will determine exactly how much a welding jacket can protect you. It will also influence durability and of course, the cost.
Welding jackets are manufactured in a variety of fibers or textiles, and you will want one that guarantees protection, durability and fits into your budget. Common materials employed in the manufacturing of welding jackets include:
Cotton. This is a very common fiber often used in welding jacket production. It is appreciated for its light weight, flexibility, versatility, and comfort.
Leather. The best feature of leather welding jackets is their durability. It will also protect from the high temperatures associated with welding and from fire. Typically, these jackets are made from split-grain leather or top-grain leather.
Manufacturers also tend to combine other textiles with leather to achieve optimal flexibility and improved wearability.
Nylon. This is a synthetic known for its elasticity and strength. Nylon welding jackets are exceptionally popular with welders because they are affordable and offer great resistance to abrasion, fire, and water meaning they last.
Other Materials. Welding jackets can be found in Kevlar, denim, rubber, cowhide, among others.
2.) Durability. The longevity of a welding jacket should always be a consideration because you are investing, and you want your money's worth. No one can say for certain how long a jacket will last but there are things that you can look for.
The material quality and the manufacturing quality will influence product longevity. Also, reflect on how much it will be exposed to extreme conditions during welding. A welding jacket should last approximately two years, so if you can afford better quality, go for it.
Another aspect that will influence the durability of your jacket is how well you take care of it. Maintenance is fundamental. However, continued exposure to extreme heat can damage your jacket and mean a shorter garment life.
3.) Size. It's important to find the correct size, especially if the jacket is sold in generic sizes like small, medium, large, etc. The correct size will improve the wearability as well as the protective characteristics of the jacket, and your comfort on the job.
If you are selecting a jacket online and do not have the possibility to try it on before purchasing, follow the manufacturer's sizing recommendations.
If the brand provides measurements or a sizing chart, make sure to measure according to the indications given. Also, it is wise to measure over your work clothing as the jacket will be worn over it.
Working Environment. The welding environment is fundamental when selecting your welding jacket. Environmental temperatures will influence the choice as the jacket must protect but at the same time be comfortable. Consider if you weld outside and what the weather is like if so. Do you work in a hot or cold climate?
For warmer climates, breathability and moisture-wicking will be big factors in your choice. Should you work in a colder climate, you'll want an insulated jacket. Regardless of cold or hot temperatures, remember that the jacket must protect you from welding risks.
With these things in mind, you will be able to find the best welding jacket for your specific welding environment and needs.
Welding Jacket Reviews
Best Overall Welding Jacket
1. Lincoln Electric Welding K2989 Jacket
Prices pulled from the Amazon Product Advertising API on:
Product prices and availability are accurate as of the date/time indicated and are subject to change. Any price and availability information displayed on [relevant Amazon Site(s), as applicable] at the time of purchase will apply to the purchase of this product.
Our overall top pick is this well-designed Lincoln Electric welding jacket in heavy-duty cowhide leather.
The arms, front, and sides guarantee full protection thanks to quality split-grain cowhide while the back of the jacket is manufactured in breathable cotton that is flame-retardant treated. This compromise of materials reduces heat to some extent and improves your comfort.
The arms are sewn with several sections in the armpits to improve movement including reaching upward. A center strip at the front that hosts the buttons is layered in design to improve protection and impede damage to the buttons.
A layered leather collar completely protects your neck from sparks, spatter, and dangerous welding rays. The sleeves and the cuffs of this jacket can be adjusted for comfortable, close protection. The inside of the jacket features a large pocket capable of hosting gloves, glasses, or small tools or parts.
Pros
Comfort design

Great for overhead work and out of position welding

Heavy-duty leather

Cuffs are adjustable
Cons
Not for hot weather

Bottom button opens

Sleeves are unlined and catch on clothing 
Check Price and Reviews on Amazon
---
Best Welding Jacket for Hot Weather 
2. Revco Welding  BSX BX9C Stryker Jacket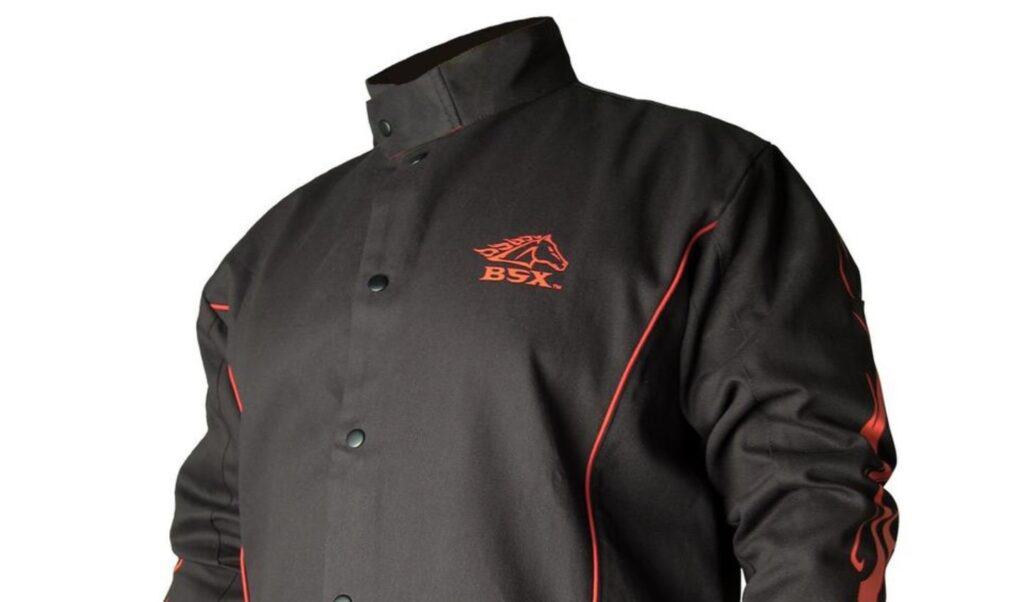 This jacket from Revco is made in a very light cotton material weighing all of 9 ounces yet offers flame-retardant capabilities. The Revco brand is actually a brand of manufacturer Black Stallion.
It is a convincing jacket for hot climates or hot weather. It also can be used for doing lighter welding such as MIG or TIG applications with a low amperage, or a little job with flux core welding.
This jacket boasts a tall collar that is adjustable giving your neck lots of protection from radiation or spatter. Adjustable cuffs provide a good fit that impedes sparks or spatter from entering the arm area.
The waist is adjustable helping with the fit, and the jacket features an inside pocket with a zipper for storing your gloves or other.
Pros
Lightweight 9-ounce material

Adjustable collar and cuffs

Cooler than leather jackets

Nice design with snap buttons
Cons
Less durable than leather

May shrink in a washing machine
---
Best Budget Welding Jacket
3. Miller Electric Welding Jacket #2241909  
Prices pulled from the Amazon Product Advertising API on:
Product prices and availability are accurate as of the date/time indicated and are subject to change. Any price and availability information displayed on [relevant Amazon Site(s), as applicable] at the time of purchase will apply to the purchase of this product.
This budget-friendly jacket is both lightweight and comfortable. Manufacturer Miller Electric has a great reputation when it comes to welding accessories and equipment, and this jacket bears that out.
The collar is designed nicely for accompanying a welding helmet for complete protection. Adjustable wrist cuffs that fit well with gloves impede sparks and metal spatter from harming your arms.
Made in 88 percent flame-retardant cotton and 12 percent nylon, it obviously cannot withstand on-the-job wear like a leather jacket in terms of durability, however, it will do you well in hot weather and for light welding chores.
While resisting sparks, it may not withstand large spatter drops. It will do the job for TIG applications with low amperage or for MIG and flux core with thin wire.
Pros
Budget-friendly

9-ounce cotton and nylon blend

Very lightweight

Collar and cuffs designed for protection

Waist can be adjusted for fit
Cons
Not durable or protective like leather
Check Price and Reviews on Amazon
---
Best Leather Welding Jacket
4. West Chester 7005 Cowhide Ironcat Jacket for Welding
West Chester IRONCAT 7005 Heat Resistant Split Cowhide
The leather jacket with heat resistance properties is specially designed to protect you from spark and spatter.

The cowhide leather jacket also includes a hip-side pocket and a soapstone storage pocket on each sleeve.

The welding apparel is sewn with high-strength Kevlar thread that offers heat resistance.

Comfort Fit
Prices pulled from the Amazon Product Advertising API on:
Product prices and availability are accurate as of the date/time indicated and are subject to change. Any price and availability information displayed on [relevant Amazon Site(s), as applicable] at the time of purchase will apply to the purchase of this product.
If your personal preference is for a good leather welding jacket, this West Chester Ironcat jacket is a good, rugged option. Clearly, leather welding jackets will be hot in some climates or welding environments.
This jacket features a loose design together with flexible, soft leather for your comfort and for ease of movement. A waist pocket allows for glove storage and there is a pocket for scribes on both arms.
This is a rugged jacket, made for durability that features Kevlar stitching for improved heat resistance and metal rivets at potential stress points. Adjustable wrist cuffs guarantee a good secure fit and a high neck for protection.
The waist is adjustable to improve fit, although sizes tend to run on the large. It is not insulated or lined, meaning arms may catch on your clothing when putting it on and it will probably be insufficient in cold climates.
Pros
Soft flexible Glove-tanned leather 

Good-sized waist pocket

Steel rivets for reinforcement

High neck and adjustable wrists and waist

Easily cleaned
Cons
May be hot to wear

Sizes run somewhat large
Check Price and Reviews on Amazon
---
FAQs
Why should I wear a welding jacket?
PPE or personal protective equipment is always necessary. You need a top-notch welding jacket for its protective qualities to minimize any risks you may encounter while welding.
Welding arcs emit both IR and UV radiation during welding, exposing your skin to damage and increasing the risk of skin cancer.
The best jackets will offer you fire resistance and thermal insulation, as well as protecting you from sparks and any metal spatter that can cause severe burns.
How long can a welding jacket last with continued use?
Longevity will be determined by a combination of factors such as the manufacturing material, the material's quality, your working environment, and if you use your jacket daily or only occasionally.
Care and maintenance will make a difference. A quality welding jacket can last a lifetime, however, exposure to heat, moisture, and dust particles will take its toll on the jacket.
What are the top features to consider for when purchasing?
The top considerations when selecting and purchasing include electrical hazard resistance, heat protection, thermal insulation, fire resistance, quality materials, durability, and comfort and wearability.
Can I wear a welding jacket for other work?
Not really if you intend to continue wearing the jacket for welding purposes, you do not want to compromise its protective capabilities by damaging it during other types of work. 
Can I wash a welding jacket?
Some jackets may be washed in a washing machine depending on the fabric used. The majority, however, of welding jackets are cleaned by brushing or by wiping them with leather oil. In any case, follow the manufacturer's recommendations.
How much will a welding jacket cost?
The materials used, and the brand's reputation will undoubtedly influence pricing, However, you can find jackets that are budget-friendly.
Jackets can be found for as little as approximately $25 and increase in relation to materials, features, and brand.
Conclusion
A welding jacket is fundamental for your protection regardless of if you are a professional or a DIY hobbyist. Nothing matters more than your well-being and health in the workplace or workshop.
Finding the perfect welding jacket will require a bit of your time, but we hope this article will get you started on your search to find the best welding jacket. Thank you for reading and happy welding!