Welding is an extremely hazardous occupation. According to the Occupational Safety and Health Administration (OSHA), an estimated 562,000 employees are exposed to chemical and physical dangers during welding, cutting, and related procedures each year. 
Therefore, awareness about proper fabric to be worn while welding is essential. Welders usually wear fabrics like cotton, denim, that are super comfortable. But let us check if wearing jeans is actually safe. 
Welders wear jeans because they are made of denim, a tightly woven cotton fabric that does not burn easily. For welding, fire retardant jeans is considered one of the safest options. It also provides good UV and infrared radiation protection, and lasts a long time. 
Remember, not every pair of jeans is fire retardant. Brands such as Wrangler, Ariat and Carhartt are some of the few brands that have FR treated jeans.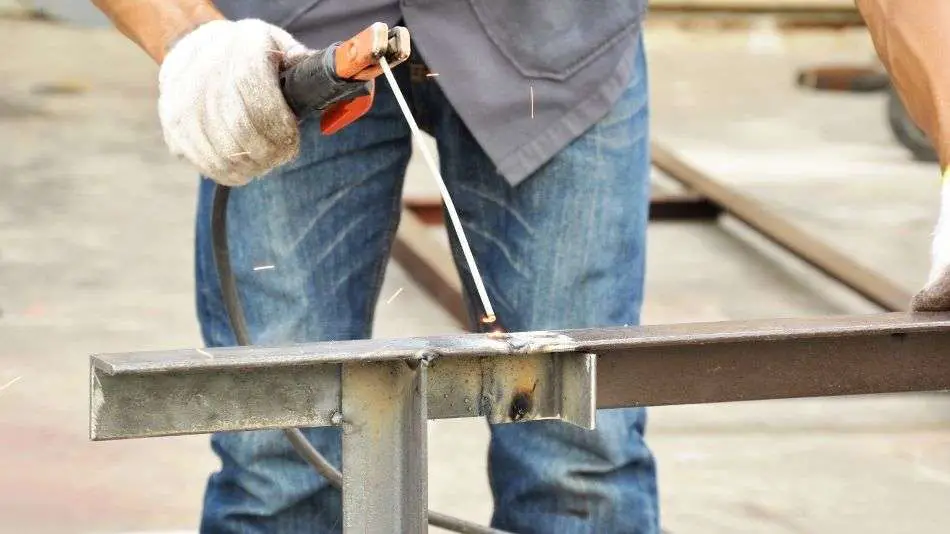 Reasons to wear jeans while welding
If you work as a welder, you understand how crucial it is to wear clothing that can withstand the rigorous circumstances of welding.
Here are a few reasons why wearing jeans is a good option.  
1.) Jeans do not catch fire easily.
To begin, jeans are made of a durable cotton fabric known as denim. Cotton does not burn easily by nature. This isn't to say it won't burn, but it takes more than a few sparks to set them ablaze.
2.) It has a weave pattern for durability.
Durability is one of the most common reasons why welders prefer jeans. You don't have to keep purchasing because the material is extremely sturdy and long-lasting. 
This is why it is the first option for garments used for physically demanding professions. 
The cloth is made with a high thread count and a twill weave design. Despite the fact that the basic material is cotton, the final material with the diagonal rib pattern produces durable apparel that holds its form. 
3.) Protects from harmful radiation.
Jeans prevent your legs from being burned by the radiation that welding emits. Welders burn and melt metal at temperatures ranging from 10,000 to 15,000 degrees Celsius. As a result, the welder emits UV and infrared light, which can cause sunburn. 
Jeans does an excellent job of shielding your legs from this powerful radiation. 
4.) Jeans require low maintenance. 
Because welding is a demanding occupation that keeps welders always on their toes, jeans are an ideal clothing because they do not require continual upkeep. It is a robust substance that can withstand harsh conditions. 
Washing jeans is super easy when it comes to laundry. Denim's twill weave is designed to disguise stains, but if your jeans become stained, spot cleaning is an easy solution. 
5.) Wrinkle-free appearance. 
The reason why I say jeans are low maintenance is because they do not need to be washed often, they're a rough and tough material. And also, being a welder, you will hardly have time to iron and keep them. 
But jeans are wrinkle-resistant due to the weaving technique and the thickness of the cotton used. 
6.) Ideal for all weather and seasons.
In terms of comfort, jeans may be worn in both hot and cold climates. This is due to the fact that it is available in a variety of thicknesses and patterns. 
This makes it the most appealing alternative for professions that require work even during hot, cold and rainy days. 
7.) Reasonable cost
If you intend to wear fire retardant jeans, it may not come cheap but it isn't too expensive either. Go for a strong pair of jeans which will be reasonable. 
A good pair of fire protective jeans will cost you somewhere between $50 and $200. 
See also: Do Welders Starch Their Jeans?
Features to look for before purchasing jeans for welding 
1.) Material 
One of the most important aspects to consider is the material of the jeans. To ensure that you have the necessary protection during welding, which includes exceptionally high levels of heat and flame, the jeans should be composed entirely of cotton denim. 
2.) Safety
Look for FR treated jeans in the tag or label while purchasing, which means they are treated with chemicals to make them flame resistant. 
3.) Longevity 
It is critical that your jeans can withstand a lot of wear and tear when you operate with numerous tools and equipment as welding is a tough job. 
If they are not constructed of high-quality material, they will wear and tear sooner than you would want, and it is also super risky while welding. 
4.) Comfort 
You must be comfortable in order to perform properly when performing any type of welding operation. 
As a result, the jeans should be constructed of breathable material to provide you with the degree of comfort you require while working. 
5.) Weight 
Your welding jeans should be lightweight to allow you to move about freely and quickly. As a result, although having all of the required qualities, the pants should not be too heavy to wear while working. 
6.) Size and fit 
The size and fit of the jeans are important features since ill-fitting pants make it difficult to focus at work. Wearing pants that are too tight or loose tends to affect your work efficiency because of lack of comfort and concentration. 
Recommended jeans while welding
1.) Wrangler Riggs Vintage Jean


This lightweight, comfortable pair of jeans comes with FR pockets, normex FR in all seams and tool pocket to hold in tools while you're working. 
2.) Ariat Men's Fire Resistant Denim

These jeans are made with long-lasting flame-resistant technology that provides a superb fit and outstanding comfort without sacrificing safety and protection. Anchored belt loops, heavy-duty zippers are among the features that improve functionality and longevity.

These jeans are engineered to give tough flexibility of movement, and includes an arc-resistant button fastening at the waist for enhanced comfort and the security of flame-resistant protection.
4.) BOCOMAL FR Pants for Men

These FR jeans have a perfect and comfortable fit. And because it is made of cotton, it is prewashed/preshrunk, so all of your size questions are solved here. 
Conclusion
We don't really pay attention to the pants we wear while welding as our focus revolves around boots, gloves and jackets.
However, guarding your legs from burns is also critical. That is why jeans are an apt option while welding as they are comfortable, safe and durable.