MIG welders are incredibly versatile machines. While they do not offer industrial-grade power, they are a great power tool for the DIY welder or even small shop owner. What they lack in power, speed and flexibility compensate.
You may have begun acquiring your welding skills as a newbie with a 110V MIG welder which is a solid option for a beginner.
But now that you've acquired skills and experience, you may be in the market for a more versatile MIG welder that will offer you more options.
We looked searched and tested MIG 220 V welders to save you some time and some money when searching for your next welder.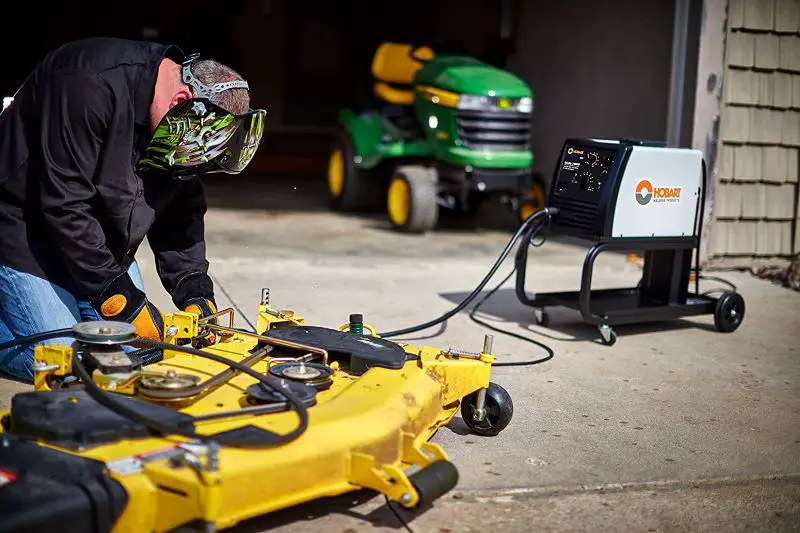 Our overall best choice fell to the Hobart Handler 500553 MIG 210 MVP Welder because it's a solid, dependable, and versatile welder at a mid-range price. However, if you are on a more limited budget, the Lotos 175A MIG Welder offers some interesting features for the price.
Comparison Table for Top 3 220V MIG Welders
The MIG in MIG Welding
MIG welding or gas metal arc welding, makes use of a solid heated electrode fed from a gun into a weld pool. MIG welding not only gives you a fast high-quality weld, but it also gives you a minimal loss of alloys and creates less spatter when you're working. 
It offers a great deal of function and versatility when working with multiple materials. The concept is simple: two base metals are melted and create a join. 
What Aspects to Think About When Choosing a 220V MIG Welder
A MIG welder provides a strong weld, but it will need to be cleaned. After cleaning it needs to be polished to improve its appearance. In MIG welding, there are two procedures that you can use:
GWAW Metal Arc Welding with Gas

FCAW Arc Welding with Flux Core
A MIG welder will either use a gas cylinder, flux core wire, or perhaps both.
FCAW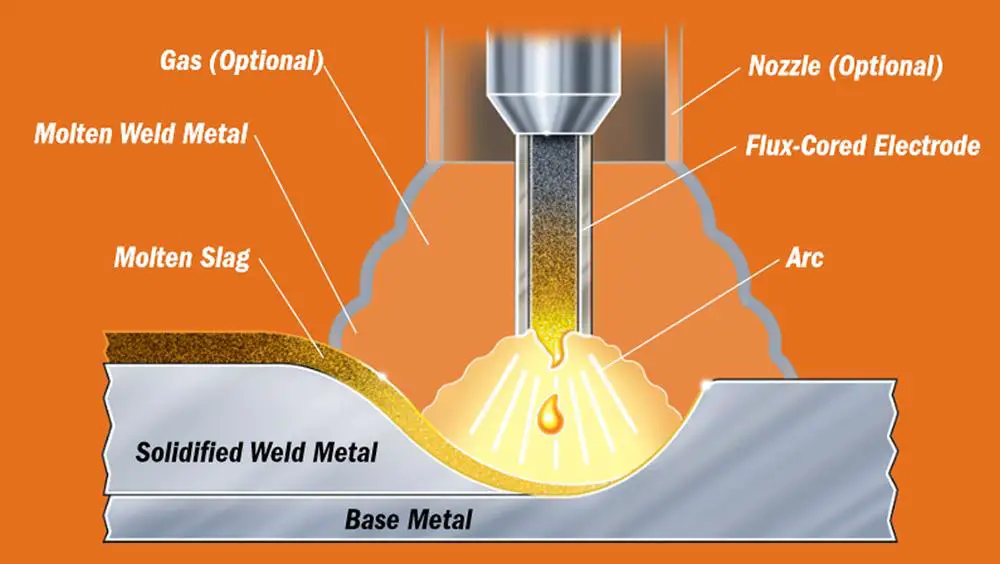 FCAW stands for Flux Core Arc Welding. A tubular wire is utilized with flux. This flux will form a shielding for the welding arc.
Shielding gas is also utilized with this method. This welding process is known as being very rapid and it also offers portability because an external gas cylinder is not necessary. It will create a layer of slag on the material that you are welding.
GMAW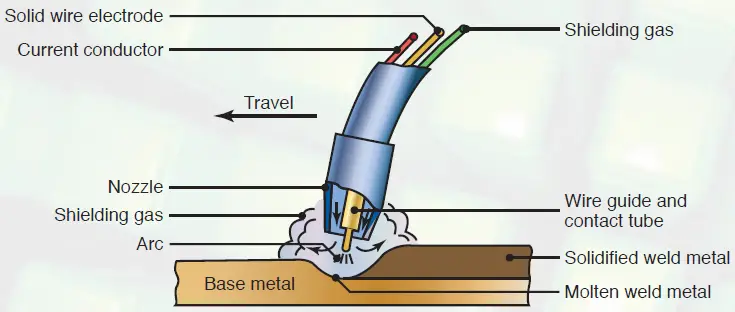 This method needs inert gas for the creation of a protective shield around your weld. Shielding gas is used specifically to prevent atmospheric contamination or any type of environmental contamination. Excellent as a method for welding very thin metals such as a 26-gauge plate.
The only drawback with using GMAW is that you must have a gas cylinder to weld. This is not the best option if portability is a priority for you.
As you consider which machine is the best 220V welder, think of which materials you want to weld for your projects. Some welders are more suited to specific welding applications.
Define the Type of Welder you need for your Welding Projects before Selecting your Machine.
1.) Power
Materials, their thickness, and electrode sizes influence how much power you need to weld. The standard home electrical supply in the United States is a single phase 110-120V.
For a 110V MIG, that's great. But 220V MIG welders must have a specific power outlet to run. If your home workshop does not have a 220V outlet one needs to be installed for a 220V welder.
Output amperage is important, and a 220V offers more amperage power and welding power. With weaker welders, you generally must make several passes to form the weld. 
Power outlets are fundamental with a 220V welder. You'll need the correct outlet as well as a power cord that is sufficiently long enough for you to complete your project.
2.) Duty Cycle
A duty cycle can be very important if you have a lot of welding to do, especially in terms of your time or if you have a deadline for your project.
Duty cycles indicate how many minutes in a period of ten-minutes total, a welding machine will operate at a selected amperage before it must be stopped and permitted to cool down. In this way overheating is prevented.
A welding machine with a 60%@160A duty cycle signifies that the machine can run for six minutes at 160A before it must rest for four minutes.
The longer a welding machine operates, the better for your project. You can weld for longer without the risk of your machine overheating. If time is vital to your project or project deadline, select a welder with a longer duty cycle.
3.) Wire Size/Material Thickness
What you plan on welding will determine the material you plan to weld and the thickness of the wire that you need to employ. Think about the metals you want to be able to weld.
Will you work with aluminum, carbon steel, copper, nickel, or stainless steel? Check to see what capabilities the welder you select has. It's a good rule of thumb to choose a machine that hypothetically can do more than what you think you need.
4.) Wire Feed Rate
When using flux core wire, the wire feed rate indicates how rapidly the gun is fed the wire from the welding machine. If the speed is too fast, spattering results.
5.) Portability
This may not seem important initially if you plan on doing projects in your home workshop or small business, but if you need to do a job somewhere else, portability makes a big difference. Some larger machines may even come with wheels to facilitate transport from one location to another.
6.) Safety
Safety features are a plus on any power tool and welders are no exception. Thermal Overload Protection prevents overheating by shutting off the welder automatically.
This permits you to concentrate on your welding application. At the duty cycle's end, it shuts down and will turn on again once it has cooled down sufficiently. This safety feature is vitally important for a  MIG welder.
7.) Your Budget and the Welding Machine's Price
Budget will always come into play. Everyone would like a low-priced economical 220V welding machine. The welder's price should be evaluated in relation to the quality of the machine.
A brand-name welder may cost a bit more but will generally come with guarantees, a warranty, and dependable customer service. Always choose a power tool that you can comfortably afford but look for the best quality machine for the money that you can spend.
See also: 5 Best Budget Gasless MIG Welder
8.) Warranty
A welding machine with a warranty demonstrates that the manufacturer believes in its product and stands behind it.
9.) The Extras
Most welding machines will come with extras such as 
Cables

Clamps

Electrode holders
However, accessories are not everything! Look for the extra features on the machine and what the manufacturer offers in terms of convenience as well.
10.) Availability of Replacement Parts and Consumables
Are parts and any consumables easy to obtain? Often foreign brands may be more difficult to service.
11.) The Spool Gun
If you plan on doing aluminum welding, you will need a spool gun. In most cases, a compatible gun will need to be acquired separately.
Our Favorite 220V MIG Welding Machines
Best Overall 220V MIG Welding Machine
1.) Hobart Handler 500553 MIG 210 MVP Welder
Hobart – 500553 Handler 210 MVP MIG Welder
Your purchase includes One Hobart

Welder Dimensions: 10.62" W x 19.5" L x 12.37" H

Sized for you to easily transport

Keeps wire electrically "cold" until trigger is pulled

Allows you to fine control the output parameters for improved arc performanc
Prices pulled from the Amazon Product Advertising API on:
Product prices and availability are accurate as of the date/time indicated and are subject to change. Any price and availability information displayed on [relevant Amazon Site(s), as applicable] at the time of purchase will apply to the purchase of this product.
This Hobart Handler is priced between our other two choices, and yet it comes with everything necessary to begin MIG welding. The Hobart kit includes a ten-foot MIG gun, a dual-gauge regulator, a ten-foot work cable and clamp, and even a built-in gas solenoid valve.
It will weld materials with thicknesses from 1/4-inch to 3/8-inch and although a bit heavy, is compact in its design for both portability and storage.
Hobart has included some attractive safety features such as wire remaining cold electrically until the gun trigger is pulled. Output parameters can be modified to improve the bead appearance and limit spatter production, meaning less cleanup. This welder also boasts seven settings for output voltage as well as a quick-change, dual-groove drive roll.
Hobart gives a three-year warranty. This machine is capable of welding for multiple applications from automotive repairs to home repairs to farm repairs. Welding results are impressive, and customer reviews reflect general satisfaction with this machine.
Pros
Durable and versatile

Comes with safety features

Works on multiple materials

3-year warranty
Cons
A bit on the heavy side, but nonetheless compact in design
Best Premium 220V MIG Welding Machine
2.) Miller Electric 120/240V AC, 1 Phase MIG Welder
MILLER ELECTRIC MIG Welder
Price For: Each Series

Millermatic 211 MIG Welder with Advanced Auto-Set - 907614

Features: Advanced Auto-SetTM, Auto Spoolgun Detect, Smooth-StartTM, Angle
Prices pulled from the Amazon Product Advertising API on:
Product prices and availability are accurate as of the date/time indicated and are subject to change. Any price and availability information displayed on [relevant Amazon Site(s), as applicable] at the time of purchase will apply to the purchase of this product.
Miller offers a premium machine in this 220V MIG welder. Undoubtedly it comes with a higher price tag, but the value is unsurpassable if you have the budget for it. It welds materials from 18-gauge to 3/8-inch in thickness.
Along with the welder, Miller supplies a ten-foot MIG torch gun, a dual-gauge regulator, a 10-foot work cable and clamp, a gas hose, contact tips, a spool of starter wire, and a built-in gas solenoid valve. You may think it doesn't get any better, but it does!
This machine comes with features that not many other welders can boast. These include a Smooth-Start, Advanced Auto-Set, Automatic Spool gun detection, Thermal Overload protection, Angle cast-aluminum Drive, Fan-on-demand phase, and a Quick Select Drive Roll.
This is in reality a professional-grade MIG welder that would be at home in any industrial or automotive shop. From auto to ranch repair, Miller has a winner.
Surprisingly, with everything the machine boasts, it is still lightweight, so it's definitely portable. Miller Electric stands behind this welding machine with a five-year warranty on the parts. This is a great welder for pros, but a nice addition to a home workshop for those with large projects and a deep wallet.
Pros
Lightweight at 42 lbs.

Multiple advanced features including thermal overload protection

5-year warranty on parts

Very versatile
Cons
Best Value 220V MIG Welding Machine
3.) Lotos 175A MIG Welder
Prices pulled from the Amazon Product Advertising API on:
Product prices and availability are accurate as of the date/time indicated and are subject to change. Any price and availability information displayed on [relevant Amazon Site(s), as applicable] at the time of purchase will apply to the purchase of this product.
If you have a more limited budget, this Lotos MIG welder is priced mid-range and even includes an aluminum wire feeder in the kit as well as the spool gun. Welds are stable, and the gun has a 10-foot cable for easy use. The machine uses transformer technology that is reliable and durable.
The machine can perform multiple applications such as welding 3/16-inch aluminum or 18-gauge stainless steel. The kit includes a MIG torch, aluminum spool gun, ground camp cable, gas hose, argon regulator, contact tips, a welding mask, and its own starter wire.
Reasonably priced for what Lotus offers, it does only come with a one-year warranty. The major drawback is the weight of the machine at ninety pounds, so it's not easily portable. If you only need it in one location, this welder certainly merits consideration if you perform light to medium welding.
Pros
Reasonably priced

Comes with a spool gun

Versatile 
Cons
Warranty limited to one year

Heavy at 90 lbs.
The Bottom Line
These are all great machines manufactured by industry powerhouses like Hobart, Miller Electric, and Lotus. And there is something for every budget range. Any one of these 220V welders will make a nice addition and a solid contribution to your workshop.