If you've had enough of traditional welding helmets, you may be in the market for one of the new auto-darkening helmets available. But maybe you're on a budget, or maybe you just want to try one out before investing a lot of money.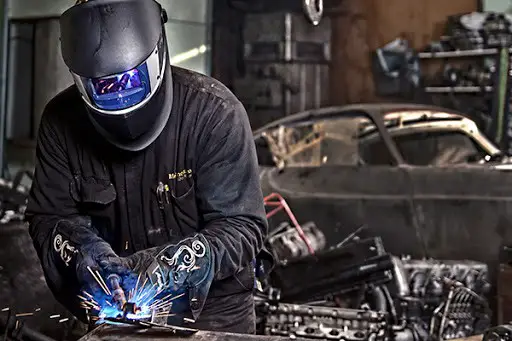 We asked our team of trusted welding pros to help us select the best auto-darkening helmets for welding for under $100.
After weeklong testing on the job of a varied selection of these helmets, our top overall choice is TANOX Professional ADF-210S welding helmet because it comes with a hard hat adapter and welding gloves making the entire package very appealing economically.
Best Overall Auto-Darkening Welding Helmet Under $100
1. TANOX Professional ADF-210S
Digital Control Auto Darkening Solar Powered Welding Helmet
Choose from different modes including weld, cut and grind for different applications

Light weight yet feature-rich helmet with a large viewing area (3.86X2.4)

New and Improved digital controls and true color technology allow user clearer view and easier adjustment of mode and settings, auto tint welding helmet
Prices pulled from the Amazon Product Advertising API on:
Product prices and availability are accurate as of the date/time indicated and are subject to change. Any price and availability information displayed on [relevant Amazon Site(s), as applicable] at the time of purchase will apply to the purchase of this product.
This Tanox helmet comes complete with an adapter for a  hard hart and a pair of 16-inch welding safety gloves making it exceptionally attractive cost-wise.
Optical clarity is rated 1/1/1/2 which is relatively standard for this category of helmets. The viewport is generous, and the auto-darkening filter is sufficiently sensitive for TG welding to 5 amps. The Tanox helmet boasts four arc sensors.   
The entire package with the extras makes this helmet an attractive overall choice. Some concerns were expressed by consumers about the hood not staying up. The swivel tighteners could be improved somewhat to resolve this problem.
Features
Optical clarity rated at 1/1/1/2

4 arc sensors 

Two shade ranges of 5-9 and 9-13
Pros:
Generous viewing area

Hard hat adapter included

!6-inch welding gloves included

TIG arc sensitivity to 5 amps
Cons:
Lens retainer made of plastic

Some concerns about the hood not remaining up
Check Price and Reviews on Amazon
---
2. ANTRA Auto-Darkening Welding Helmet 
Antra Wide Shade Range 4/5-9/9-13 Auto Darkening Welding Helmet
【Safety & Protection】 Passive Filter with Permanent shade 13 to UV/IR, combined with double-layered auto dimming LCD shutter.

【Comfort & Convenience】 Very light total weight, reduces head and neck stress .

【Performance】 4 Premium redundant arc sensors, with highly responsive detecting and controlling units.

【Reliability】 Interference Suppression Technologies, minimizing false triggering: less sensitive to sun lights, workshop lights.

【Versatility】 A great personal protection equipment designed for industrial use that can handle multiple processes of Plasma cutting, abrasive wheel cutting/grinding, DC TIG, AC TIG, MIG/MAG, MMA/Stick welding,
Prices pulled from the Amazon Product Advertising API on:
Product prices and availability are accurate as of the date/time indicated and are subject to change. Any price and availability information displayed on [relevant Amazon Site(s), as applicable] at the time of purchase will apply to the purchase of this product.
Thanks to solar power, batteries that are replaceable, and comfortable lighter weight, this helmet is our top choice for a budget buy when it comes to auto-darkening welding helmets.
It even features an indicator for when the battery is low which often is missing on more expensive helmets. Another nice feature is the button for testing auto-darkening before the arc is struck.
The AD filter will maintain a 13 lens without power so you can weld even if the batteries aren't working. There is an automatic function for turning on or off. In spite of its low price, it boasts four sensors to ensure that the flash from the arc will activate the auto-darkening filter.
Reaction time measures at 1/25,000th of a second. Optical clarity is rated at 1/1/1/2. It is understandable why this budget-priced helmet with features typical of more expensive helmets, is our top budget choice.
Features
Filter performs with or without power

Delay and sensitivity controls are adjustable

Viewing port measures 3.86 inches X 1.78 inches

Shade ranges of 4, 5 to 9, and 9 to 13

Valid for TIG, MIG, MAG, Flux Core, MMA, and plasma cutting
Pros:
Filter works continuously for UV and IR

Lightweight at 1.01 lbs.

Fast Grind switch

Solar power
Cons:
May darken prematurely for HF arcs
Check Price and Reviews on Amazon
---
3. YESWELDER Auto-Darkening Welding Helmet  (Best View)
Prices pulled from the Amazon Product Advertising API on:
Product prices and availability are accurate as of the date/time indicated and are subject to change. Any price and availability information displayed on [relevant Amazon Site(s), as applicable] at the time of purchase will apply to the purchase of this product.
The first thing one notices about this helmet is the generous viewing port that measures more than 13 square inches.  The display integrates true color technology so that you are viewing real-life colors when working.
The optical rating is quite good at 1/1/1/2. The reaction time for darkening is 1/10,000th of a second and the control settings are external. These settings for sensitivity, reaction velocity, and delay times for auto-darkening can be easily adjusted even with gloves on.
Features 
Viewport of 13.4 square inches

Optical clarity of 1/1/1/2

Lens for true color

Controls are external

Settings for sensitivity, shade and delay time
Pros:
Levels for shade are 4 to 13

Rechargeable solar

On/Off Auto power 

Battery life is long
Cons:
Is not sensitive to a DC TIG welding arc
Check Price and Reviews on Amazon
---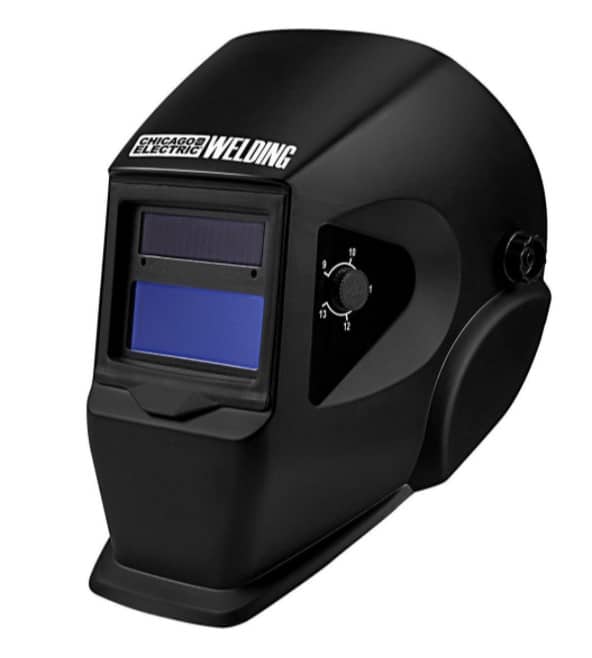 A lightweight helmet weighing in at slightly more than a pound, the Chicago Electric helmet is powered by solar-powered batteries that boast a six-year service life. It is probable that these solar batteries will outlive the helmet.
The helmet features an external shade control that is easily managed with gloved hands. The resting shade sits at 4 and the level for auto-darkening can be regulated from levels 9 to 13.
This welding helmet boasts dual arc sensors and an auto-darkening reaction time of 1/20,000th of a second. Reaction delay can be adjusted. An on/off control allows you to save power and the viewport is six square inches.
Features
1/20,000th of a second reaction time

Dual arc sensors

Viewport of six square inches

Shade levels from 9-13

Delay time is adjustable
Pros:
On/Off switch

Lightweight at 21.3 ounces

Features a cushioned headband

6-year solar-powered batteries

Shade knob is external for easy control
Cons:
This helmet is sensitive to bright sunlight

Batteries cannot be replaced
---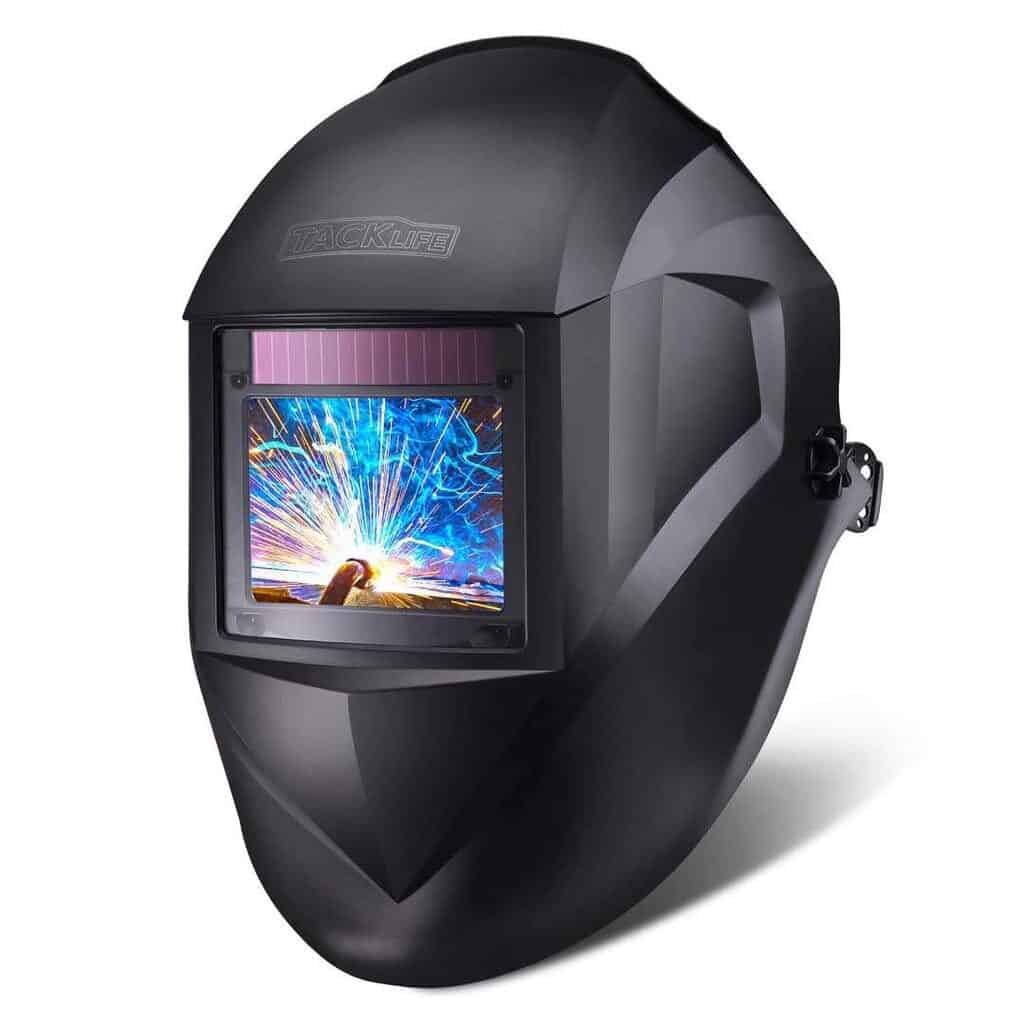 This Tacklife Welding helmet presents itself as an affordably priced lightweight helmet with appealing features. The Tacklife helmet boasts a highly rated 1/1/1/1 optical function that protects eyes from strain during long work shifts.
The automatic darkening filter has a speedy reaction time of 1/25,000th of a second. It also offers two shade setting ranges with one from 3 to 9 and the other from 9 to 13.
Sensitivity can be adjusted as can delay timing. All of the settings are situated inside this helmet meaning that they are not in the vicinity of your welding.
This helmet distinguishes itself for its lightweight, a lens for true colors and generous view. Batteries that can be replaced make this helmet an attractive budget choice.
Features
Reaction time 1/25,000th of a second 

Inside adjustable settings

Optical clarity of 1/1/1/1

Two shade ranges of 3-13

Viewing area measures 11.4 square inches
Pros:
Lightweight at less than a pound

Tilt angle is adjustable

Good sized lens
Cons:
Some opening and closing problems reported

Inside settings not for everyone
---
One of the challenges of using a traditional helmet without the auto-darkening capacity is that it can cause excessive eye strain with prolonged use.
If you weld for long hours due to your job, you may have already experienced this. Plus, traditional helmets tend to be somewhat heavy and may not offer protection from Ultra-Violet rays.
Auto-darkening, as the words suggest, will darken spontaneously and automatically to adjust environmental brightness. These helmets were invented to protect your eyesight and to improve eye comfort while on the job. This will contribute to you focusing on your welding and not on light-induced eye discomfort.
The Welding Helmet with Auto-Darkening
You may wonder, how exactly does this helmet work? Auto-darkening helmets look very much like traditional welding helmets, but they integrate new technology, called ADF into their design. ADF stands for Auto-Darkening Filter.
This technology uses liquid crystal displays, filter lenses, and arc sensors to darken excessively bright lights. Filter cartridges may be powered by solar panels or by traditional batteries.
Often, these helmets will have side buttons to operate or adjust this feature to personal needs. Basically, what happens is that when the auto-darkening feature is turned on, sensors for recognizing arcs are able to turn on the LCD when an arc is detected.
Filter lenses will act to protect the eyes from any dangerous UV rays or IR light and will regulate the darkening mechanism to the correct brightness. Many helmets offer as many as thirteen various shade levels.
How Do I Know Which Helmet with the Auto-Darkening Feature Is the Best?
The first thing you should consider is your safety and the safety features anyone helmet offers.  So, safety certifications are important, and when considering a helmet look for ANSI Z87 indications or CSA Z94 stamps from Canada.
Construction material will also be an important consideration. The helmet should be manufactured with materials that are impact-resistant, durable, and protective from UV/IR rays as well as extreme temperatures in the workplace.
The ADF or Auto-Darkening Filter should be evaluated when selecting. Is this filter made with fixed or variable lenses? An ideal fixed lens will offer a shade at level 10, and good variable lenses may range anywhere from level 9 to level 13, Also the power source will be important.
Helmets that operate on both batteries and solar cells are ideal because if the batteries die, solar power can intervene.
See also: Best Way to Clean Welding Helmet Lens
The Welding Helmet with Auto-Darkening Buying Guide
What should you consider when selecting your best welding helmet with the auto-darkening feature? Here are some things to keep in mind:
1.) Construction materials. Look for materials that guarantee durability. If you weld in high temperatures, select a helmet that will protect your eyes and face from UV rays, sparks, and infrared rays.
Good materials to keep an eye out for are polyamide-nylon or polymer, because they protect from heat, abrasion, and chemicals. Also, fiberglass and leather are sufficient for light welding.
2.) Helmet Weight and Coverage. If you need to wear it for any extended amount of time, it should be lightweight and comfortable. You don't want to suffer shoulder strain, neck strain, or a headache just because you wear a safety helmet.
If you can, try the helmet on before purchasing to feel if the weight is comfortable and balanced when worn. Does the helmet cover your face, ears, and neck adequately?
3.) Lens Types and the Amount of Sensors. The various welding helmet manufacturers will use differing ADFs or Filters for Auto-Darkening. The filter and its components will determine how well the helmet can adjust brightness control. Also, the auto-darkening reaction time should be quick, ideally 1/25,000th of a second.
When a struck arc is detected by arc sensors, they will activate the LCD. Less expensive auto-darkening helmets will usually feature two sensors, maybe one.
These may be sufficient however, they may also not be able to pick up a flash. More advanced helmets may offer as many as four sensors which will allow an LCD screen to detect light changes very quickly. 
Sensors will not function unless the shade lenses are adjustable. Lenses with more shade levels will afford more flexibility. Basic shade levels should range from 9 to 13. Lenses with levels from 6 to 13 are fine especially if you also weld with lower amperages.
4.) Shade Levels. Does the helmet have a fixed shade level meaning that it can darken only to a predefined single shade (usually #10) or does it offer varying shade lenses?
Variable shade lenses will allow the helmet to darken to different levels meaning it can adjust to varying welding processes and the type of material being welded. If you weld only one type of material with one welding process, a fixed shade lens should suffice.
5.) Power Source. Auto-darkening helmets will either use solar cells or lithium batteries for their source of power. If you are an occasional welder, a battery-powered helmet should work fine.
Lithium batteries that are replaceable may be a bit expensive but will not affect the helmet's life because they can be replaced numerous times. 
Helmets that are solar-powered are appropriate for welders who work outside in good weather conditions. This would not be a wise choice for indoor welders. Ideally, if you can find a helmet to your liking that runs on both, it would be best. 
6.) Safety Certification. Definitely check which safety standards are met by the helmet you are considering buying. If no safety certifications are mentioned avoid buying the helmet.  The standard for safety regulations is the ANSI Z87.1.
This should address safety standards for headgear, lens shade range, acceptable temperature resistance, UV/IR filters, and even speed and reaction time. Also, if you are a professional, see if your company has specific safety requirements as well as any legislative rules and regulations.
7.) Smart Light Adjusting Features. An auto-darkening helmet should adjust brightness thanks to two adjustable features under the control of the welder.
Sensitivity control can be adjusted by the welder, even if the helmets do have a default setting. When you try on the helmet, evaluate the sensitivity control before purchasing.
Control of reaction and a delay option will allow welders to adjust the auto-darkening feature on the basis of the welding process used, and the amount of time involved in the welding project.
The Bottom Line
For professional and home improvement welders on a budget, our list provides an ample selection of credible low-cost auto-darkening welding helmets.
Our top overall choice of the TANOX Professional ADF-210S Auto-darkening Welder helmet comes with a hard hat adapter and welding gloves making the entire package very appealing economically.
Any of the welding helmets on our list are worthy of your consideration. Thank you for reading and good luck in find a reasonably priced auto-darkening welding helmet.