Welding pants are meant to be made of sturdy materials and tough construction so they do not wear and tear easily, considering the job requires a person to closely work with high levels of heat at all times.
Therefore, welders are often seen wearing all kinds of work pants which include anything from cotton, leather, twill, cotton duck, canvas, and even denim jeans. 
However, have you ever wondered if jeans do protect a welder from getting burnt by all the sparks that fly about?
The answer is YES – welding jeans are one of the best kinds of pants for welders. They need to be constructed from 100% cotton denim and treated with FR (Flame or Fire Resistant or Retardant) agents to provide the welder with maximum protection against any such electrical hazards.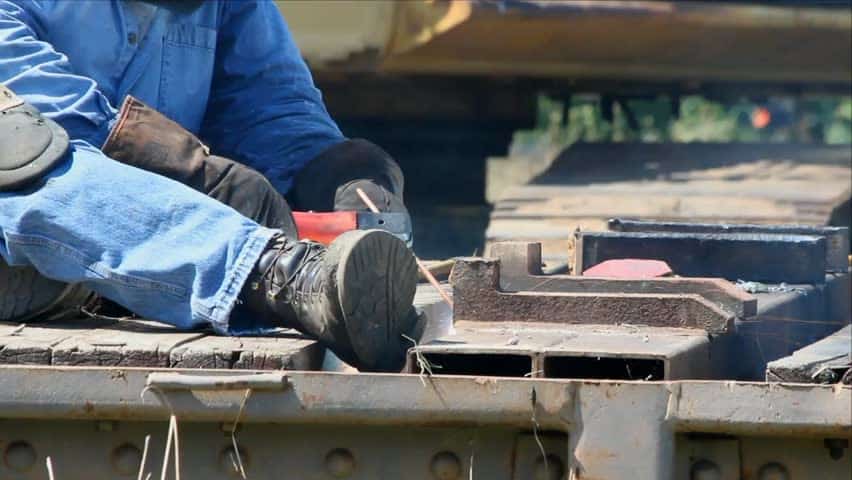 In this article, I have covered the features, advantages, and the right way to care for your welding jeans. So whether you are a professional welder or a newbie wanting to do some DIY welding work around the house, here is everything you need to know about welding jeans.
Features to look for when buying welding jeans
If you are looking for a good pair of welding jeans, then you will need to know and understand the quality features of such jeans. I have mentioned some of the most important features that you should check for when buying welding jeans.
1.) Safety codes
The pair of jeans should have the safety codes such as FR mentioned on the label or tag, which indicates that they are Flame Retardant or Flame Resistant, or Fire Resistant. Such welding jeans are treated with certain agents to make them resistant to flame or fire.
However, you still need to be cautious when wearing it because it does not mean that the jeans will not catch fire at all. It simply means that it will minimize the risk of getting burnt by putting out the sparks if any.
2.) Safety certification
Welding jeans should be certified under the set standards of NFPA which stands for National Fire Protection Association. On some jeans, you will also notice HRC certification which stands for Hazard Risk Category.
Both or any one of these certifications are required for the jeans to be safe to be worn for welding work. Further, they also determine the level of protection you will receive from the said pair of jeans.
3.) Material
The material is one of the most vital features for you to check. The jeans should be made from 100% cotton denim to be able to provide you with the protection you need around welding work which involves extremely high levels of heat. And of course, the denim should be treated with flame or fire resistant agents.
4.) Durability
It is essential that your jeans last you for a long period and can take a good amount of beating while you work with various types of tools and equipment.
If they are not made from the best quality fabric then they will wear and tear rather sooner than you would like. If the jeans come with seams that have a double or triple stitch, they are certainly going to be durable.
5.) Construction
The way the jeans are made is equally important. The pockets should have double stitching for reinforcement.
The entire pair of jeans should be constructed out of materials that are resistant to flame or fire and are durable.
Such brass zippers; button fasteners should be of wood, plastic, or leather; Nomex tape or leather strips for the zipper; double and triple stitched flat seams; and gussets.
6.) Weight
Welding jeans should be ideally lightweight to let you move around faster and more freely. Therefore, despite having all the necessary features, the jeans should not weigh you down when working. This could be a big hindrance to your performance.
7.) Pockets
Having additional pockets helps if you need to or plan to carry a lot of extra tools and equipment with you to your job site. This, however, is just a bonus and not necessarily a must-have feature for the welding jeans. 
8.) Comfort
For you to perform well when doing any kind of welding work, you need to make sure you are also comfortable.
Therefore, the jeans should have the regular classic fit and be made of breathable material to give you the level of comfort you desire when working.
Especially if you are working in hot temperatures. The leg opening should be wide enough for you to be able to wear your work boots under the jeans.
There should be kneepads as the knee area is one of the most vulnerable areas for wear and tear. Plus, when you have to be on your knees while working, your knees will not hurt. 
9.) Size and fit
The size and fit of the jeans is essential feature because if you wear ill-fitting jeans you will not be able to concentrate well at work.
Make sure they are neither too loose nor too tight, but just the right snug fit so you do not have to worry about pulling them up or adjusting them at all when working.
Advantages of wearing welding jeans
Now that you are aware of the specific features to consider when buying welding jeans, let me also explain to you the various advantages you get from wearing jeans for welding.
1.) Barrier against burns
Since jeans are constructed from denim, which is a very sturdy cotton material, it does not burn easily. The jeans can still burn from welding sparks but not by just a few sparks.
For the jeans to catch fire, there has to be a large number of sparks falling on them. Materials like polyester and other such synthetic fabric will burn very quickly with just a few sparks. Hence, you are much better off wearing welding-specific jeans when working.
2.) Protection against radiation
As a welder, you will be burning and melting metal at 10000 to 15000 degrees, which is extremely hot.
Working on such high heat does release harmful ultraviolet and infrared radiations, which is hazardous for your health, plus you can get sunburnt.
Wearing jeans can help protect you against such radiation due to its sturdy material.
3.) Longevity
Jeans will last you for a long time when compared to the kinds of welding pants. This is because denim is a tough, rugged, sturdy, and durable fabric that does not burn or catch fire so quickly and easily.
Research shows that welders who wear jeans instead of cotton pants get the most out of their jeans in terms of durability.
You just need to be cautious of any tiny or minor holes in your jeans, because if the hole gets caught into anything, it will only tear further. So, before that happens you should get them patched up by a good tailor.
4.) Inexpensive
Welding jeans are way more affordable than other fire retardant pants or welding pants. Hence, it saves you a lot more money when you have to buy more than just one pair of such pants for different days of the week.
Let's face it, you cannot wear the same welding jeans or pants for all five days of the week. They will get dirty pretty often because as a welder you will be working a lot of different tools and equipment.
5.) Style and comfort
This is an additional benefit of wearing welding jeans as they never go out of style. All welding jeans are designed in the classic style, which looks super stylish.
Jeans are also more comfortable to wear than any other welding pants as they give you more freedom of movement.
Best care for welding jeans
It is so important to take good care of your workwear because they are what will get you through your demanding jobs day in and day out. For you to get the best out of your welding jeans, follow the tips mentioned below. 
1.) First and foremost, you need to take note of the washing instructions that are mentioned on the tag sewn on the inside of the jeans. This is the safest step of all.
2.) Most of the welding jeans can be washed in the washing machine and some need to be dry cleaned.
3.) Liquid detergent gives way better results than powdered ones, so you should use the former when washing your welding jeans.
4.) The FR treatment that goes into the jeans to make them welding-specific will last you for about 30 to 50 washes, so make sure to wash them separately and not mix with other garments.
5.) Always keep an eye out for any holes, wearing out of the jeans, stains, and smell caused by outside elements once you are done washing the jeans. As this could reduce the FR features of the jeans.
6.) The jeans can shrink up to 3 to 5% during their entire lifetime, which is quite normal for any garment.
7.) You need to steer clear of products that can minimize the FR traits of the jeans. These products include chlorine bleach in liquid form, fabric softener, starch, peroxide, detergent, natural soap with fat, and bug spray with DEET.
Wrapping up
We have done our research and some of the best welding jeans are made by big, well-known, and reliable brands like Wrangler, Carhartt, Levis, Dickies, and Caterpillar. They have a wide selection and are available on Amazon and also at their local stores.
At the end of the day, you should always buy your safety gear from a reliable and trustworthy brand, so you can rest assured that you are in safe hands. Do not compromise on the quality in the name of saving a few bucks!