Your welding jacket is supposed to be your greatest protector in a profession that is filled with hazards. Welding consists of heat, sparks and harmful UV light that might be dangerous for your well-being and so you need a solid welding jacket to protect your body. 
Welding jacket is supposed to last a long time, at least 3-5 years with normal use, and even less if you weld every day at work. It's a reality of welding life that the heat and flame-resistant qualities of the welding jacket will wear out. 
But its lifespan totally depends on the quality, material, type of usage and its maintenance. But there are various factors that can hamper the life of your welding jacket, like extreme heat, wearing and tearing of the jacket, etc.
Since a welding jacket is so important for a welder's safety, let us have a look why it is important to wear welding jackets.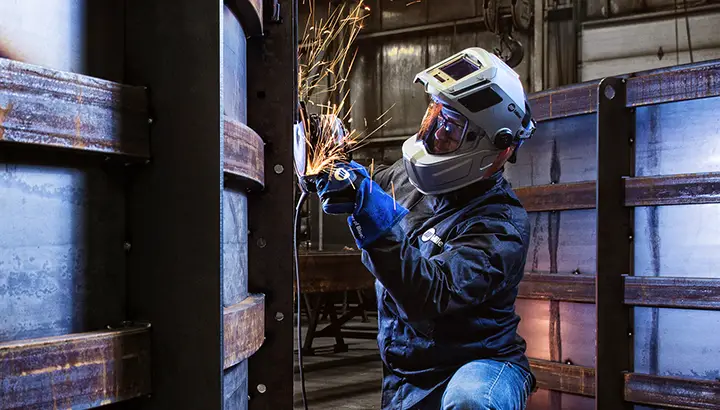 Why is it important to wear a welding jacket while welding? 
Welding jackets keeps you safe and reduces the chance of you being hurt while welding. An arc emits radiation and UV light, both of which are harmful to your skin if you are exposed to them, and that is why you require a shield that protects your skin. 
But for your welding jacket to be able to protect you from heat and other hazards, it should be fireproof and thermally insulated so that you are protected. 
1. Overall protection of the body
Welding jackets are PPEs that provide safety to a wide range of locations, including the torso, shoulders, arms, neck, and back, unlike any other piece of equipment on the market. 
Jackets can be made of anything from leather to cotton and nylon. 
But the important factor is, a welding jacket should be made of fire-resistant material and should allow easy movement to the welder so that work efficiency is not affected. 
2. Comfort
Comfort is one of the most important factors. When you're comfortable, you can work with full concentration and efficiency. 
Aside from the safety standard that a welding jacket must meet, comfort and fit are equally crucial in ensuring your productivity levels are high and you can keep working all day. 
3. Provides safety even in hazardous environment
The welding business understands the need of safety equipment like no other, with workers recognising how PPE safety equipment is required, so it's rare that anybody you know or work with is not wearing the proper safety gear. 
Every item of welding equipment, including jackets, must comply with the EN ISO 11611 regulation – this is an industry standard for welding gear and must be followed when firms manufacture safety jackets. 
All types of welding protection will have been properly tested to survive numerous washings to guarantee that it is totally safe.
Every welder's safety equipment has advantages and disadvantages, and it's only fair that we examine them to assist you make an informed selection while buying. 
Alright, so you must be thinking, can we wear our regular jacket while doing welding work?
Absolutely not! It is not at all safe to wear a regular jacket while you're welding as it is not safe and might also ruin the jacket because of the heat and sparks. 
So what makes welding jackets unique from regular jackets? 
Welding jackets differ from ordinary jackets in the following ways: 
1.) Unlike regular jackets, jackets especially made for welding have their pockets either taped shut or have a flap folded over them to avoid catching metal sparks that might burn through to your flesh.
2.) Welding jackets have high electrical resistance to protect you from being electrocuted. 
3.) Welding jackets are constructed of fire-retardant material and contain thermal insulation to prevent your skin from being damaged by the tremendous heat created by the welding arc's infrared radiation.
Well, the lifespan of a welding jacket also depends on the material used for its construction. Let us have a look at different materials used in the making of a welding jacket and how it helps to make the product durable and long lasting. 
Welding jacket materials
1.) Leather- Leather is a sturdy material that has long been thought to be the greatest material for welding jackets due to its density of around 30 ounces per square yard.
And it is this thickness that prevents heat from permeating the garment while also providing outstanding abrasion and puncture resistance. 
Leather is available in a variety of cuts, grades, and varieties for welding jackets. Grain leather, for example, is the most durable, pleasant, and resistant to splatter and sparks. 
And leather welding jackets are sure to last for a long time. 
2.) Cotton- Cotton that is flame-resistant is popular since it is affordable, lightweight, and breathable. While most FR cotton textiles will not catch fire, they can become scorched if exposed to sparks, splatter, or molten metal. 
Keep in mind that a higher-quality, thicker cotton will give more comfort and durability over the life of the jacket.
But in applications where sparks and spatter are generally moderate, a FR cotton jacket can provide a decent balance of safety and comfort. 
3.) Nylon/Kevlar blend
This combination yields an extremely fine material that is suitable for welding jackets as it protects against skin burns and is ideal for heavy-duty and industrial welding.
Welding jackets made of nylon or Kevlar are also breathable and very flexible. They do not, however, provide as much UV protection. 
But a blend of nylon and kevlar is sure to last you for a long time provided you take good care of it and maintain it well. 
Things to look out for while purchasing welding jacket
→ Welding jackets consisting of synthetic material like polyester or polyester mixes should never be purchased. These quickly catch fire, and there is a good chance that the sparks created during arc welding will ignite them.
→ It is critical to select the correct size for your welding jacket from the selections above, regardless of its composition. Measure your upper body to ensure you obtain the correct jacket size. 
If the breadth of your stomach is more than the width of your chest, consider getting something larger to ensure the jacket fits well. A well fitted jacket will ensure protection and comfort. 
Conclusion
Since welding jackets play an important role in keeping you safe, it is important for you to know what keeps the lifespan of your welding jackets.
Material like cotton is no doubt comfortable but it isn't as long lasting, but materials like nylon and leather are sturdy and will also last long. 
But care and maintenance too play an important role when it comes to increasing the durability of your welding jacket.