As a welder, you already understand the need to wear Personal Protective Equipment when working. It will ensure that you are kept safe and protected from various occupational hazards like flying sparks, hot flames, high heat, smoke, etc.
Covering the eyes with welding lenses, hands with welding gloves, and the entire face with a welding mask is something that a welder is very unlikely to miss.
However, in my experience, I have noticed that people who do welding as a hobby or as a profession often tend to neglect to wear suitable pants for the job.
An ordinary pair of work pants or work jeans will not suffice in such a case as they will not be able to protect you from burns and flames.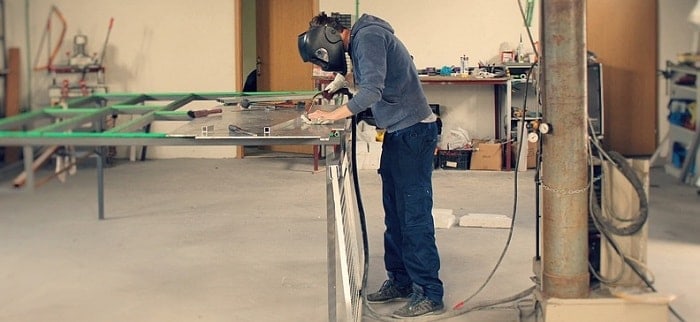 Therefore, a welder needs to wear welding pants that are FR or Flame Retardant and have an NFPA (National Fire Protection Association) rating. Only with such certifications will a pair of pants be declared as welding pants.
Many other important features need to be taken into consideration when looking for welding pants, such as their material, durability, reinforcements, to name a few.
This article discusses all the key features, and benefits of welding pants, along with a section on how to properly care for the welding pants.
Features that you should look for in welding pants
For a welder, there are several occupational hazards daily. Hence, a good pair of welding pants are a necessity when working.
Various features come into play when looking for the ideal pair of welding pants, and below I have discussed some of the most crucial points.
1.) Safety certification
Welding pants must be safety certified. Pants with NFPA rating are what you need to wear for welding work and not just any work pants. It stands for National Fire Protection Association.
To be more precise the set industry standard is NFPA 2112 and NFPA 70E, so when you are buying welding pants, you need to keep an eye out for these certifications specifically.
Other than these some pants also come with HRC certification, which stands for Workplace Hazard Risk Category. They have different levels of dangers covered under this category as well.
2.) Codes for safety
Good welding pants will have the safety code FR mentioned on the label. FR stands for Flame Resistant or Flame Retardant or Fire Resistant.
The FR tag is normally seen on the seams and pockets so you cannot miss it. Whenever you see this tag, you can rest assured that the pants are going to protect you from severe welding hazards as they are treated with agents that can resist fire to a great extent.
They will reduce the risk of getting burnt but not completely diminish the chances of catching fire. So, you still need to weld very cautiously.
3.) Material or fabric
The best kind of material or fabric for welding pants is 100% cotton, canvas, cotton duck, twill, denim, and leather.
These fabrics are naturally flame resistant and when treated with specific agents to increase their fire-retardant properties, such welding pants should be your ideal choice.
You will also find welding pants with cotton and some form of nylon blend which is always kept at a minimal level.
4.) Durability
When you pay good money for a product, it is normal for you to want them to last for a long time to come.
Therefore, the welding pants you pick should be made from good durable material and have either double or triple stitched seams.
This makes the pants more reliable against easy wear and tear. The pants should be able to endure several washes and scenarios that you put them through regularly.
5.) Comfort
Every individual wants to work in comfortable clothes. So why compromise on the comfort factor when it comes to welding pants.
As a welder, you need to be able to move around easily without restrictions, and you can achieve that only by wearing a good pair of pants.
Look for pants that have some amount of stretch in the fabric, which will allow you to stretch in their hassle-free while working. It helps if they are breathable as well.
The main focus should be on the work you are doing and not on the adjustment of your pants.
6.) Maintenance
Welding invites a lot of dirt, grease, and other kinds of unwanted elements on your clothes. Hence, they need to be cleaned often, which is almost after every wear.
This is why as a welder you need to look for pants that are not menacing to maintain. It should be simple and easy for you to care for the pants. Welding pants that can be machine washed are a great option.
7.) Size and fit
Make it a point to always wear clothes that fit you well, whether they are shirts or pants. A well-fitted pair of welding pants are going to let you stay focused while working without having to worry about adjusting them.
Never buy pants that are too tight or too loose. They should have the right snug fit. The important thing here is that your performance should not be hampered.
8.) Reinforcements
The welding pants should have good and proper reinforcements in pressure areas so they can withstand any kind of challenging work position.
Many good-quality pants come with reinforced pockets and zippers to give them an additional level of durability and reliability. Reinforced stitching is an important feature in welding pants.
9.) Weight
When working you want to be comfortable and not feel like you are being weighed down by the weight of your pants.
Therefore, the welding pants should be lightweight so it does not restrict your movements. Plus, they are a great option for when you have to work in warm weather conditions.
10.) Additional factors
A few other additional features that you can consider when choosing welding pants are – sufficient number of pockets to carry your essential tools; kneepads for that extra cushioning on your knees when you kneel and work; and good leg opening to give your work boots enough room to fit under your pants.
The pants should also be moisture-wicking so you remain dry from all the sweating while working. 
Benefits of wearing welding specific pants
Welding is no doubt a dangerous job, which requires the welder to work with metal, heat, and fire all day long.
Various occupational risks come with this profession, and hence, employers need the welder to wear clothes and gears that can keep them away from harm's way.
Every piece of clothing a welder wears has a specific role to play, similarly welding pants have their own set of benefits too.
Let's take a look at these advantages
1.) Nobody wants to get burnt when working and wearing good quality welding pants can help avoid the risk of getting burnt and injured severely. It will protect you against flames, fires, and sparks due to its Flame Retardant feature.
2.) A welder can avoid getting electric shocks by wearing proper welding pants.
3.) When you wear welding-specific pants, you are in turn not ruining your other regular work pants which won't be able to take the beating of a welding job. Welding pants are made with materials that can endure what a welding job throws at it.
4.) Welding pants offer you protection against harmful ultraviolet and infrared radiation caused by high heat.
5.) Welding pants shield you from getting severely sunburnt when working outdoors.
6.) Wearing welding pants allows you to work with ample freedom of movement as they are designed and constructed in a certain manner to give you that amount of liberty.
7.) You can work hassle-free and with comfort when wearing welding pants as they mostly come in a relaxed fit.
8.) The material of welding pants is sturdy, which makes them highly durable.
See also: Are Wrangler Pants Good For Welding?
Best way to care for and maintain your welding pants
While you must know the benefits of wearing the appropriate welding pants for a welding job, it is equally important for you to be aware of the proper way to care for and maintain your welding pants.
1.) Check the label of the welding pants to see if they can be machine washed and dry cleaned. Accordingly, make it a point to stick to the washing instructions given by the manufacturer.
2.) To get the best outcome you should use liquid detergent to wash your welding pants.
3.) Always wash your welding pants with small loads if you are throwing them in the washing machine, as this will reduce the chances of the FR treatment diminishing quickly.
4.) There is a possibility of stain residue, unpleasant smell, and holes on the welding pants that can very likely ruin the FR feature of the pants, therefore, ensure that you check the pants thoroughly after wash.
5.) Various products should be avoided at all costs as they will ruin the FR qualities of the pants. Such as – peroxide, fabric softener, starch, liquid chlorine bleach, detergent, natural soaps that are fat-based, and bug spray.
If you follow these tips religiously, your welding pants will serve you well for a long time to come.
Wrapping up
When you do a risky job like welding, you ought to be careful every single day. Thankfully there is appropriate clothing for a welder to wear to work to be various occupational risks come to keep themselves protected and safe from all the hazards.
I would always advise you to not compromise on the quality of your safety gear be it welding pants or any other type of gear. Check every aspect of the welding pants that will eventually keep you safe at work.