Flux core welding can offer you better performance when welding outdoors, or when welding coated metals such as galvanized steel as well as rusted or painted metals that may complicate MIG welding. This type of welding machine is easy to use and a great tool for DIY home or hobby projects.
However, with the marketplace offering so many flux core welders, trying to select the best flux core welder for your welding needs can be challenging.
Our team of professional welders worked hard to review numerous flux core welders, to help you sift through the many options the market has to offer.
We selected a number of welders for your consideration and here we explain what we looked for and why these welders ended up on our list.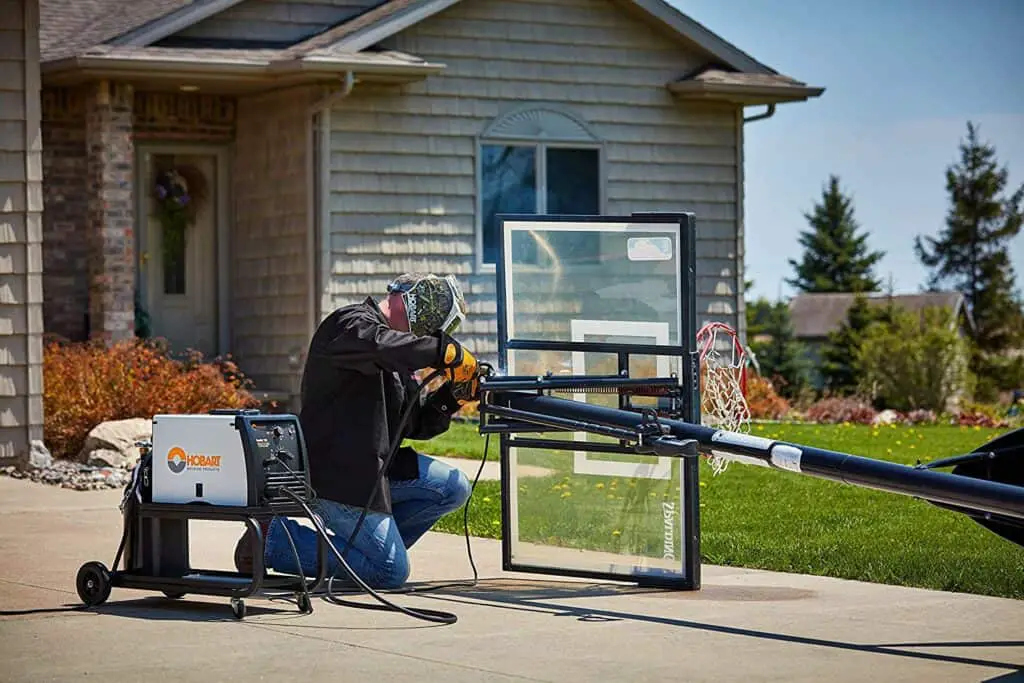 We selected the Hobart Handler 140 500559 Welder as our overall favorite because of its sturdy construction and smooth arc regardless of the plate thickness, but we also want to give a nod to the YesWelder MIG Pro 135A Gasless Welder due to its beginner-friendly design and affordability.
The Reviews
Best Overall Welder for Flux Core Welding
1.) Hobart Handler 140 Welder
You'll have a top-notch flux core welder in this Hobart Handler 140 Welder even if it is a MIG/FC machine.
Featuring robust construction with a quality regulator, it is a convincing overall choice for non-professional welding that is done at home, on the farm, or for smaller workshop projects.
It may be slightly more expensive, but considering the quality, this machine merits the investment. 
The welder boasts a drive rolls system that is industrial cast aluminum, and the disc roll is designed for a quick change to aid you while you are working. The polarity on this welder can be switched easily.
Also, this welder features a control selector for five voltages that assists when setting your arc. Its welds mild steel from 24 gauge to a quarter-inch thick.
Materials that can be welded with this Hobart encompass stainless steel, aluminum, and carbon steel, too. It runs on 115V making it perfect for home use.
Pros
Quick easy set up multipurpose welder 

Wire feed system in aluminum

Welding gum lead measures 8 feet

Five voltage settings

5-year warranty

Duty cycle 20%@90A

Amperage 25A to 140A
Cons
Not for industrial applications

More expensive

Weighs 57 lbs.
Check Price and Reviews on Amazon
---
Best Value Welder for Flux Core Welding 
2.) Forney Easy Weld 261 Welder
This is an excellent choice for DIY repairs and general maintenance. It is a low amperage and low voltage machine that is ideal for DIY home repairs and hobby projects.
The price is affordable, and Forney offers a 12-month warranty which is good news if you need a welder for smaller home projects.
This welding machine uses DC output and allows for 10 lb. spools of wire meaning you'll be changing reels less often. Set up is easy as well as clean up and storage.
Thicker metal plates may need several passes to achieve proper fusion, but overall, this welder offers good value for the money you spend.
The welding gun is functional while the ground clamp could weigh a bit more. Dial speed control for wire feed is a plus. It is encased in sturdy metal housing but is lightweight at 19lbs. enabling portability.
The 140A power permits you to weld ¼ inch mild steel without a problem. The duty cycle is 30%@90A. This welder uses 120V input and has a maximum of 140A output.
Pros
Affordable

Easy to use

Rotary knob for wire-speed control and voltage

Lightweight

DC current

Ergonomic handle 
Cons
Wire feeder in plastic

Ground clamp needs improvement
Check Price and Reviews on Amazon
---
Best Budget Welder for Flux Core Welding
3.) YesWelder MIG Pro 135A Gasless Welder
YesWelder presents a compact lightweight welder that is quite affordable when considering market prices and it offers a good power output with up to 135A.
Its compact size makes it perfect for garage welding, home repairs, and storage, as well as portable.  This can be used for some professional welding if limited to thinner metals.
The welder has an impressive duty cycle of 60%@135A using the regular household voltage at 110V. It boasts automatic wire speed settings and voltage settings that kick in depending on the amount of amperage you use to weld.
This automatic setting is terrific for beginner welders. The welding thickness for mild steel is as much as 5/32-inch.
Unfortunately, the MIG gun is built into the machine, so if you want to substitute it you will have to disassemble the welder to do so.
This welding machine uses both 0.030-inch and 0.035-inch diameter flux core wire with four-inch reels. A well-written English language owner's manual is included in the package. It weighs in at fifteen pounds.
Pros
135A output from 110V input

Easy to use

Portable  due to its lightweight and at 15 lbs.

Great for beginners with automatic settings

Clear Instruction manual 

Affordable 
Cons
MIG gun is built-in and not easily substituted
Check Price and Reviews on Amazon
---
Best Multipurpose Welder for Flux Core Welding
4.) Lotos 140A FC, MIG, and Aluminum Welding
This Lotus welder is a MIG and FC welding machine with the capability to weld stainless steel. It advertises welding aluminum with up to 1/8-inch plate thickness which is impressive for a machine that runs on 110V input. Polarity can be switched easily because flux core welding uses only DC.
This welder features a wire feeder in aluminum for stability. It also offers a 2T and 4T switch. The 2T Is for manual welding, while the 4T switch is a semi-automatic that allows you to rest your finger when welding for an extended period.
A digital display will allow you adjustment capability for the speed of the wire feeder and for your welding voltage enhancing precision. 
Welding plate thickness ranges from 18 gauge to 1/16-inch and thanks to its multipurpose characteristics, it can weld stainless steel, mild steel, and aluminum with a spool gun.
The duty cycle measures 20%@90A while the amperage ranges from 30A to 140A. This machine weighs in at 54 pounds.
Pros
Ground cable easy switch

Wire feeder in aluminum

Can weld aluminum and stainless steel

2T/4T manual or semi-automatic switch
Cons
Comes without a welding chart

Comes without an attachment for a generator
Check Price and Reviews on Amazon
---
What We Considered When Selecting Flux Core Welders
You need to consider exactly what you intend to weld with your flux core welder. All MIG welders can run welding wire that is flux core. It's sufficient to shut off the shielding gas.
Some welders use flux core wire with shielding gas still on to give more shield to the weld. However, it's generally not necessary. Here's what we looked for in a flux-core welder.
1.) AC or DC. Power output will influence your results. Generally speaking, AC outputs are not very good for flux core welding.
An AC output will be alright if you only plan on welding steel. Stainless steel is an entirely different story: To fuse stainless a welder with DC output will give you a better result.
2.) Lead. This may seem of lesser importance when choosing a flux core welder, but it will make quite a difference when you actually weld.
The quality as well as the thickness of your lead, can influence durability considerably. Ground lead length and torch lead length can influence the practicality and convenience of your welding session. 
3.) Longer is usually better. Our pro welders recommend ground lead that measures from ten to twelve feet and torch leads that measure anywhere from ten to twenty-four feet in length.
Not all flux core welders will feature these lengths, but longer leads will permit you to move around the materials you are welding offering greater comfort and convenience.
4.) Metal Types. It is essential to know what type of metal you plan on welding because some welding machines are better suited to specific types of metal. For example, a flux core welder cannot weld aluminum, but a multipurpose machine may be able to.
5.) Multipurpose or Single Use? MIG welding machines can weld using gas as well as without gas. This type of welder is multipurpose. If you have no need or desire to use gas when welding, you can select a single-use flux core welder and eliminate any worry relative to gas.
If you prefer to use gas to improve weld quality, then a MIG multipurpose welder will afford you the option of using either flux core or flux-less welding wires.
6.) The thickness of Plates. An important consideration is the thickness of the plate you will be welding because it will give you an indication as to what type of machine you need.
It is recommended buying a welder that can weld a plate that is slightly thicker than what you generally weld. If you are at the limit, the machine will weld but it may not be as good a weld as a more powerful welder would produce.
7.) Wire. Differences in wire diameter as well as the spool diameter, should be considered. Hobby welders will usually use a 0.030-inch diameter and will offer a standard six-inch wire spool.
If you need to perform beads that are thicker, consider this when selecting your welder. Consider a welding machine that can run a wire with a 0.035-inch diameter.
Also, six-inch spools run out quite quickly. So an eight-inch spool diameter will let you weld longer before having to reload a new spool.
FAQs
Can my flux core welder to weld aluminum?
No. Flux core wire cannot be utilized with aluminum as it does not heat up sufficiently. A shielding gas, argon, needs to be used when welding aluminum.
If you wish to weld aluminum along with other types of materials, a multipurpose welder would be a more useful choice,
Is flux core welding pushed or pulled?
Pulled. Point your gun toward the weld pool and then pull the gun away from the finished bead.
What plate thickness can be welded with a flux core welder?
Generally, up to ¼-ich.
What makes flux core welding a good choice?
This type of welding allows deeper penetration and permits the welder to use the torch in various directions.
Does flux core wire go bad, expire, or deteriorate over time?
While it may not have an expiration date, it can go bad. Since this wire is not solid, contaminants can enter the wire tubing.
Lengthy exposure to moisture can ruin your flux core wire as well as exposure to contaminants resulting in deterioration.
The Bottom Line
We hope this article has helped you in your search for the best flux core welder for your personal welding needs and projects.
We really liked the Hobart Handler 140 Welder, but all of these welding machines merit consideration. We wish you the best in your search and thank you for reading.