Apart from your individual skill as a welder, wire quality for flux core welding is a priority for getting a great weld. So, you don't need to employ time and money trying out different wires that are available on the market, our team of expert welders did it for you.Our top pick is Blue Demon Flux Core Gasless Welding Wire because of its versatility and range of products including both diameter size and reel weight.
We also liked the Lincoln Electric MIG ED030584 Welding wire a great deal due to its fast-freezing capabilities for out of position, vertical, or overhead welding.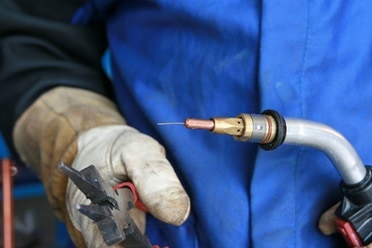 In 1957, flux core wire with gas shielding was presented. Two years later, in 1961, a wire that was self-shielding followed. Flux core wire is used in welding machines that are wire feed and do not feature a gas hookup. Let's examine what we looked for when welding with various flux core wires.
Wire Classification
The American Welding Society has developed a flux core wire classification system that includes:
"1" signifies wire that is self-shielding and that is all-position

"0" indicates horizontal and flat positions

"E" means an electrode wire

"T" indicates tubular flux core wire

"7" number will signify the tensile strength then multiplied by 10,000 PSI to arrive at the final PSI number, in this case, 70K PSI

C indicates CO2 and M will signify a mixture of gas
The most often utilized welding wire is E71T-11 found in fabrication, steel structures, and shipbuilding. It is particularly adapted to fast-paced, high-volume welding and does not require an advanced skill level when employed in a welding application. It also offers a rapid rate of metal deposition.
Tubular or Solid Wire
Distinguishing between solid and flux core wire is important. A solid wire will require the use of shielding gas. Flux core wire forms a bubble of gas above the welding pool and the resulting slag. With this type of wire, you don't need additional shielding gas.
Tubular self-shielding wire also offers an advantage that solid wire does not. Various mixes of chemicals can be introduced into the tubular wire which can better performance.
Materials form slag to avoid porosity in the weld pool, alloys and metal powders for improved strength, and the addition of iron to quicken metal deposition all contribute to better performance and will get you a strong weld even when welding on rusty or flaking surfaces.
These two types of welding wires, self-shielding, and gas shielding are basically used in arc welding, and they produce slag.
The self-shielding wire will not require an external gas font making it ideal for welding outdoors particularly in windy climates. Machines that use this type of wire tend to be more lightweight and compact for portability.
Drawbacks to Flux Core Wire
Everything has benefits and drawbacks, and flux core wire is no exception. Indoors, this type of wire will not have the open air that will react with it during melting. This may cause a less-than-satisfactory weld that may crack. Consider that flux core wire may:
Be more expensive

Not be ideal for all welding applications
What Do You Want to Weld?
A lot can depend on the application you use. Wires will weld differently despite sharing a similar AWS classification.
Not all manufacturers use the same alloys, chemicals, or formula ratios in their flux core wire: also, consider that cheaper brands probably are not manufacturing the wire but purchasing it from a producer, or several producers, so characteristics and performance may vary from spool to spool.
Generally speaking, reputable European and American manufacturers will be making their own products so quality should be pretty consistent across the board.
Depending on what you intend to weld, an aluminum wire should be selected for welding aluminum, stainless wire for welding stainless steel, and carbon wire for welding mild steel.
If you have the opportunity to try wire out before purchasing, do so. The performance will vary especially in terms of spatter and welding on rusty, grimy, or painted surfaces.
Flux core wire is compatible with a multitude of metals that are both thin and thick including:
Mild steel

Stainless steel

Nickel alloys

Aluminum

Low-alloy steel
Wire Diameter
When selecting, wire diameter will be affected by the welding machine's feed wheels and your MIG gun's nozzle tip size. Other aspects include your amperage setting and the material's thickness when welding.
For example, a smaller wire diameter will use a lower amperage for good results. Larger diameter wires will use higher amperage rates than can cause burn through and will need a higher rate of feed to compensate for the heat. 
Your Welding Machine
Professional MIG welding machines may feature a grooved wheel feeding mechanism for a solid wire that is to be used with gas shielding. In this case, a cheaper wire will not do well in these feeders.
If you have a grooved feeder you may want to install a flat feeder. Also, keep in mind the size of spool you MIG welder can host.
Your welder's spindle capability together with how much welding you need to do will decide the reel size or the wire you purchase.
If your welder can handle a larger spool, this will be a plus as the larger the spool, the less the wire will cost in terms of its length. Do not buy a reel that won't fit your welding machine, or you'll be returning it.
See also: Flux Core or Gas MIG Welder, Which is Better?
Brand
Choosing a well-known industry brand is in your interest because these manufacturers have experience and have earned their industry reputation for a quality product. You'll want to select a durable dependable product with a manufacturer that offers customer support.
Cost
Flux core wire will be more costly than solid wire, but you will not need to provide the shielding gas when welding.
---
Top Flux Core Wire Reviews
Best Overall Flux Core Wire 
1. Blue Demon Gasless Flux Core E71TGS Welding Wire
This welding wire runs very cleanly and has an affordable price. It is a winner when welding galvanized steel because the flux will consume the zinc limiting unwanted fumes and spatter.
The wire wheels unravel well, and this brand offers a good range of diameter and performance. Wire reels also come in various weights depending on what your welding machine can host.
The Blue Demon wire is great for welding both manganese and carbon steel with either single pass or multiple pass techniques.
Stitch welding on sheet metal and closing gaps on metal without proper fitments will find a solution in this flux core wire. Slag removal is quick and easy. While it executes an attractive bead appearance, there are reports of substantial amounts of splatter.
Pros
Affordable

Offers wires in 0.03", 0.035" and 0.045"

Reels come in 2, 10, or 30 lb. sizes

Will successfully weld most steel and most coatings

Tensile strength is 70K PSI

Low to moderate spatter

Fine with any plate thickness
Cons
Some difficulty unwinding with some but not all spools
Check Price and Reviews on Amazon
---
Best Tensile Strength Flux Core Wire 
2. Forney Flux Core MIG 42300 Wire
This Forney Flux Core Welding Wire comes with a stronger Tensile Strength than many other rival products. Wire size options are limited as well as reel sizes.
However, it can weld most steels and coatings that are zinc-based or such as galve. It will perform better if the welding surface is clean.
When welding, you will need a higher feed speed because of the temperature reached when running. If the feed speed is on the mark, you will get a beautifully clean weld.
Forney suggests using an Argon and CO2 gas mix for MIG welding machines to limit splattering.
Pros
Affordable

Welds most steels

Multiple position wire

Will weld some coatings like paint or rust

Tensile strength is 79K PSI

Low to moderate spattering

Thin to medium plate thickness
Cons
Sold only in 2-lb. reels

Wire sizes limited to 0.03" and 0.035"

Some feeding problems
Check Price and Reviews on Amazon
---
Best Low Spatter Flux Core Wire 
3. Lincoln Electric MIG ED030584 Welding Wire
Lincoln Electric produces a quality spool of the flux core wire. This particular wire has a rapid rate of cooling meaning that your project will not be overly exposed to heat.
It also creates very little spatter during welding. The slag produced will cover the weld but can be easily removed meaning you won't be wasting time on clean-up.
It can weld a half-inch plate with convincing penetration and is a great option for welding outdoors as it is wind and breeze resistant.
This wire is especially indicated for welding out of position, vertical, and overhead thanks to its fast-freezing qualities, or if you need to weld joints without proper fitment.
The drawback with this wire despite its quality is in sizing. It only comes in 0.035" and is sold in one-pound spools.
It will weld most steels with a nice bead but will not provide a clean finish for welding dirty steel, coated, or galve. If you have small home or DIY projects welding clean steel, this is a terrific choice.
Pros
Affordable

Welds most steels

Welds very few coatings

Tensile strength is 70K PSI

Low spatter

Plate range is from 5/16" to ½"
Cons
One wire size of 0.035"

One reel size of 1 lb.
Check Price and Reviews on Amazon
---
Best All-Position Flux Core Wire
4. Hobart Carbon Steel H222106-R19 Flux Core Welding Wire E71T-11
This Hobart Flux Core Welding Wire offers high tensile strength and can be used in all positions, as well as any work considered out-of-position. It is not limited to horizontal straight welds.
It will require more heat than competitive brands to obtain the same level of penetration due to a harder quality steel used in the wire's base metal.
Some welders found there to be excessive splatter, but the Hobart people suggest a higher amperage to achieve deeper penetration. This will also help reduce splatter.
Another observation is the difficulty in unwinding the spool, but this is common to most flux core wire spools. This wire is versatile and will perform best in a high-quality welding machine.
Pros
All position wire

Performs well with dirty, rusty, or painted steel surfaces

Great for outdoor welding jobs

Hotter than standard solid wires

Very rapid speed in single pass welding
Cons
Spattering

Problems with spool unwinding
Check Price and Reviews on Amazon
We hope this article will get you started in finding the best flux core welding wire for your next project and thank you for reading.