Shielded Metal Arc Welding (SMAW) is also called stick welding. This type of welding procedure is especially appreciated for welding outdoors or if perhaps you need to weld in an unusual position.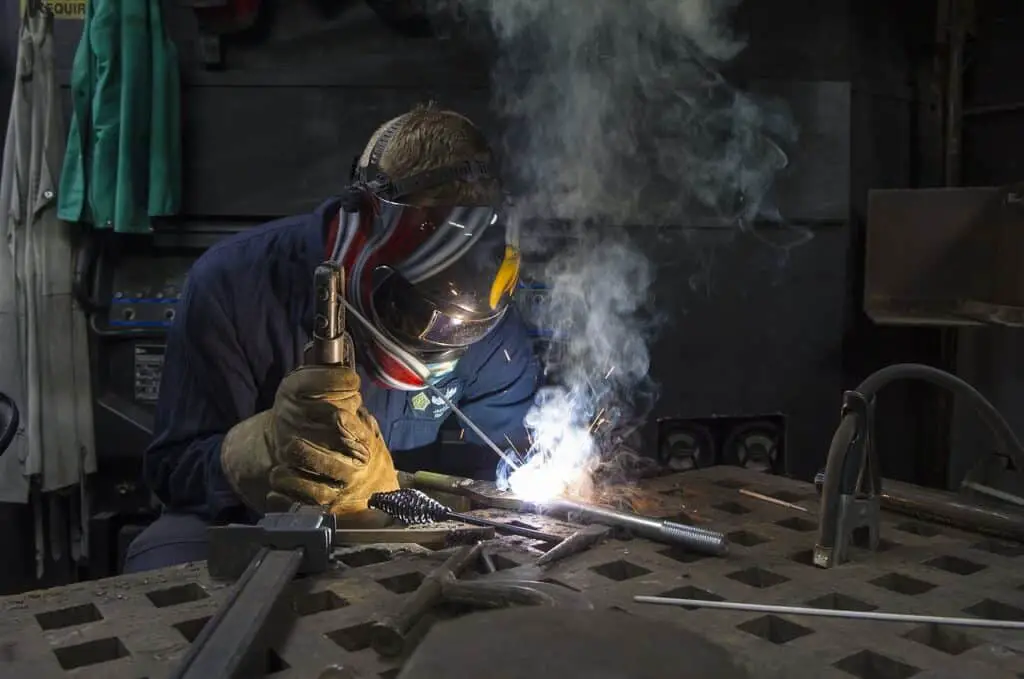 There are so many stick welding machines available in today's market, so we asked our team of professional welders to research and test dozens of these machines to help you find the best choice for your welding needs.
We compiled our list of best stick welders based above all on our hands-on testing. We really liked the Lotus LTPDC2000D welder because due to its 3-in-1 capabilities. This welder not only allows you Stick and TIG welding but is also a plasma cutter. If you don't already own a cutter, this machine will let you get started.
For a budget choice, our favorite is the Forney Easy Weld 298 Welding Machine thanks to its Stick and TIG capabilities together with a functional 90A output.
All About Stick Welding
This is a welding procedure that can join various metals by using an electrical current and an electrode. This welding method dates back well into the 1800s thanks to Humphry Davy, a British chemist, who managed with the help of a battery and two carbon electrodes to create an arc.
In the 1880s two types of welding methods were introduced: metal arc welding and carbon arc welding.  In 1890, the United States granted its first arc welding patent to C.L. Coffin. 
Then in 1900 or so, the coated metal electrode was produced by another British inventor thanks to his finding that a light coating of lime or clay was able to produce an arc that was more stable.
Swedish inventor Oscar Kjellberg introduced an electrode coated in carbon mixed with silicates somewhere between 1907and 1914.
Much later, in the 1950s iron powder was combined with flux coating to increase the speed when welding. Now manufacturers continually upgrade welding machinery to improve speed and precision with safety.
The Basics
A flux-coated electrode attached to a welding machine will form a weld. By barely touching the metal and then pulling back, an arc will form which causes the base metal to melt together with the electrode consumable.
Tiny drops from the electrode drip into the weld pool and the flux coating releases a gas that covers the weld for protection from oxidation.
When welding is finished, the gas will settle onto the weld and during cooling form slag. Once all is complete, the slag will be chipped off or removed to show the completed weld.
This welding process is not difficult to learn and is a favorite among beginning welders.
Benefits and Drawbacks to Stick Welding
Stick welding, like all welding processes, brings with it both advantages and disadvantages.
Let's consider:
Benefits
Great efficiency when working outside in inclement or windy weather

Needs no external shielding gas

Easy-to-learn method

Affordable

Can weld a variety of metals and alloys

Rods are easy to switch when welding different alloys

Not sensitive to rust or paint, so prepping is quicker

Works well in confined spaces

Lightweight and no extra gas cylinder

Great for quick welding needs
Drawbacks
Slower than other welding methods

Needs time to clean slag

Not great for thin metals

Consumable electrodes require replacement more often
Who Uses Stick Welders
These welders are often used for pipe or agricultural repairs, especially due to their light weight and portability together with the fact that they function in any weather condition. This type of welding is particularly indicated when a weld doesn't need to appear pretty or refined.
Stick Welder Buying Guide
If you are looking for a welder that is versatile and that can create robust welds on a variety of metals, stick welding is for you. It's both affordable and portable. Here's what to consider when selecting.
Controls. Look for large, easily seen controls that you can adjust even when wearing gloves. Standard controls include: on/off, amperage, and a display. There may be extras like cycle warnings, or a voltage switch in the case of dual voltage.
Cost. Stick welders are much more affordable than other types of welding machines. They are built to last and do not require a gas cylinder or consumables other than the electrodes.
Current. Welding machines will come in three versions, AC, DC, or both.
AC or alternating current is the usual choice for welders that are entry-level.  Ac is also useful when metal magnetizes due to friction causing arc blow.
DC is the most common current choice, and it can be used in any welding situation with the exception of magnetized metal. The arc is easy to start with DC and is smoother, producing less spatter.
DC will be better if you intend to do welding that is either vertical or overhead. DC will have two polarities for you to use, with a negative polarity giving more deposition but less penetration. Positive polarity will offer less deposition but a higher penetration.
Duty Cycle. The duty cycle will tell you the length of time that you can weld without interruption before you need to rest and cool down the machine. A full cycle lasts ten minutes. If you have a duty cycle of 60%@160 A, the welder can run for 6 minutes before resting for 4 minutes.
The longer the welder can operate, the better because you can weld for longer without overheating the machine. If time is important, you will want a longer duty cycle.
Portability. If you are moving around on your property for welding repairs, portability can mean everything. In this case, an inverter welder will offer lighter weight and more portability.
Power Source Needs. It is important to know what type of welding you will be doing and how much power you will need to do it.
Metals, their thickness, and the size of the electrode you want to use will all contribute to deciding the amount of power you'll need. 
Input from an electrical current is indicated in volts. If you have the correct voltage, you will get better results. U.S. standard home electrical supply is single phase with 110-120V.
If you are a DIY hobbyist, this should be sufficient. If you plan on doing heavy welding, you may need 220-240V that will give you a better cleaner arc.
Output amperage is a very important consideration. If you have a weak welder, you will need to do several passes in order to complete your weld.
This will consume both time and energy. The ideal minimum output should be no less than 80A and better yet would be 100A.
Safety. Nowadays welders come with safety features to protect you during welding. Two important features to look for are:
Protection from Thermal Overload that will automatically shut the welder off to prevent it from overheating.
This feature allows you to concentrate on welding and not worry about the machine. It shuts down at the duty cycle's end and will turn back on only when sufficiently cooled down.
The Duty Cycle indicator will light up as you near the end of the cycle to warn you that it is coming to an end.
Transformer or Inverter. There are two types of stick welders: transformers or inverters. Inverters are more common and more popular.
Transformer. This type of welder is indicated for heavy-duty welding that uses a lot of power. They usually feature solid machine builds that are heavier and need more space. They are affordable and built with durability in mind.
Inverter. The most common machine found they are lighter in weight and portable, rarely weighing much more than 20 lbs. They also need less space. Known for their efficiency, they create a smoother stabler arc.
Versatility. If you want more versatility from your welder, look for a machine that offers both stick and TIG applications. You may even find one that offers MIG as well in an all-purpose welder.
---
The Reviews
Best Value Stick Welder  
1. Lotus Non-Touch Pilot Arc LTPDC2000D Stick/TIG Welder and Plasma Cutter
LOTOS LTPDC2000D Non-Touch Pilot Arc 50A Plasma Cutter 200A Tig Welder & Stick Welder
★ NON-TOUCH PLASMA CUTTER: 10-50AMP Plasma Cutter Current Output; Max Ideal Cut Thickness: 1/2 ; Max Severance Thickness: 3/4; Pilot Arc Torch Efficiently Cuts through Rough, Painted, and Rusty Surfaces and Produces Minimal Slag.

★ TIG WELDER: 15-200AMP DC TIG Electric Current Output; Quality TIG welding on Stainless or Steel and Precise Welding of Thinner-gauge Materials.

★ STICK/MMA WELDER: 15-200AMP DC Stick/MMA Electric Current Output; Easy ARC Start, Stable Welding Arc; Deep Weld Pool and Beautiful Welding Shape.

★ THE COMPATIBLE CONSUMABLES SETS for this BROWN Color LTPDC2000D Plasma Cutter are PCS22 or PCS33.

★ DUAL VOLTAGE INPUT: Automatic Dual Voltage / Dual Frequency (110/120 V 220/240 V 50/60Hz).
Prices pulled from the Amazon Product Advertising API on:
Product prices and availability are accurate as of the date/time indicated and are subject to change. Any price and availability information displayed on [relevant Amazon Site(s), as applicable] at the time of purchase will apply to the purchase of this product.
This is an outstanding 3-in-1 welder that not only offers you TIG and Stick welding but is also a Plasma Cutter. That means that even if you are paying a bit more for it than other stick welders, you are getting more functionality for the price. As a welder, it can weld metals as thick as one-half inch.
Thanks to a non-touch pilot arc you can cut through metal with very little slag because the tip does not touch the surface. It features a 50Amp pilot arc plasma cutter. The thickness for maximum severance is ¾-inches.
Able to operate on dual voltage, 110V or 220V, its Amp output ranges from 10 to 200A. The duty cycle is 60%@200A meaning this welder packs quite a bit of power. Lotus offers a three-year warranty.
Pros
Non-touch pilot arc

3-in-1 combo Stick, TIG, and plasma cutter

110/220V dual voltage

Amp range of 10 to 200

Lightweight

3-year warranty

Duty cycle 60%@200A
Cons
Foot pedal must be purchased separately
Check Price and Reviews on Amazon
---
Best Beginner Stick Welder 
2. Everlast 2020 PowerArc Stick/TIG welder 40A Dual Voltage
Prices pulled from the Amazon Product Advertising API on:
Product prices and availability are accurate as of the date/time indicated and are subject to change. Any price and availability information displayed on [relevant Amazon Site(s), as applicable] at the time of purchase will apply to the purchase of this product.
This Everlast Welder may appear a bit more expensive, but it offers both stick welding and TIG capabilities. Considering this welder's capabilities, its light weight, and 140A power capabilities, it is incredibly affordable.
The Everlast 2020 is a great choice for beginners and can be used for both home projects or smaller professional applications. Thanks to the Stick and TIG capabilities, you can use it for more welding necessities. 
IGBT inverter technology and design make this welder lighter weighing in at 25 lbs. and thus easily portable with a convenient strap to wherever you need to weld. It also has a case for easy storing when not in use.
Amperage range measures from 10 to 140 A and the stick application has its own auto-adaptive start, while the TIG application comes with a lift start feature. Dual voltage allows you to use it with 120V or 240V and you can switch between the two without a problem.
The duty cycle is 35% at 85A when used with 120V or 35% at 140A with 240V. This Everlast comes with a complete beginner's kit to start you off. The only things to add are the electrodes for stick welding.
Pros
TIG/Stick capabilities

IGBT inverter

Portable at 25 lbs.

140A

Dual voltage 120/240V
Cons
Comes without a foot pedal

Only DC

No gas regulator for TIG applications
Check Price and Reviews on Amazon
---
Best Budget Stick Welder  
3. Forney Easy Weld Stick Welder 298
Forney Easy Weld 298 Arc Welder 100ST
Inverter power system.

120 volt input and 90 amp output.

TIG capable (sold separately).

Handles up to 1/8 inch rod.

Click on the (BY FORNEY) name above in blue under the title to view our full catalog of Welders, Abrasives, Chain/Wire Rope, Tools and more!.
Prices pulled from the Amazon Product Advertising API on:
Product prices and availability are accurate as of the date/time indicated and are subject to change. Any price and availability information displayed on [relevant Amazon Site(s), as applicable] at the time of purchase will apply to the purchase of this product.
This Stick Welder by Forney is an affordable inverter welder that offers a decent 90A output of power. While it may not be a lot, it certainly is more than adequate for home repairs and smaller DIY projects as well as some automotive applications.
It offers both Stick and TIG capabilities and by simply flipping a switch you can change between the two. It will however require the purchase of a separate TIG torch should you want to use the TIG application.
Thanks to its inverter, this welder is very lightweight at less than 10 lbs. and can easily be moved when necessary or transported elsewhere.
This welder can weld metals from 16 gauge to 5/6 of an inch in thickness. Electrodes up to 1/8-inch can be operated.
Pros
Inverter welder

120V

90A output

Stick and TIG

Lightweight at 13.74 lbs.
Cons
TIG torch must be purchased separately
Check Price and Reviews on Amazon
See also: Best Multi-Process Welder under $1000 (for Beginners)
Conclusion
Stick welders are good investments for welders including beginners, that need to do reparations at home or on property.
Each welder will bring benefits and drawbacks, but hopefully, our stick welder buying guide will get you started in your search for the best stick welder for your needs.