For hobbyists, DIYers, and even small business owners that do some welding but need to be able to weld various materials, a multi-process welder may be the answer.
A combo welder is a great option for those who do small amounts of welding. Logically, for those that weld professionally or for industrial applications, these are not an ideal choice.
The decision to select this type of welding machine boils down to what kind of project you need it for.
Our team of pro welders researched and tested these machines for you to help you save time looking for one and to aid you in investing your money well. Our top pick for a combo welder under $1000 is the Eastwood Elite 200A MP200i Combo Welder.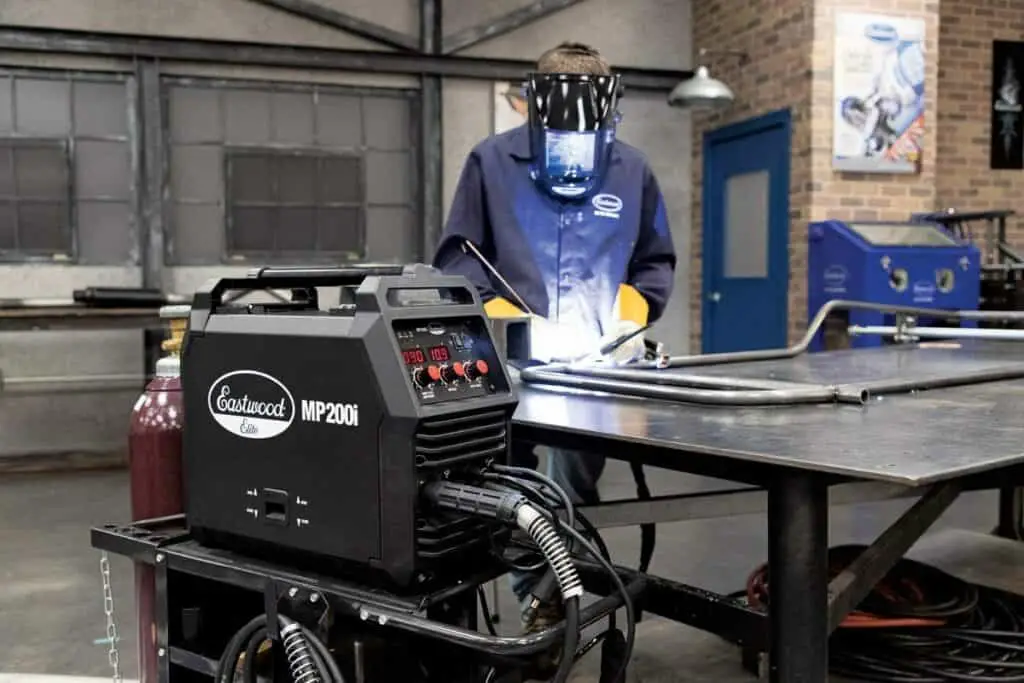 Another great choice to consider is the Lincoln Electric Multi-Process LE31MP Combo Welder #K3461-1, and if you want a complete 5-in-1 combo welder, check out the Yeswelder Firstess™ 5-in-1 MP200 Welder and Plasma Cutter.
| Welder | Power Output | Voltage | Processes | Duty Cycle |
| --- | --- | --- | --- | --- |
| Eastwood Elite 200A MP200i Combo Welder | 200A | 120 or 230V | MIG, Stick, TIG | 40%@90A 120V, 20%@200A 230V |
| Yeswelder Firstess™ 5-in-1 MP200 Welder and Plasma Cutter | 200A | 110 or 220V | MIG, Stick, TIG, Flux Core, Plasma Cutter | 110V: MIG/TIG/STICK 60%@160A, 100%@123A, 220V: MIG/TIG/STICK 60%@200A, 100%@154A Plasma Cut: 60%@30A, 100%@23A@110V, 60%@40A, 100%@30A@220V |
| Lincoln Electric Multi-Process LE31MP Combo Welder #K3461-1 | 30A to 140A | 120V | MIG, TIG, Flux Core and Arc | 60%@95A MIG, 60%@50A Stick, 60%@115A TIG |
| Yeswelder Multi-process 3-in-1 MIG-205DS Welding Machine | 200A | 110 and 220V | MIG, Stick, TIG | 110V: 60%@160A, 100%@123A, 220V:60%@205A, 100%@158A |
Our List of Favorite Combo Welders
Best Overall Combo Welder Under $1000
1.) Eastwood Elite 200A MP200i Combo Welder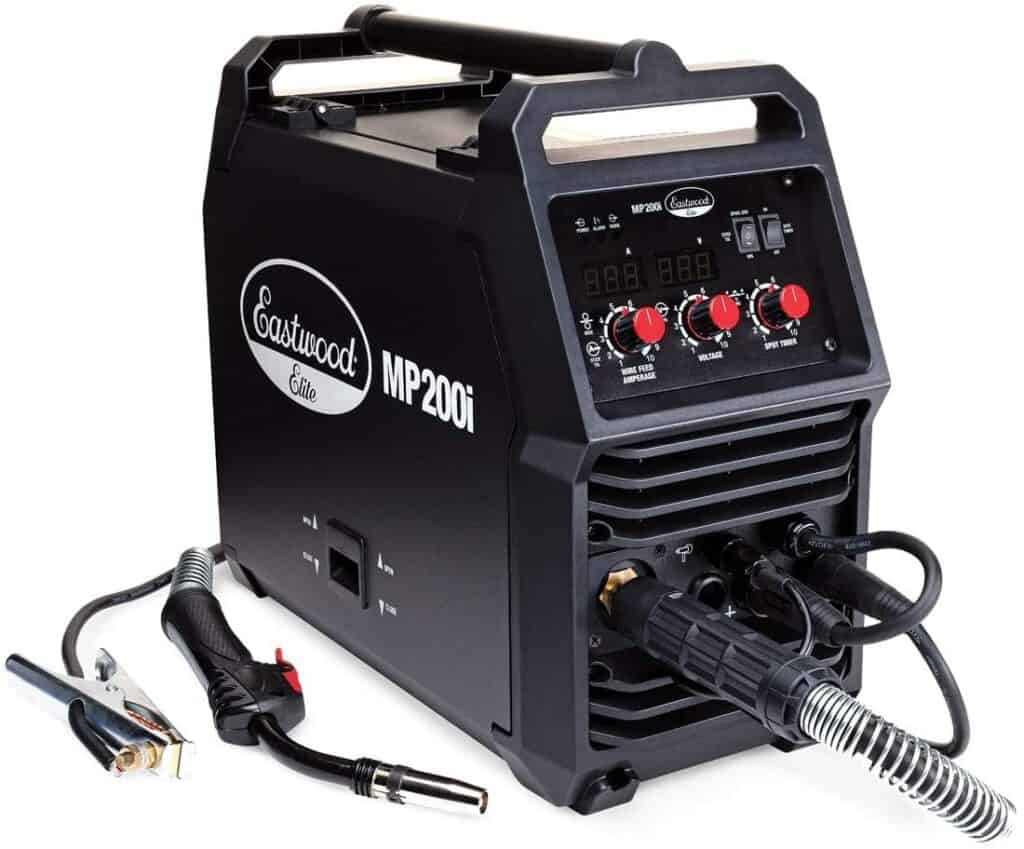 A dual voltage welder, it will run on 120V or 240V offering TIG, MIG, and Stick welding. It has a timer for spot-welding for sheet metal, automotive work, or appliance projects, making this a professional-grade welder.
Displays are digital and setting dials afford precision control for power. An option of a spool gun lets you MIG weld aluminum.
The power range for TIG and MIG is 90A on 120V and 70A for stick, while at 240V stick will reach 170A, and MIG and TIG arrive at 200A.
Pros
MIG aluminum welding

Gas regulator

MIG gun

TIG torch

Takes 4and 8-inch spools
Cons
No foot pedal

TIG scratch start
---
Best Value Combo Welder Under $1000
2.) Yeswelder Firstess™ 5-in-1 MP200 Welder and Plasma Cutter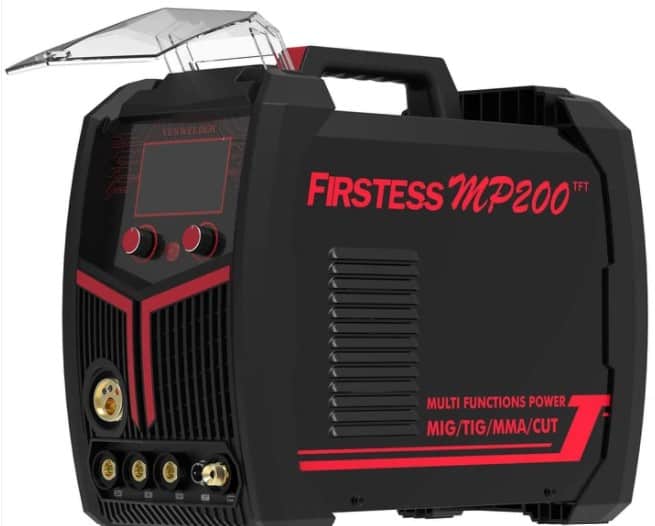 This combo welder distinguishes itself as a 5-in-1 multi-process welder, one of the few if not the only one in the market.
It offers so many features that it is a difficult welder to compete within the "under $1000" price range. Primarily it distinguishes itself because it comes complete with a plasma cutter.
This combo welder is for hobbyists and DIYers. It offers dual voltage of both 100V and 220V and has a power output of 160A when welding and 30A for plasma cutting at only 110V. When using 220V, it will provide 200A for welding and 40A for plasma cutting.
This machine allows you to do DC Lift TIG, Flux Core, Synergic MIG, Stick, and of course plasma cutting. It also features pre and post-flow time, burn back, 2T/4T, along with further possible adjustments.
Settings can be saved and easily recalled if necessary. This is a fantastic combo welder for hobbyists and DIYers that want to experiment with as many welding techniques as they can. Weighs in at approximately 53 lbs.
Pros
A high duty cycle of 60% at maximum output

Allows for ten memory settings

Complete with accessories

Great output at 110V

Plasma cutter

Exceptional MIG arc
Cons
Without a spool gun for aluminum

Speed of wire feed cannot be modified manually
---
Best Heavy-duty Combo Welder Under $1000
3.) Lincoln Electric Multi-Process LE31MP Combo Welder #K3461-1
Lincoln Electric LE31MP MIG Welder with Multi Processes
This refurbished product is tested and certified to look and work like new. The refurbishing process includes functionality testing, basic cleaning, inspection, and repackaging. The product ships with all relevant accessories, and may arrive in a generic box
Prices pulled from the Amazon Product Advertising API on:
Product prices and availability are accurate as of the date/time indicated and are subject to change. Any price and availability information displayed on [relevant Amazon Site(s), as applicable] at the time of purchase will apply to the purchase of this product.
Lincoln Electric is an industry powerhouse when it comes to welding, so expect this product to offer exceptional performance.
The combo welder comes with a gas solenoid inside for TIG welding and with a gas regulator for shielding gas used in MIG welding.
It also had Stick and Flux Core capabilities, and all can be performed using a household 120V power source. The solid aluminum drive mechanism will mount both 4-inch and 8-inch wire spools.
The TIG welding application gets high marks for performance, but you will have to buy TIG accessories separately as well as a foot pedal.
This particular multi-process machine is highly rated by small businesses and garages especially for quick tasks and tack jobs.
As a premier welding supplies manufacturer, Lincoln offers a 3-year warranty. The output range is from 30A to 140A permitting you to work on 24-gauge sheet metal or a 3/16-inch metal plate. It is also generator-friendly if the generator has at least 4000W output.
Pros
Portable

MIG aluminum welding

Drive spring is adjustable

Spool tension indicator

TIG gas solenoid

Gas regulator
Cons
TIG accessories not included

No Spool gun included

Scratch start instead of lift arc
Check Price and Reviews on Amazon
---
Best Combo Welder Under $1000 for Beginners
4.) Yeswelder Multi-process 3-in-1 MIG-205DS Welding Machine
YESWELDER Digital MIG-205DS
IGBT inverter technology, Full 30-205Amp(max) with digital display, reliable quality and stable performance.

Synergic Control,Automatic change of the voltage & wire feeding speed by adjusting the amperage or choosing different thicknesses

Safety, Automatic Protection Function for Over-current, Over-voltage and Over-heating
Prices pulled from the Amazon Product Advertising API on:
Product prices and availability are accurate as of the date/time indicated and are subject to change. Any price and availability information displayed on [relevant Amazon Site(s), as applicable] at the time of purchase will apply to the purchase of this product.
If you are new to welding and want to get started immediately with a combo welder, manufacturer Yeswelder offers this affordable machine for TIG, MIG, Stick, and Flux Core welding.
It features dual displays that are digital as well as an arc control that can be dynamically modified during MIG welding known as synergic arc control and settings.
This technology aids in changing arc settings to maintain the quality of the arc as conditions change. You can choose the welding process with a single digital button found on the welder's control button.
A TIG torch is not included but it does have a MIG gun and a stick mode clamp. The machine also features a flip-up plastic dust cover. The 2T/4T trigger lock fights hand fatigue.
You will not be able to use MIG for aluminum welds as there is no compatibility with spool guns. You can use an aluminum electrode for aluminum welding.
Pros
Lightweight at 33 lbs.

Digital display

Lift start TIG arc

Button select mode

Flip-up protective cover
Cons
Torches for TIG and MIG not included

Only mounts 4-inch wire spools

Not for aluminum welding
Check Price and Reviews on Amazon
---
What Can a Combo Welder Do?
The multi-process or combo welder is a nice option for your home workshop or garage if you want or need the capability to do a few types of welding without breaking the bank.
They will be more expensive than a single type welder, but they will be less expensive than buying a machine for every type of welding application, or multiple welders.
The majority of combo welders can perform two or more of the following welding processes:
Arc

Flux Core Wire

MIG

TIG 

Plasma cutting
It should be specified that some welding machines will be able to do two of the functions but may not, all the same, be truly multi-function.
Examples of this are TIG welders that are also stick or MIG welders that do flux core, so these will not be considered multi-process combos.
Multi-process welders will usually be smaller machines with 110V/220V. They do lighter, smaller applications.
They may do both MIG and TIG that for most DIYers will be more than adequate. This will not be the case for professional industrial settings.
The Combo Welder Pros and Cons 
Any industry, small business, or even hobbyist that deals with metal will need a welder. Metal is joined with the help of welders, and welding machines, in general, are used in construction, manufacturing, and engineering.
There are numerous kinds of welding machines available and among these, we find the combo or multi-process welder.
This particular welding machine can do a variety of welding processes such as TIG, Stick, and MIG. Like all machines, it has both benefits and disadvantages.
If you are interested in investing in this type of welder, it's important to consider the benefits and the disadvantages associated with it.
See also: Best AC/DC TIG Welder for Beginners
Combo Welder Benefits
This kind of machine does offer some significant benefits. Among these, consider
1.) Complexity: These machines are great if you have a more complicated welding project. Sometimes a single process welder cannot provide the variety of quality welds necessary.
This machine offers you several welding applications to work with.
2.) Consistency: Thanks to the different welding processes available you'll be able to do several applications.
Single process welders not only are limited to a single application but may not be able to provide the same quality on all the welds performed.
The overall performance of multi-process welders is consistently a quality result.
3.) Ease of Use: Combo welders are relatively easy to operate, making them ideal for beginner welders. For newbies, this is a nice machine to learn on.
Welding processes are simplified, so the skill level is less important.
4.) Lightweight: These machines are generally lightweight making them exceptionally portable.
If you need to do a job away from your workshop or at another location on your property, this is one welder you can bring along.
Unlike bigger, heavier, and bulkier welders, these machines easily fit into any vehicle.
5.) Reduced Cutting Costs: Believe it or not, you can save some money with a combo welder. Because this machine probably will feature MIG, TIG, and Flux Core, you'll be able to reduce the amount of metal removed when welding.
6.) Saves Space: If you have only one machine, you'll save space as opposed to having to store three or more machines. You'll have more storage space and more workspace available.
7.) Saves Time: Thanks to the ability to perform various applications. Processes like stick welding or metal arc welding with shielding gas will often be included.
This will save you time because you don't have to change the welder you're using every time you do a weld costing you valuable time.
8.) Versatility: Versatility is what it's all about when you choose a combo welder.
You can perform many various applications with a single welder, meaning you'll be able to make many different things and even do flux core welding at an expedited speed.
These welders work well on both small and medium objects and welds will be strong.
Combo Welder Disadvantages
Despite the many benefits, there will be a few drawbacks as in the case of any power tool. Consider these disadvantages when considering your purchase.
1.) Durability: Due to the varied uses of a combo welder, it may not last as long or be as durable as a single-process machine.
Precisely because they perform multiple processes, lifespan may be reduced. There also is a greater risk of the need for repairs
2.) Duty Cycle: Duty cycles, or the amount of time a welder can run without necessitating a rest period, tend to be lower with combo welders. This may make larger projects more difficult to complete.
3.) Expense: Combo welders tend to be more expensive than single-process welders, and if you need more power and high-quality welds, the price will increase in a combo welder. There's also maintenance and reparations to take into account.
4.) Penetration: One major drawback is that penetration may be poor, meaning that the welder may not be able to penetrate the metal you are working with enough to create a quality weld. 
5.) Power: A combo welder may have less power than a single application welder. If you require substantial power, this machine may not be the ideal choice.
6.) Welds are Bumpy: Sometimes combo welds produce welds that are bumpy. This results from the uneven heating of metal. When this occurs, the eventual strength of the weld, as well as quality, can be affected.
7.) Wire Erosion: One of the risks of combo welders is the erosion of the wire. If this happens the metal, you are working with will begin to wear away instead of welding together.
Should this happen, switch to another welding process right away to limit risks.
Features to Search for When Purchasing
1.) Maintenance/Warranty: Maintenance is an important feature when buying any power tool.
The more dependable the machine, the less maintenance will be called for. Also, consider the warranty, especially if the metals you use are expensive.
2.) Plasma Cutting: This is usually one of the extra features you find on combo welders. Decide if you need this capability and check exactly what the plasma cutter can do.
3.) Power Output: The amperage power will also determine what your machine will be able to do. Again, consider the kind of projects you plan on undertaking.
4.) Safety: Emergency stop buttons and interlock switches to avoid accidental starts are appealing features when considering safety.
5.) Voltage: Check the voltage range you need or the kinds of welding you plan on doing.
A Final Thought
Combo welders are a great investment for hobbyists and DIYers with the versatility they offer, and any of these welders are well worth your consideration and your investment.