If you are planning to pick up welding as a hobby or something that you want to learn to be more self-sufficient, then you might have often wondered if it is even legal to weld at home.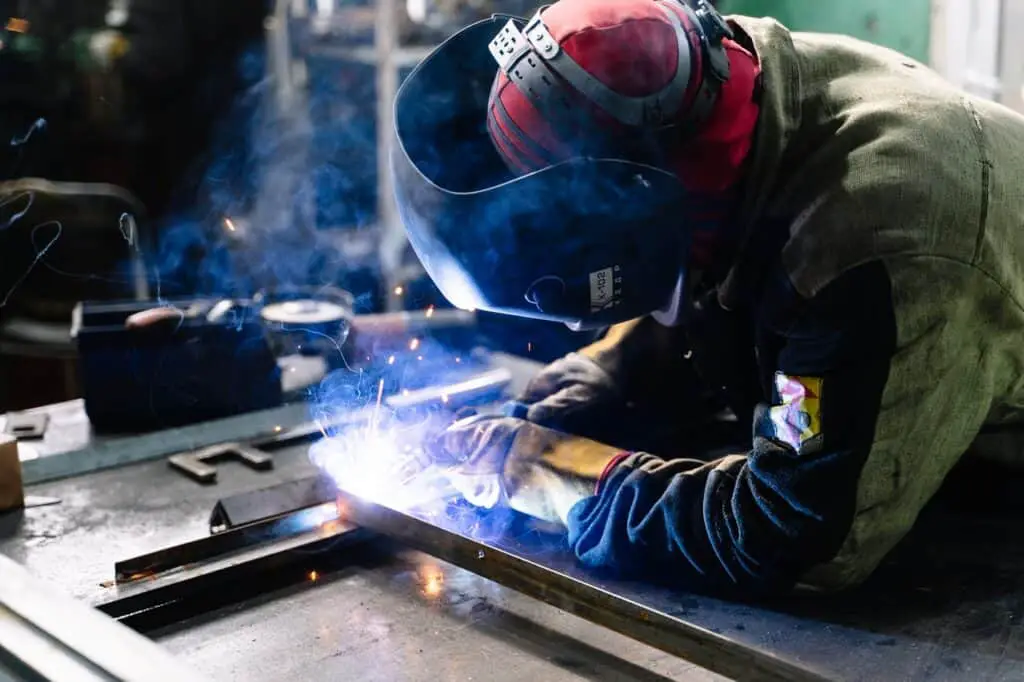 And when we say home, we are referring to your home garage because that is the most ideal place in your entire house to set up your own little workshop.
Never consider welding inside your home where your family eats and sleeps or even your basement for that matter. These are highly confined spaces, which makes them very susceptible to fire accidents. 
Yes, it is absolutely legal to weld at home. There are no special permissions or licenses required for such work. Unless you are planning to weld for commercial purposes, then yes, you will need a legit license to set up shop.
However, there are innumerable things to keep in mind before you buy a welding machine and begin your home improvement project.
This article covers all the important information that you need to be aware of for you to have a proper, fully functional welding workshop in your own home garage.
Setting up your personal welding space
You may be excited to begin your welding project as soon as you get your hands on the required tools, and equipment. Hold your horses! Because it is equally important to get your personal welding space ready permanently before commencing your newfound hobby.
1.) Ventilation: Welding metals causes a lot of fumes, which when inhaled is very hazardous to our health. So, there should be proper ventilation in the welding room or area to let the fumes out. If there are windows, then keeping them open will help too.
Additionally, you can keep a box fan running to help the fumes pull away from you. Other options include buying a portable fume extractor which will aid in removing the fumes at the source itself. Idea is to have enough ventilation in your welding workspace.
2.) Fire extinguishers: Ideally the fire extinguishers will be kept away in a certain corner of your room. However, before you start welding, keep a minimum of two extinguishers close to you so you do not have to go running for it if the need arises.
Despite being careful and keeping all flammable items away from your work area, accidents can take place so it is better to be prepared.
3.) Workspace: The most ideal place to set up your welding workspace would be your home garage. The space required for such work usually needs to be big enough for you to move about freely and still have space for all your tools and equipment.
You can keep the garage door open and cover the opening with transparent screens that will allow natural light to come in while blocking the harmful UV rays. Also, make sure that you have the required power outlet to plug in your tools.
See also: Can You Use Home Outlet for MIG or Stick Welding?
 Safety guidelines for welding at home
It goes without saying that you need to be safe while doing any welding project on your own because it is practically like working with fire. Therefore, personal safety is of utmost importance.
1.) Protective gear: Wearing the appropriate gear will go a long way for you when welding. You should wear clothes that are fire-resistant and cover you fully, without exposing any skin. Even a tiny spark can cause harm to your skin when it is uncovered.
Cover your hands with gloves that are flame-resistant or designed specifically for welding. Wear the right work boots that can protect your feet from molten rubble pieces that can fall on the ground while welding.
Another important thing is safety glass for your eyes because when they are exposed to harmful radiation regularly, it can cause permanent damage to your eyes. A proper welding helmet is also a necessity to minimize the risks involved in welding work.
2.) Get the place ready: Before you begin welding you need to make sure that the area is free from all possible dangers. To start with, get rid of everything that is possibly going to catch fire, such as, rags, paper, oil, gasoline, chemicals, rugs, plastic, cardboard, etc.
Keep every such item in a safe place that is as far away as possible from your main welding area. To avoid the floors and walls from getting damaged by sparks, and from catching fire, you should cover them with welding blankets that are fireproof.
Also, make sure that none of the areas is damp or wet because water conducts electricity, which can be extremely dangerous while welding. Make it a point to check every now and then if there are any noticeable sparks or burns anywhere as a precautionary measure.
3.) Equipment inspection: It is good practice to inspect all your welding equipment to make sure that they are functioning well. There should be no faulty wiring in any of them that may cause fires, burns, or even shocks for that matter.
The surface where you place all your equipment should be rather clean and flat. All the cables that you will be using must be in excellent condition so that there are no electrical shocks. You will be using gas for welding so do check that the gas line is connected correctly and well.
If your gas lines and hoses need to be replaced due to leakage, do that on priority. Maintain a fair distance from the metals and also do check the electrodes before you start welding.
Bottom line is that every piece of equipment that you will use for welding must be in excellent working condition to avoid putting your life at risk.
4.) Welding table: It is best to use an aluminum table or a fully metal table for welding. Do not weld on plastic tables as they will easily melt due to the heat generated from welding and sparks falling on them. Similarly, do not use wooden tables because they can catch fire from sparks.
5.) Clean the metals: Make it a point to clean the metals that you use for welding thoroughly. According to experts, 90% of the accidents caused by welding hazards are due to unclean materials.
Whenever the welding temperature rises, there is a possibility of the metal surface grime getting combined with the puddle. This can lead to unwanted gas being trapped within the welding once the metal cools down.
🔥 How to Properly Clean your Metal for Welding
The result of this is likely an accident nobody wants. During welding, you will probably be using paint, oil, glue, and grease to get the complete job done.
These things can lead to the formation of gasses when exposed to arc welding temperature, and sometimes even your sweat could be the reason for these gasses. This is why it is necessary for you to keep all the materials clean and dry at all times.
6.) Clutter-free workspace: Keep all the essential tools conveniently placed and remove everything else to make your workspace clutter-free. This makes your work easier and hassle-free because you will not be looking for them as and when you need them.
Having a pair of pliers handy will help you pick up hot metals easily even if you are already wearing gloves. Get rid of all the unnecessary cables, hoses, and wires to minimize the risk of tripping over them when not looking. 
See also: Why TIG Welding is Good for Home Use?
What type of welder should you use for home?
After trying all the different types of welders for my own personal use at home, I would recommend using MIG welders if you are a hobbyist like me. It is easy to use and comes with all the basic features one would need in a welding machine.
You can use it to weld a variety of thin metals, and the learning phase is also quite short. However, it is almost double the cost of Stick Welders.
As a beginner though, stick welders are also a good option, plus point is that they are much cheaper compared to MIG. And it can be used to weld metals like steel, cast iron, aluminum. Even so, you cannot expect the best finish with stick welders.
Wrapping up 
Even if welding at home is legal, I would still recommend you check with your local authorities to have a clearer understanding of the dos and don'ts.
Moreover, every residential area has its own set of rules and regulations for the safety of the residents. Most important thing is to remain safe and keep your neighborhood safe as well.