The inverter welding machine is in a category by itself whether you are a professional welder or a DIYer hobbyist. Welding machines join together a variety of metals and give a form to them.
Not everyone knows how to operate a welder as it requires know-how and a certain level of skill that will depend on the kind of welding you plan on doing.
In this sense, it is wise to always select the correct power tool for your project and your skill level. The use of inverter technology in welding machines has become more prevalent in recent years and there are some good reasons.
We researched and tested many inverter welding machines to help you navigate the many products available in the marketplace.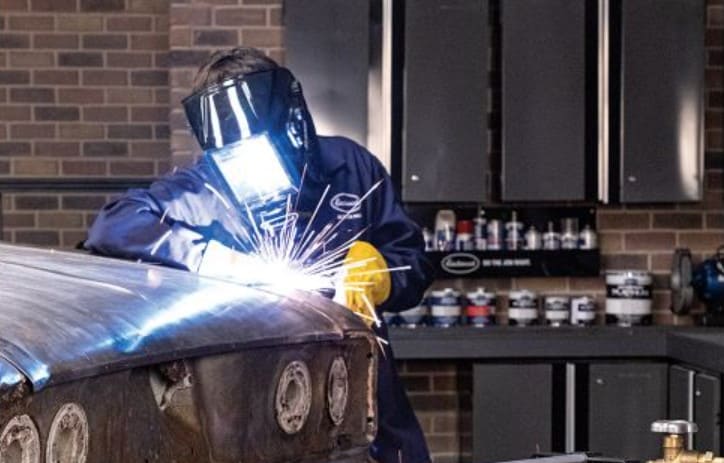 Our team of expert welders chose as our top MIG pick the Eastwood MIG Inverter 180A Welder and as our top TIG pick the Yeswelder ACDC TIG-250P Inverter Welder.
We've also selected a Stick Arc Welder with inverter technology and a Multi-Process welder for those that require more options when welding.
| Product | Welding Type | Voltage | Amps | Duty Cycle |
| --- | --- | --- | --- | --- |
| Forney Easy Weld 291 180 Stick Welder | Arc Stick, TIG capability | 120V, 230V | 10 to 180A | 80 amps @ 30% for 120 volts; 180 amps @ 25% for 230 volts |
| Eastwood MIG Inverter 180A Welder | MIG | 120V, 240V | 180 | 30% duty cycle at 180 Amps and 60% at 130 Amps |
| Yeswelder ACDC TIG-250P Inverter Welder | TIG | 220V | 5A-250A for TIG, 10A-200A for MMA | TIG 60%@250A, 100%@183A, MMA 60%@200A, 100%@155A |
| Weldpro Inverter 200A Multi-Process Dual Voltage Welder | TIG, MIG, MMA | 115V, 230V | 200A TIG: 15-200A, 115V: MMA:40-120A; MIG:40-120A; 230V: MIG: 40-200A; MMA: 40-200A; TIG: 15-120A; | 30%@ 200A |
Our Favorite Best Inverter Welding Machines
Best Arc Stick Welder
1.) Forney Easy Weld 291 180 Stick Welder
This is a lightweight DC stick welding machine with inverter technology that also comes with the DC TIG welding capability.
Its design has also been conceived so that it works with dirty power or a generator. It is a welding machine that is dual voltage and can use 120V or 240V power.
The Easy Weld has a lift kind of TIG torch start that is high frequency to minimize the risk of contamination and reduce the consumption of consumables.
TIG accessories like the torch, and gas regulator must be purchased separately. The machine is not compatible with foot pedals.
An ample 10 to 180A current output makes this an appealing option. It can weld steel up to ½-inch thick yet weighs only 14 lbs.
The 10A minimum is great for auto body thin metal welding. Duty Cycle- 80 amps @ 30% for 120 volts; 180 amps @ 25% for 230 volts. It comes with a 5-year warranty. 
Pros
IGBT inverter technology

Wide 10-180 A

8-ft. connections

Lightweight at 14 lbs.

Dual arc welder with TIG capability

Welds 18 gauge to ½-inch thick metals
Cons
No torch for TIG welds

Not compatible with foot pedal for TIG welds
Check Price and Reviews on Amazon
---
Best MIG Inverter Welding Machine
2.) Eastwood MIG Inverter 180A Welder
This Eastwood welder has dual input ability and can use either 120V or 240V power. It will produce 120A with 120V and 180A with 240V  and the lower setting of 30A means you can weld metal as thin as 24-gauge.
It also boasts a 2T/4T trigger lock for longer welds. It works very well for auto bodywork. It comes with a MIG gun that is Tweco-compatible and features tack welding to pulse the arc.
30% duty cycle at 180 Amps and 60% at 130 Amps. Portable at 26 lbs. The welder comes with MIG wire spool, gas regulator and hose, ground clamp, torch and nozzle, adapter cord, and more.
Pros
IGBT inverter

Tweco type torch

Dual voltage

Lots of adjustment in controls

Compatible with spool guns

Can mount 4-inch and 8-inch spools

Comes with regulator
Cons
Torch leads could be longer

Most 120V welding machines go to 140A
Check Price and Reviews on Amazon
---
Best TIG Inverter Welding Machine
3.) Yeswelder ACDC TIG-250P Inverter Welder
This YesWelder comes with a brilliant pulse feature. The pulse modulation lets you remove surface oxidation and prevent impurities from getting into the weld.
Digital settings make operation simplified except for the analog amperage setting. The YesWelder will adjust while you weld so that the arc remains consistent.
This TIG welder has a 2T/4T trigger locking device reducing hand fatigue for longer welds. The torch button is stiff and hold down. It has a 5-pin metal foot pedal.
An AC machine, it can weld aluminum easily. It boasts a spot-welding timer, dirty power ability with a generator, and square wave mode. 10 to 165 amperage and 5-to-250-amp stick welder capability complete this welder.
Pros
Trigger lock

Spot-welding timer

IGBT Inverter

Square wave mode

Generator friendly 

The front panel is a dust cover that flips up 

WP26 TIG torch

Saves settings automatically

Digital settings

Anti-stick feature

Foot pedal heat control

Pulse feature
Cons
Without a gas regulator

TIG torch could be better quality
Check Price and Reviews on Amazon
---
Best Multi-Process Inverter Welding Machine
4.) Weldpro Inverter 200A Multi-Process Dual Voltage Welder
This impressive multi-process welder has capabilities for TIG, MIG, Flux Core Welding, and Aluminum welding. It can be used for auto work, maintenance, decorations, and more.
This 3-in-1 unit weighs only 30 pounds making it portable and boasts an easy-to-read dual digital display showing input and output.
Wire-speed and amperages can be set thanks to a user-friendly menu. Settings of inductance are also adjustable.
The compact design includes overload protection and temperature protection. It also features the possibility to adjust the voltage by minus or plus 20% from your starting voltage allowing for lots of adjustment.
The IGBT inverter produces a high-power output.  A spool gun switch for welding aluminum is present. Welding Amperage Ranges TIG: 15-200A115V: MMA:40-120A; MIG:40-120A; 230V: MIG: 40-200A; MMA: 40-200A; TIG: 15-120A; 30%@ 200A duty cycle.
Pros
Maximum output 200A

Lightweight at 30 lbs.

Compact design

Adapter cable

Protection for overload and overheating

Durable 

East set up
Cons
Check Price and Reviews on Amazon
---
What Is Inverter IGBT Technology?
IGBT signifies "Insulated Gate Bipolar Transistors". These transistors are switching devices that work at a high speed and are utilized in inverter welders. They facilitate the regulation of voltage.
There are inverter welders that use an older technology known as MOSFET or MOSFET transistors.
More recent IGBT technology offers a few benefits over MOSFET, the most important being that IGBT is less at risk for fluctuation of power whether main or generator.
Hence, they are more dependable and less at risk for both damage and failure.
How Does Welder Inverter Technology Function?
An inverter in a welder is a system that is electronic. It is employed for the regulation of voltage.
When specifically integrated into a welding machine, it will convert AC or Alternating Current into an output voltage that is lower and easier to use.
An example would be 240V of AC supply that converts to 20V of DC or Direct Current power output.
Devices that are inverter-based will feature a group of electronic components in order to convert the power. A conventional transformer device generally has a single, rather large transformer that must regulate voltage.
In a welder with an inverter, the frequency of the principal power source by using electronic switches. These switches turn the power on and off rapidly up to even one-millionth of a second.
The control of the power supply before it even enters the transformer, allows for a smaller-sized transformer.
See also: Is an Inverter Welder Better for Home Use?
Are There Benefits to an Inverter Welder?
An inverter welder will offer several advantages when compared to a welder with a traditional transformer. Among these, we find:
1.) DC Output
Lots of the transformer MMA welders (Stick) only come with AC power output. This means the choice of electrode types will be limited.
When using an Inverter welder, the current can be rectified into DC meaning that these machines can operate with a much wider selection of welding electrodes.
Another strong point is that MMA stick welders can also do DC TIG welding, which is not possible with traditional AC welders.
2.) Duty Cycle
Generally speaking, higher duty cycles can be achieved thanks to welders with inverter technology. The size of the transformer is crucial.
The smaller components in the welder may heat up more quickly, they also can be cooled much more quickly than in a transformer welder.
In transformer welders, components are larger. When they heat up, they take much longer to cool. Thus, inverter duty cycles will be higher permitting you to increase productivity and performance. 
3.) Efficiency
Good quality inverter welders feature an efficiency rating of 80 to 90%, whereas conventional welding machines will have an efficiency rating closer to 50%.
The lower rating is due to the fact that the larger transformers found in traditional welders offer more resistance, so they lose power because of heat dissipation.
4.) Functions
Inverter welder electronics improve the chances to integrate extra functions like TIG welding. Existing functions also benefit from increased control.
5.) Generator Power
Efficiency means that it is more feasible for inverter welders to use generator power thanks to portable, smaller generators.
This is usually not viable with larger conventional welders. There are risks involved, but this option is more viable with an inverter welding machine.
6.) Performance
Performance is a principal consideration with any power tool and inverter welders offer performance that is considered superior to traditional welders.
This is particularly evident in Stick (MMA) welding because welders don't need to fight with the arc.
This is basically due to the inverter welders' capability to have open-circuit voltages that are higher. As a result, they often boast Anti-stick, Hot Start, and Arc-Force features. 
An excellent example is when welding thin metals which is all but impossible with stick welders. Some inverter welders will have an exceptional adjustment capability of amperage as well as an arc that is very stable.
The power output can be reduced so that it is very low allowing you to weld sheet metal or sections of tube.
7.) Size and Weight
This is the most impressive aspect of inverter welders. Inverter welders are smaller, generally smaller than a suitcase, making them easy to carry.
They weigh considerably less and yet can produce a comparable power output to a traditional transformer welder that weighs 50 lbs. or more.
Types of Inverter Welders
1.) MIG Inverter Welder
MIG inverter welders allow you to weld quite a variety of different metals and they are used often by professional welders.
These machines weld aluminum, stainless steel, copper, iron, mild steel, nickel, and bronze in different thicknesses. MIG welders also permit you to weld in a number of different positions.
2.) Multi-Process Inverter Welder
A multi-process inverter welder permits you to weld using different methods including ARC Stick, MMA, MIG, and TIG.
Some of these machines may also include Flux Core as well and will permit welding a variety of metals of varying thicknesses.
These machines offer lots of convenience as a result. Spool guns can be used to weld aluminum.
See also: Best Multi-Process Welder under $1000 (for Beginners)
3.) Stick Inverter Welder
This is a welder that allows you to do ARC stick welding. Electricity is used to weld metals with an ARC stick. Thanks to the inverter electricity in the AC form will be altered into DC and then sent to the transformer.
4.) TIG Inverter Welder
TIG welding uses heat to melt the metal pieces and form the weld. An arc is established between the tungsten electrode and the piece of metal. This heats the metal.
Shielding gas is utilized during the entire process to prevent contamination. Metal filler wire can be used.
This is an exceptional welding method for thin metals. It is a precision welding method that is operated often by pros because it is difficult to master.
See also: Best AC/DC TIG Welder for Beginners
In Conclusion
Inverter technology in a welder converts AC power into a lower output voltage that is more usable and this fact has allowed welder designs to become more compact and much lighter in weight, increasing their portability ten-fold.
Whichever kind of welding you need to do or prefer doing, there are now multiple welder options equipped with IGBT inverter technology that merits your consideration with prices for all budgets.