A MIG welder is one of the most versatile welding machines available. Because these welders do not boast industrial power, they are manufactured for the home DIY welder. What they don't have in strength, they compensate with speed and flexibility.
With so many MIG welders to choose from, making your selection can be a challenge. So after a month of testing dozens of 110V MIG welders, here are our top picks.
We chose the Hobart Handler MIG 140 Welder as our top overall pick for its top-notch MIG torch, Miller regulator, and generator friendly build. The quality in both the design and build of this welder live up to Hobart's reputation as a reputable manufacturer of professional industrial welders.
We also liked the Forney Easy Weld 140 Welder thanks to its ample output range and machine capability at a contained price.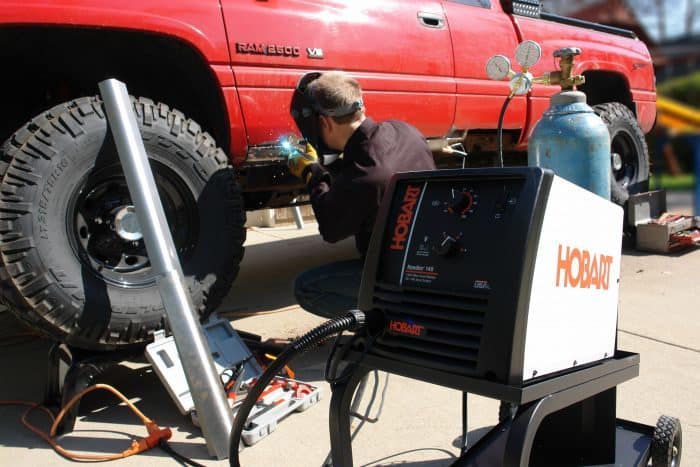 | 110V MIG Welders | Amperage | Duty Cycle | Weight | Includes |
| --- | --- | --- | --- | --- |
| Hobart Handler 500559 MIG 140 Welder 115V | 25 to 140Amps | 20% at 90A | 65 pounds | MIG gun, 10-foot work clamp cable, Thickness gauge, power cord |
| Lotos 140A FC, MIG, and Aluminum Welding | 140A | 20%@90A | 54 pounds | MIG torch, Gas Hose, Ground Clamp cord, Argon regulator |
| Forney Easy Weld 261 Welder | 140A | 30%@90A | 19 pounds | MIG gun, ground clamp, 20A-15A adapter, Handle with torch wrap |
| YesWelder MIG Pro 135A Gasless Welder | 135A | 60%@135A | 11 pounds | MIG gun, Cable, Ground clamp, Contact tips, Wire brush |
The Reviews
Best Overall 110V MIG Welder 
1. Hobart Handler 500559 MIG 140 Welder 115V
This MIG welder can run on a generator of 4000W, so you aren't obligated to use electric power in your home or garage. When you need to repair something where an electric outlet isn't available, this Hobart Handler guarantees function and portability.
It utilizes a three-groove drive so that you can use two different sizes of solid MIG wires, or a flux core wire and it mounts wire reels that are 4-inch or 8-inch in size. It boasts a quality build for durability.
The power output ranges from 25 to 140Amps thus you can weld steel that ranges from a 24-gauge sheet to one-quarter inch thick plate. A Miller gas regulator contributes quality to the package. Hobart gives a 3-year warranty.
Something to improve is the fact that you need a wrench for adjustment of the spool tension rather than a wing nut like most other brands. 
Pros:
Weighs in at 65 lbs.

Comes with an industrial quality ground clamp 

Miller brand regulator

Impressive MIG torch quality

Can use with a generator
Cons:
Necessary wrench for spool tension adjustment

Some quality problems were reported, but this may be a problem with quality control

More expensive
Check Price and Reviews on Amazon
---
Best 110V MIG Multipurpose Welder 
2. Lotos 140A FC, MIG, and Aluminum Welding
This welding machine from Lotus is MIG and FC with the ability to weld stainless steel too. Lotus tells us that it welds aluminum up to 1/8-inch plate thickness.
This is particularly impressive for a 110V machine. Polarity is easily adjusted in consideration of the fact that flux core welding utilizes only DC.
The Lotus welder has an aluminum wire feeder to improve stability. It features a 2T and 4T switch. The 2T is used for manual welding, and the 4T switch is semi-automatic so you can rest your finger during lengthier welding jobs. Digital display permits easy adjustment for wire feeder speed. 
Material plate thickness potential ranges from 18 gauge to 1/16-inch. Thanks to its multipurpose capabilities, it welds mild steel, stainless steel, and aluminum using a spool gun.
The duty cycle is 20%@90A while the amperage can range anywhere from 30A to 140A. The welding machine's weight is 54 pounds.
Pros
Wire feeder manufactured in aluminum

Welding capabilities for aluminum and stainless steel

2T/4T switches manual and semi-automatic 
Cons
No welding chart in the package

No generator attachment
Check Price and Reviews on Amazon
---
Best Value 110V MIG Welder    
3. Forney Easy Weld 261 Welder

This is an excellent welder for DIY repairs and general repair maintenance. It has low amperage The price is affordable, and Forney gives you a 12-month warranty.
This welder utilizes DC output and mounts 10 lb. reels of wire which guarantees you'll be changing spools less often. 
Machine set up is quick and easy as is clean up afterward and storage. Thicker metal pieces will require several passes to produce a proper weld, but all things considered, this welder offers great value for the money you invest. The MIG welding gun works well but the ground clamp could be a bit sturdier. 
A dial control for wire feed speed is a great feature. Encased in metal housing it is nonetheless lightweight weighing in at only 19lbs. making it exceptionally portable.
The 140A power allows you to weld up to ¼ inch mild steel without difficulty. The duty cycle is 30%@90A. 
Pros
Budget-friendly

Easy set up and use

Wire-speed control rotary knob 

Lightweight at only 19lbs.

DC current

Handle has an ergonomic design

Works with a generator
Cons
Plastic wire feeder 

Ground clamp not sturdy

Not for use with shielding gas

Lead only 8-feet
Check Price and Reviews on Amazon
---
Best Budget-friendly 110V MIG Welder
4. YesWelder MIG Pro 135A Gasless Welder
YesWelder offers a lightweight welder that is compact and budget-friendly. It comes with a good power output of up to 135A.
Its small size makes it perfect storage, portability, and home DIY welding projects. The YesWelder can even be used for a few professional welding jobs that are limited to thinner materials.
YesWelder MIG Pro boasts a notable duty cycle of 60%@135A using 110V voltage. It features automatic speed settings for wire feed and voltage settings adjust based on the amount of amperage utilized.
This automatic setting is particularly helpful to beginner welders. The plate thickness for mild steel is up to 5/32-inch.
The only disadvantage to this welder is that the MIG gun is built-in, so if you want to use a different gun you have to open and disassemble the welder for any substitution.
YesWelder MIG Pro operates with 0.030-inch and 0.035-inch diameter flux core wire on four-inch spools. The English language owner's manual included in the package is clear and well written. It is very lightweight at only fifteen pounds.
Pros
135A output 

Easy operating

Portable at 11 lbs.

Automatic settings make it a good choice for beginners

Instruction manual clear

Budget-friendly
Cons
MIG gun is built-in requiring disassembling for any substitution 
Check Price and Reviews on Amazon
---
What Aspects and Features to Think About When Selecting Your 10V MIG Welder
A MIG welder can give you a strong resistant weld, but it will not be neat or attractive. Your weld will need to be cleaned and then polished to give it a finished appearance. In MIG welding, there are two procedures that you can use:
FCAW Arc Welding with Flux Core

GWAW Metal Arc Welding with Gas
FCAW
Flux Core Arc Welding utilizes a wire that is tubular with flux that creates shielding around the arc. This method can also use a shielding gas.
This type of welder is known for its rapidity in welding and for its portability as it does not require an external gas cylinder.
GWAW
This is a method that utilizes inert gas to create a protective shield around the weld that is forming. The reason that shielding gas is used is to prevent environmental and atmospheric contamination.
This welding process is excellent for welding very thin metals like a 26-gauge plate. However, when using GWAW you will need to have a gas cylinder handy. If you need portability, this is not the ideal method.
To choose the best welder, you must consider what kind of materials you will be welding, as various types of welders are suited to one or more types of welding. This will influence your choice.
It is recommended that you narrow down the type of welder for your personal needs before beginning your search.
Budget
Your budget will also influence your choice. Welders that are more economical and priced under a couple of hundred dollars are for light welding or home projects, whereas heavier work may require an investment of approximately $500 more or less.
When you have determined the type of welding you will be doing and how much you are able to invest, you can begin your search. Be on the lookout for accessories when selecting such as
Power adaptors

Cables

Electrode holders
among others.
Duty Cycle
A duty cycle will indicate the number of minutes within a ten-minute period that a welding machine can run at a specific power amperage before needing to rest and cool down.
If a machine has a 60%@140A duty cycle, it will run for six minutes before it needs to rest for four minutes. Welders rest and cool down to prevent overheating.
The longer the welding machine can run, the better because you will be able to weld for longer without the machine overheating. If time is important, look for a longer duty cycle.
Power
Metals, thickness, and electrode size will contribute to deciding how much power is necessary. 
Electrical input is indicated in volts. The correct voltage gives better results. U.S. standard home electrical supply is single phase 110-120V. For DIY hobbyists, this is adequate.
Output amperage is a very important consideration. If you have a weak welder, you will need to pass several times to complete a weld. A minimum output of 80A or more should do the job.
Safety
Welders come with safety features and an important feature to look for is Thermal Overload Protection.
This feature will automatically shut the welder off to prevent it from overheating allowing you to concentrate on welding without distraction.
It will turn off at the duty cycle's end and will turn on when cooled down adequately. We recommend not buying a MIG welder without overload protection.
FAQs
Is there a difference between 110, 115, and 120V for these MIG welders?
No, the ANSI C84-1 standard for electrical power includes a range of 108 to 126 volts for circuits designated as 120V.
110V welding machines are rated for operation on a 20A circuit, while home outlets are designed for use with 15A. When operating on 15A circuits duty cycles and performance will be reduced.
Conclusion
Few tools can increase your home repair capabilities like a MIG welder. They can do most necessary home repairs and no longer require space, exorbitant electricity, or a lot of expense to own one.
Quality, features, and affordability are what you are looking for. We hope our list will get you started on your personal search for the best 110V MIG welder for your welding needs.