Advances in new technology are bringing benefits to numerous professions including welding. One product available to professional welders and DIYers alike is an improved welding lens that integrates new technology.
Welding is not an easy business, whether you do it for a living or various personal projects. This trade requires impressive knowledge, experience, and protection.
A welding lens is one piece of protection that neither professionals nor newbies to welding can weld without. A welding lens is crucial, and you literally cannot weld without one.
However, there are many options available for purchase in the marketplace, so finding your best welding lens can be challenging.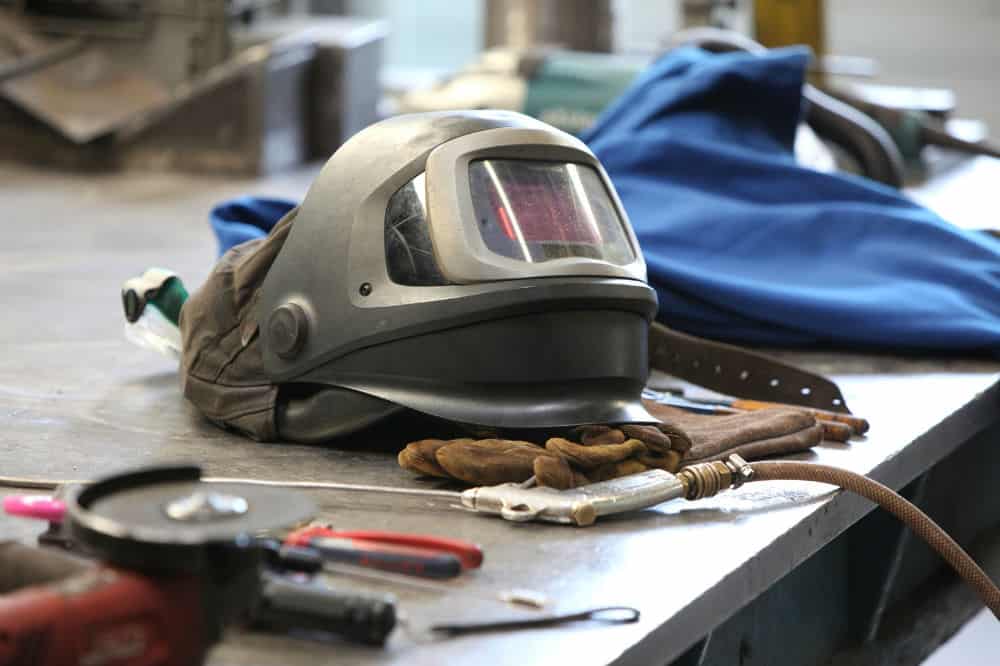 One of the newer technological advancements available, as manufacturing and production move toward a green economy, is the solar-powered welding lens. We've researched solar welding lenses for you and had our team of professional welders test them.
Our top pick is the Lincoln Electric Auto-Darkening 2×4 C series Variable Shade Welding Lens because it offers exceptional viewing quality thanks to 4C technology, with unsaturated color and contrast.
Another outstanding option is the Tefuawe True Color Auto-Darkening Blue Technology Welding Lens for outdoor welders.
Our List of Favorite Solar Welding Lenses
Overall Best Solar Welding Lens
1.) Lincoln Electric Auto-Darkening 2×4 C series Variable Shade Welding Lens
This welding auto-darkening lens manufactured by Lincoln Electric offers exceptional viewing quality during welding. Thanks to 4C technology, it offers unsaturated color and contrast for a better view of your welding puddle.
A variable, auto-darkening shade has a range from 8 to 13 meaning that there are plenty of possibilities for a variety of welding applications.
The lens can be adjusted manually, and comes with two sensors for the arc, meaning that arc detection is automatic. Once the arc has been detected, the shade will adjust automatically to protect your vision.
This lens features housing for high temperatures meaning that it is protected from exposure to heat. It is possible to select a preferred switch delay time meaning it is somewhat customizable. 
This lens also features various degrees of sensitivity, making welding with various tools and applications that much easier. Batteries are replaceable.
Last but not least, this battery is solar powered thanks to the fact that it's solar rechargeable. So bright light or arc light will extend running time.
Pros
Solar rechargeable

4C technology for high-quality viewing

Auto-darkening

Little or no eye strain

Adjustable

Replaceable battery 

Suited to multiple welding processes
Cons
Check Price and Reviews on Amazon
---
Best Outdoor Solar Welding Lens 
2.) Tefuawe True Color Auto-Darkening Blue Technology Welding Lens
If you weld outdoors and are looking for a lens that will ensure quality viewing, this Tefuawe True Color Lens merits your consideration.
Crystal clear welding puddle viewing and true-to-life colors make use of this product enjoyable. The quality is so good that the image may appear as if you have no protection, and the lightweight adds to comfort.
This lens sports 1/1/1/2 optics for high quality and ease on the eyes, so that even if you work all day, eyes will be less strained. Switching time measures at a rapid 0.15ms, and the lens sensitivity is great. Filter switching is quick, and you can return to clear viewing immediately upon finishing welding.
The only drawback is that it is not ideal for TIG welding, because the lens will flicker. While it is fantastic for outdoor work under bright light, it does not offer the same quality in a low-light environment. The battery initially powers the arc, then solar power kicks in, to power the entire weld.
Pros
Lightweight

True-color viewing

More affordable than some

Ultra-rapid filter switching

Blue filter
Cons
Not for low light environments

Unsuitable for TIG welding

Fast switching may not be comfortable if you stop to check the weld often
Check Price and Reviews on Amazon
---
Best TIG Welding Solar Welding Lens
3.) ArcOne Tradesman T240-10 Auto-Darkening Solar Welding Filter
This is a solar-powered lens, has no battery, and can transform the light from your welding arc into energy. So, your welding arc is your energy source. Filter shades range from 3 to 10.5 thanks to two separate sensors.
The sensors and switching are exceptionally rapid and the viewing area is an ample 5.25-inches giving you lots of viewing.
Despite the large viewing area, it fits most helmets easily. It works well with most welding applications that use low amperage, making it a great option for TIG welding. 
Pros
Solar-powered

Easy to operate

Rapid switching mechanism

Good sensitivity

Fits all standard welding helmets

Suitable for low-light welding environments

Great for TIG applications

No batteries needed
Cons
Pricey

Switching could be quicker on some applications
Check Price and Reviews on Amazon
---
Best HD Solar Welding Lens
4.) AmeriArc Welding Auto-Darkening Filter
This welding lens is produced by AmeriArc which has a long history and lots of experience in the production of welding lenses.
Characterized by their eye-fatigue reduction technology, they are a favorite among pros. It is capable of enduring high temperatures and protects eyes from flying debris during welding.
The auto-darkening lens features a blue tint and impedes green and orange tones from interfering with your welding. As a result, eyes will be more rested.
Settings are adjustable, so you can decide the delay time, the shade, and the sensitivity you need based on your welding application. Shade levels range from 5 to 13.
This welding lens runs entirely on solar power, so you'll be saving money and energy at work. If you work outside, it will continue charging as you work.
Pros
The lens is tinted blue

Great for extended welding periods

Adjustable settings

Durable

High-quality

Completely solar-powered
Cons
It may be too thick for some helmets
Check Price and Reviews on Amazon
---
The Welding Lens and What it Should Do
When you embark on your search for the best welding lens for your needs, there are several things to take into account.
1.) Comfort, Eye Strain, and Size
If you are going to be welding all day or at least for a prolonged period, you need to consider comfort, the lens size, and how much strain your eyes are subjected to.
Welding for the length of an entire work shift or workday, you'll want a lens that ensures comfort and thanks to size can also lessen the amount of strain that eyes must deal with.
Ideally, a lens size of 4.25-inches or larger with true colors when viewing will aid eye comfort. If you are unable to view your welding puddle up close, you can always place a cheater lens inside your helmet.
2.) Sensitivity, Sensors, Switching Time
Many welding lenses adjust automatically. This means that once the lens recognizes the welding arc, it will adjust its filter accordingly to offer the necessary protection and enable your welding work.
Some lenses will merely turn on and off while still others will adjust to the correct shade based on the strength of the welding arc being used.
The speed of adjustment or turning on or off often depends on the number of sensors in the lens. If the lens you select only has one or two sensors, the adjustment will be slower than a welding lens that contains four.
3.) Clarity During Viewing
Clarity is one of the principal qualities that you will want to look for. Lenses that are labeled as "auto-darkening" normally will retain true color, or many have technology integrated that enhances clarity during viewing.
These are the most desirable welding lenses because if you can see clearly, you can weld better. You'll be able to identify subtle nuances in your welding puddle as you work and will also be able to rest your eyes a bit more.
Welding Lens Types
Generally speaking, two types of welding lenses exist. The auto-darkening lenses and passive welding lenses.
Passive welding lenses are the less complicated of the two. They furnish a simple protective eye screen between your eyes and your welding arc.
Auto-darkening lenses will contain sensors and electronic components that work together to recognize the welding arc in use and adjust the correct filter for complete eye protection.
Some of these lenses will operate with batteries while still others are solar-powered, or use ultraviolet radiation from the welding arc as the power source.
Passive lenses will cost less than auto-darkening welding lenses, so if you are on a limited budget, you may want to research passive welding lenses for your consideration.
Eye Protection with a Welding Lens
The fact that some auto-darkening welding helmets are self-powered by UV radiation speaks to the force of arc radiation.
This ultraviolet radiation is an incredible threat to the retina and cornea of the eyes when viewed directly and can do permanent life-changing damage.
This is the reason that eye protection is necessary during welding. The lens's filter is charged with blocking UV radiation to keep eyes safe.
Some filters in the welding lenses may be polarized. This simply means that only light with a specific polarity will be able to pass through these lenses.
This is a desirable feature because polarized lenses will limit the amount of light that reaches your eyes meaning that you are not at risk of being blinded by your arc and will have increased clarity during welding.
Solar-Powered Technology
Lenses and welding helmets may come with several power sources. They usually will come with one of these three power sources:
Battery-powered

Solar-powered

A combination of the two
The solar panel uses sunlight or UV light from the arc as a source of power. Some lenses will use batteries that can be recharged through solar power.
Photovoltaic cells capture light that is then transformed into a source of power. Solar chargeable batteries will store energy that is then used as the source of energy power for the lens.
The advantage is that the solar cells are doing the work, and this is more economical than having to replace batteries regularly. This is a great investment over time, and you'll save quite a bit of money.
Welding Lens Maintenance
Welding lenses are expensive as PPE goes. So once you have invested in this piece of equipment, you'll want to install it correctly and take proper care of the lens. 
Welding lenses can collect quite a bit of dust particles, as well as oil residue over time. Most lenses will come with manufacturer recommendations for optimal care and long-term maintenance.
Damp microfiber cloths are often employed, however, be sure to not use abrasive products on the lens or products that the manufacturer has stated will damage the lens filter.
See also: Best Way to Clean Welding Helmet Lens
Conclusion
Since Welding lenses are necessary protection, new technology advances now offer you the possibility to use lenses that are solar-powered. This means you'll save energy and money, now what could be better than that?!