Welding helmets are a must while you are working with sparks and flames. They save your face and eyes from flying molten metals, burns, flames, heat and fumes that are produced during the welding process.
The most important part of a welding helmet is the lens as they protect the most sensitive part of your body that is your eyes from any impending hazards!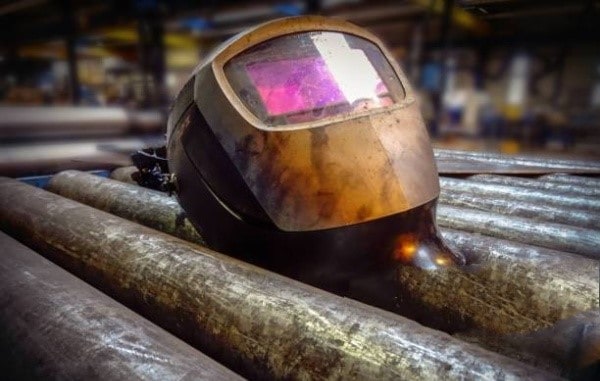 But a dirty lens is of no use as it might block your vision, transfer germs and even won't provide you the much needed safety during welding. Therefore, it is important to keep the lenses of your welding helmet clean to ensure 100% protection and safety!
The most effective way to clean your welding helmet lens is by using a hand wash and water solution and then wiping the lens off using a wet microfiber cloth to get rid of the dirt along with the soap-water solution. You can end up spraying the lenses with an anti-fog or anti-scratch solution to protect the lenses.
There are a number of ways to clean your welding helmet lenses, but this article will tell you the most effective way to clean your lenses so that they retain their safeguarding properties and also serves you way long.
How do you clean a welding helmet lens?
This is by far the best and the most effective way to clean your welding helmet lenses:
Step 1: Removing the lens from the frame
If your lenses are removable, it is bet to remove them from the frames to ensure effective cleaning! Remove the lenses by holding the sides of the frames and do not touch the lenses or you might end up scratching them.
Step 2: Removing surface dirt from the lens
Removing the surface dirt that contains abrasive materials is a must or else you will scratch the lens while wiping them off. Use compressed air to remove surface dirt which is the best alternative to wiping off the dirt.
Step 3: Removing stains and settled dirt from the lens
Take a spray bottle and fill it with hand wash and water. Mix the liquids together by closing the spay cap and then shaking the bottle.
Spray the solution on the lens and let it stay for a few minutes so that it melts the dirt and works on the stains. Then take a microfiber cloth and wipe off the soap solution from the lens.
Step 4: Cleaning the lens
Take a bowl of hot water and dip a microfiber cloth in it. Use the cloth to take off the soapy solution from the lens and wipe them clean. You will get crystal clear lenses.
Step 5: Drying the lens
Now, it's time to dry the lenses using a dry microfiber cloth or the ones that come with your lenses for wiping them. Do not wipe them dry; just blot the cloth to dry the lenses.
See also: What shade settings to use on welding helmet?
How do I keep my welding helmet lens from fogging up?
Before learning to clean your foggy welding helmet lens, you should first know the reasons that lead to the fog build up on the lenses.
Why do my lenses fog up?
Excess breathing from the mouth lead to fogging of the lens

The heat produced from the welding makes the lenses to fog up

Colder climate when interacts with the heat produced in welding leads to fogging of the lenses

Rainy days carries much moisture in the air which might lead to the fogging of the lenses
Now, when you know the reasons why your lenses fog up and you know it's an unavoidable situation, you must know the ways to get rid of the foggy lenses which might obstruct your vision:
Clean foggy lens using your breath and then wipe off with a microfiber cloth

Clean foggy lens using water in a spray bottle and then wipe off using a microfiber cloth

Clean foggy lenses using a lens cleaning solutions
Now, it's time to learn the best way to keep your lenses from fogging up!
What works as an anti-fog solution for lenses?
You can keep your lenses from fogging up using an anti-fogging solution that are readily available online or at the local lens stores. You can also try isopropanol, rubbing alcohol or you can even rub a soap to get rid of the fog build up!
How long do welding lenses last?
If maintained properly and taken proper care of, your welding lenses will last you about 7 to 10 years! That said, you must check your lenses for cracks and scratches and if you notice one, you should immediately replace them with a new lens.
How do you change a lens on a welding helmet?
In order to change a lens on your welding helmet, follow the following stated steps:
First of all you need to locate the finger or thumb tab near the lens frame.

Next apply gentle pressure on the frame to pull them apart so that the lenses come out easily. Some frames have elastic bands around the lenses wherein you can pull them to take out the lenses.

Take the new replacement lens and set it in the frame again by pulling the frames a bit. Remember not to touch the lenses or put pressure on them while inserting them in the frames.
How often should I change my welding lens?
This entire depends on your usage and the lenses are working. You should only replace your lenses when they start to decrease your visibility or develops cracks and scratches. In case your lenses have a protective film, you should be able to know it's time to replace them once the lens fades its color.
How do you clean auto darkening lenses?
Auto darkening lenses have protective film over them to block UV radiation. So, you cannot just use any chemical cleaning agent on them.
You just need to rub off the surface dirt using a soft bristled brush and then use a microfiber cloth dipped in hot water to clean the settled dust from the lenses.
Best if you have received any cleaning solution with your auto-darkening lenses to clean them!
And it's a wrap up!
Hey folks! That's all with cleaning your welding helmet lenses!
Keep yourself updated with our expert tips on cleaning all the welding safety gears!
Hope you got all your queries answered and hope to help you with your upcoming queries regarding any welding related issues!
Till then, weld safely and stay safe and protected!