For most welders, welding is a profession, and as such, a primary means of support. But if you weld at home, as a hobby, or because you have a passion for welding, you can also earn some money with this activity and maybe even start up a new business.
Welding does not require a university degree. It's more about experience, manual labor, and acquired skills. If you have dedicated, time, money and lots of practice to your passion for welding, why not begin small and start earning extra money from home.
In no time your passion may very well pay for itself by allowing you to earn back all the money you initially invested in materials and tools.
Can you grow your home welding business?
If you are creative, and can use your acquired welding skills, you can create a home business that may very well develop into a full-time profession at some point in the future.
You can also accept contract work by agreeing to work for other professional welders, automotive businesses, repair businesses, or on construction gigs.
Before you know it, you may see a steady side income flowing in monthly, and above all while you earn, you'll be enjoying what you do.
Your Home Welding Shop
Tools and accessories will be a necessity when starting up your business activity. You'll need a home shop or a place where you can work comfortably and in safety.
You need all the basic tools to be able to weld as soon as someone commissions a job. If you don't have a location, adequate space and the necessary tools, your business will fail before it ever starts up.
Let's consider space. You can consider using space or a location that belongs to someone else, perhaps in off hours when the space is not occupied.
Rent the space or barter work
In this case you can either rent the space, ask to use it as a favor, or even trade your welding skills in exchange for use of the location. In any of these cases, you would still be your own boss.
If you need to rent or barter work in exchange for the location, you will be losing some of your earnings, or at least reinvesting them into your activity. If the owner of the location also provides machinery and accessories, it may be worth your while to consider this option, even if it comes with a price tag.
Create a mobile shop in back of your truck
Another option is creating a mobile shop in the back of a truck. If you have your own work truck or van, this may be a very viable option because you will be able to travel to where the work is, and in the end, it may be a less expensive solution.
Imagine going directly to the customer and their particular problem. You will save the customer the trouble of having to move materials to a shop and offering your clients incredible convenience.
If you do not own a truck or have access to one, you should start your activity and see some returns before investing in this choice.
Start welding shop at home only
The final option would be to set up your welding shop in your home. Do you have a basement or garage that would give you enough space in safety, to pursue welding in order to earn money.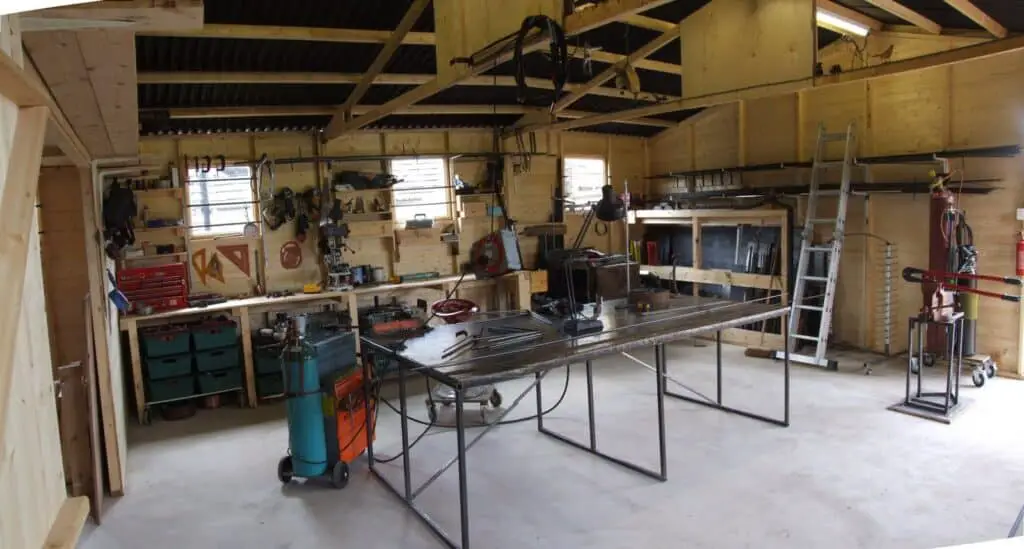 The space will need to be large enough for MIG welding processes, as well as not placing the safety of any family members at risk. A separate garage would be ideal.
If you don't have a spacious garage but do have open land available, you might consider setting up a "welding shed" on your property for this purpose. This type of investment should be considered long term as you will have to spend some money to earn some money.
Can I Weld at Home?
Why not?! If, you are already doing small jobs and projects for yourself, there is no reason why you can't do the same for others and make some extra cash.
You will have to define in advance what kinds of projects you can manage in terms of space, tools, time, skills, and safety.
Is this a cost-effective and above all safe possibility? The answer is yes if you are organized. There is no reason why a passion can't make you some money.
1. Electricity Needs
Depending on the space you select, and the machinery you intend to use, you will need to ascertain that the garage, shed, truck, or location can handle the electrical current necessary for operating your welding machinery.
Check to see that your electrical system will not be overloaded with lights and machinery on for extended periods of time. You can look for a MIG welder that uses a lower voltage if you have electrical limitations at your chosen location.
See also: How much electricity a MIG welder Use
2. Essential Welding Tools 
If you are going to begin your small side activity, you may consider that you will need:
A MIG welder with a pulsing option

A grinder for cutting. Invest in a good grinder that is reliable and guarantees a consistent output.

A Hossfeld bender. You can either purchase one or build one.

A metal bandsaw, preferably portable for cutting. A fixed bandsaw mans you will have to move your equipment around, so portability is important.

A press brake or Chicago finger brake

A cutting torch for many applications including preheating. A good investment would be plasma or oxy-acetylene.

A selection of standard hand tools including a metal shear, and a hole punch among others and storage, either a bag, box or cabinet. You could make your own rack so that the tools are easily accessible during work.
How to Make Money with a MIG Welder
If you are a pro welder, or perhaps a retired welder, you will have no difficulty in finding ideas to work at home. If you are a beginner, you're probably wondering "where should I start?" so I can monetize my passion for welding.
If you've organized your space, your tools, and your safety, you are now faced with the question of how to earn when welding as a home business or start up. You will probably already have invested in the space, rental, and in the machinery.
The difficulty in the beginning, especially if you are not a professional welder, or retired welder is that customers will not be ringing your phone off the hook to hire you. 
You could begin by picking up overflow work. If you have a good relationship with a local metalworking shop, they may have need for extra help sometimes throughout the year.
Most shops will prefer to farm out work as opposed to having to hire a new employee. That's where you come in! If you offer your services and show them your work, you may find yourself with a steady flow of side gigs. Many freelance welders charge between $30 and $40 per hour.
Another good place to start is by producing several structures and then getting a price for them in the marketplace. Now is the time to create and establish your brand.
Salable Products for New Welding Start Ups
Let's consider how you can begin and what products may be good options for establishing your brand.
1.) Metal furniture. People are always on the look-out for furniture. Begin by experimenting with a few smaller pieces and create a design that is unique and appealing aesthetically. The metal used and the quality of the work should be good if not great. If your first customer is satisfied, word will spread.
Welding chairs, tables, racks, and shelves isn't easy. Beginners should stick to the basics, and once enough experience has been acquired, go for something more complicated. If your pieces are of high quality, this in itself will attract customers. For clients who may request more than one piece, or a set, offer a discount for bulk orders. This also will contribute to spreading your brand name.
2.) Car ramps. These are very popular pieces that can easily be marketed to car dealers, garages, car club members, and businesses that perhaps deliver. Most car ramps that are purchased are customized, so it will be normal for a client to seek out a welder to create a ramp for a specific vehicle.
Also, this type of client may provide specific measurements, or design requirements and may give you a deadline. Be sure to respect this, as it will help to build your brand. Wheelchair ramps are also very much in demand.
3.) Decorations in Metal. This is another sector where business is booming. Perhaps create a few of your own and then be open to clients requesting specific designs. Be creative and be original. Avoid copying the designs of others.
4.) Grills. Love to eat, or to barbeque? This is a great option for the home welder. Some clients will ask for specific measurements and features that are not commonly sold in stores.
They don't require a great deal of material, so they are cost-effective. And once one of your grills has been admired at a BBQ with plenty of guests, you may find yourself overwhelmed with orders. Since the production costs are contained, you should be able to make a nice profit.
Outdoor Creations. You can create unique chairs, seating patterns, flower containers, or fencing.
Other projects you might want to consider include:
TV trays or coffee tables

Tractor forks

Steel Fire Pits

A trellis in metal

Sign holders

Log grates for Fireplaces

Snowplow attachments

Utility Trailers

A bench for a Mudroom or garage

Gates

Shop Stool

Pet gates

Wood splitter

Stoves

Carts

Garden benches

Mailboxes

Cattle guards for agriculture
How to Price Your Welding Work
Several factors will contribute to establishing the price of your work.
The cost of the metal or the materials

Realization costs such as electricity and machine use

How many hours you dedicated to creating the piece you are selling.
Charge fairly but remember you do need to cover your costs and the amount of time you invested.
Side Gigs
If you prefer to work as opposed to creating, you can look into these activities that need welders:
Repairing Trailers. Older trailers are always in need of maintenance, and you may even land a commission for a new trailer.

Overflow Work form a Metalworking Shop, Freelance for others.

Freelance small neighborhood jobs. Open your garage for business in your neighborhood. Most people will appreciate the convenience.
Housing and Construction. Fences, gates, and much more but consider that you will most probably have to do on-site work.
Maintenance contracts. Many large businesses have machinery and building maintenance that needs doing on a regular basis.
Legal Considerations
If you already work as a professional welder, make sure you company has not written something into your contract that forbids side work.
If you work on transport pieces such as attachments or trailers, know that if the weld fails you can be held liable for damages, injury, or death. Be cautious and follow the correct MIG welding procedures.
The Bottom Line
Welding is fantastic because you can make money at home doing it, or you can easily create your own business. Keep your clients happy, because most welding jobs are based on word-of-mouth publicity and commissions. Happy clients mean lots of work.