Whether you are a professional welder or a DIY hobbyist, a welding helmet is one of the most important pieces of personal protective equipment that you must have when welding.
Often referred to as "hoods", these protective helmets come with multiple features to improve protection and above all performance.
When considering safety, they will protect your eyes, face, and head from flying sparks and potential burns, and most importantly protect your vision from life-changing injuries caused by exposure to ultraviolet and infrared rays.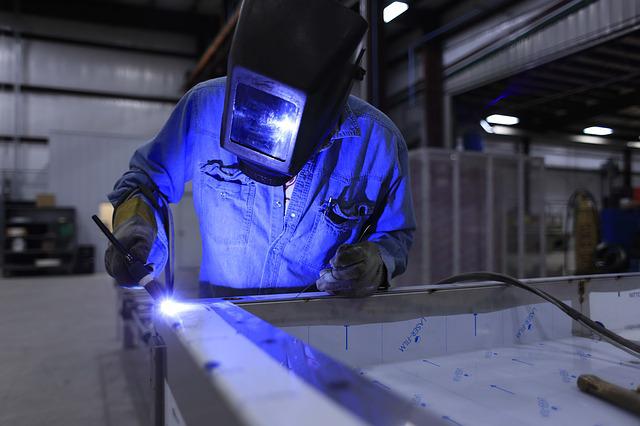 Because of their prevalence in the workplace, fashion and personal expression are not ever more common even on welding helmets.
And comfort has taken its place among priorities thanks to professional welders that need to wear these helmets for extended periods during the workday. 
We asked a team of professional welders to research and test some of the newest welding helmets for us and give us the lowdown on safety, comfort, and features available.
Our top pick is the Lincoln Electric 3350 Viking (K3034-4) Welding Helmet. This professional-grade welding helmet has an impressive 3.94 X 3.86 large viewing port with integrated 4C lens technology to eliminate eye strain and a clarity rating of 1/1/1/.
We also found the Optrel Auto-Darkening Crystal 2.0 Welding Helmet worthy of consideration if you are willing to spend more. This helmet probably offers the best vision clarity available in today's marketplace.
Our Choice of Best Welding Helmets
Best Overall Welding Helmet
1.) Lincoln Electric 3350 Viking (K3034-4) Welding Helmet
Prices pulled from the Amazon Product Advertising API on:
Product prices and availability are accurate as of the date/time indicated and are subject to change. Any price and availability information displayed on [relevant Amazon Site(s), as applicable] at the time of purchase will apply to the purchase of this product.
This professional-grade welding helmet offers quality vision with clarity thanks to a 3.94 X 3.86 viewing port which is quite large.
Lincoln integrates 4C technology for the lens to eliminate eye strain. The lens clarity rating is a convincing 1/1/1/1and it can be used for all welding procedures and cutting.
The helmet is equipped with four high-quality sensors so that even low amperage welding is detected. It also offers impressive durability.
It is also designed with an external grind button that you can operate with gloves. Other controls are inside and there is an indicator that says you are in grind mode.
While not inexpensive, the price is justified for professional welders. A high optical rating, TIG low arc sensitivity, and a large viewing field make this helmet a best value choice.
Pros
Premium optics technology

Extra-large viewing lens

Ergonomic head design for comfort

15 choices of graphics 

3-year warranty

Switching speed 1/25,000 sec.

CR 2450 battery and solar cell

Compatible with hard hats

Accommodates respiratory protection
Cons
Pricey

Replacement parts expensive
Check Price and Reviews on Amazon
---
Best Budget Welding Helmet
2.) YESWELDER Auto-Darkening Rechargeable Welding Helmet  
YESWELDER Large Viewing
Great For TIG MIG MMA, Plasma Applications with Grinding Feature

Super Large Viewing Size 3.93X3.66 with 4 Premium Sensors

Better clarity, True color view - 1/1/1/2 Optical Clarity

Increased battery life

Superior comfort with the pivot style headgear
Prices pulled from the Amazon Product Advertising API on:
Product prices and availability are accurate as of the date/time indicated and are subject to change. Any price and availability information displayed on [relevant Amazon Site(s), as applicable] at the time of purchase will apply to the purchase of this product.
The extra-large viewing port measures over 13 square inches and it's the first thing you notice. True color technology allows you to view real-life colors during welding and an optical rating of 1/1/1/2 is quite convincing for the price. 1/10,000th switching speed a second.

Control settings are externally located and include reaction velocity, sensitivity, and auto-darkening delay times. All can be adjusted with gloves on. This helmet features four sensors.
Features include a viewing port of 13.4 square inches, the optical clarity of 1/1/1/2, true color lenses, external easy-to-operate controls, and sensitivity, shade, and delay time settings. Great for hobbyists, but not the best choice for professional welders.
Pros
Adjustable shade levels range from 4 to 13

Rechargeable solar power

On/Off Auto power 

Long-life durable battery

Costs under $100
Cons
Not sensitive for the use of a DC TIG welding arc

Problems with shade gradience possible
Check Price and Reviews on Amazon
---
Best Premium Welding Helmet
3.) Optrel Auto-Darkening Crystal 2.0 Welding Helmet
Prices pulled from the Amazon Product Advertising API on:
Product prices and availability are accurate as of the date/time indicated and are subject to change. Any price and availability information displayed on [relevant Amazon Site(s), as applicable] at the time of purchase will apply to the purchase of this product.
If you are willing to invest a bit more, this helmet may very well be one of the best currently available. This helmet features a revolutionary optical technology called Crystal Lens so that you can view the weld pool as is with exceptional clarity.
Upon completion of your weld, a helmet feature will gradually return from the auto-darkening mode to light for increased eye comfort and fatigue reduction.
What's even more impressive is the 2.0 shade level that allows you to grind or set your welding machine controls with such clarity that it won't seem as if you are wearing a hood.
Furthermore, besides the impressive clarity, this helmet is lightweight at 18.7 ounces and wonderfully comfortable, so there'll be no neck strain even after a full day of welding.
The helmet also features heat-resistant paint for increased protection. If you're working with low amperage settings, you won't have to worry about flashes.
Pros
Fantastic clarity of vision

Very lightweight

Autopilot

Reduces eye fatigue

Accommodates respiratory protection

Great for TIG welding

2.0 DIN light level

Shade level 4 to 12

Outside control
Cons
Expensive

Has only 3 sensors instead of 4 for this helmet price range

The viewport is smaller than other brands
Check Price and Reviews on Amazon
---
Looking for the Perfect Hood
When considering the number of helmets available and the sheer variety present in the marketplace, choosing the best one for your needs can be challenging, and if nothing else, time-consuming. We hope to spare you some work, by having our group of pros do the leg work for you.
We asked the professionals what they considered to be the most important and convenient features for a welding hood. Price will undoubtedly enter the equation when selecting, but there are necessary features despite a budget.
1.) ANSI Z87. Safety Requirements
The whole reason you wear a welding hood is primarily for safety during welding. Welding helmets in the U.S. have pretty strict safety requirements and reliable manufacturers need to demonstrate that their products have passed laboratory testing.
Individual specifications like speed switching or auto-darkening technology should be able to be verified. Any welding helmet that is not in line with ANSI Z87 standards should be passed over, and your new helmet should carry ANSI markings.
2.) Protective Auto Darkening Capabilities
This is one of the best features that advances in technology have brought us. Helmets that feature this capability will spontaneously adjust the lens darkening technology from natural or safe light to a protective shade for ultraviolet or infrared light.
This is a fantastic modern feature because it allows you to avoid lifting and pulling down the front of the helmet as in days of old to be able to see what you are welding with more clarity. So, your eyes are protected without the interruption of your work.
These helmets appear to be like traditional welding helmets with new ADF technology. ADF means Auto-Darkening Filter. Using liquid arc sensors, crystal displays, or filter lenses, they darken bright lights. The helmet's filter cartridges can be powered by traditional batteries or solar panels.
Sometimes they come with side buttons to adjust this function customizing it. Various grades of filter lenses will protect the eyes by regulating a darkening mechanism to correct the brightness. Some helmets come equipped with up to thirteen shade levels.
3.) Lenses and Sensors
There are various ADFs or Filters used in Auto-Darkening. The arc will be detected by the helmet sensors. Less expensive helmets may have two sensors, or only one.
These can work but they may not pick up a flash. Helmets with advanced technological features will have four sensors and detect light changes almost immediately.
Sensors function if there are adjustable shade lenses. Lenses with many shade levels offer increased flexibility. Basic shades should include from 9 to 13. Lenses that offer levels from 6 to 13 are great when welding with lesser amperages.
4.) Shade Levels 
If the helmet offers a fixed shade that can only darken to a predefined shade (#10), this should work if you only use one welding procedure for one kind of material.
Variable shade lenses darken to different levels so the helmet can adapt to a variety of welding procedures and materials. 
5.) Switching Speed
Along with auto-darkening capability, switching speed is equally important. This speed refers to how quickly the auto-darkening lens can change from natural light to the correct shade to protect your eyes once welding begins. If the switching speed is not expedited rapidly, this can lead to eye fatigue.
If you are a hobbyist, nonetheless, consider choosing a professional-grade welding hood for this reason. Auto-darkening switch speed should be rapid such as 1/25,000th of a second.
6.) Power Source: Battery or Solar?
When selecting an auto-darkening hood, know that there are various options for the power source to keep them up and running smoothly.
You will find options that include non-replaceable batteries, solar strips, solar assist panels, and replaceable batteries that may be either lithium or solar-powered.
Also, consider the availability of replacement batteries should you choose a helmet with this type of power source. Are replacement batteries easy to come by? 
Some helmets may require charging before use which you will need to factor into your work preparation. The easiest batteries to replace will be in helmets that use AAA batteries.
7.) Materials 
Look for durability. Materials to consider include polymer or polyamide-nylon because they offer heat, abrasion, and chemical protection. Leather and fiberglass are adequate for lighter welding applications.
8.) Weight
Weight is a significant aspect when it comes to evaluating comfort on the job. If you weld professionally or in any case will be welding for extended periods, imagine the amount of pressure that your head and neck will be subjected to.
So, if you work a full work shift, you'll need a helmet that you can wear all day long. Even if you are a hobbyist, you'll want to enjoy welding and not suffer through an application because your hood is too heavy and too uncomfortable.
9.) Personal Taste
Nowadays, you can express yourself, even with your safety welding helmet. A welder's helmet is easily identifiable and very visible in the workplace. 
You can select a helmet based on personal taste in various colors and graphics with your preferred features as long as the welding helmet meets all the necessary safety requirements. 
10.) Warranty and Customer Service
When you buy a welding helmet, it is an investment, and you will want a reliable manufacturing company that will back its products. A warranty is one of the first indications of how a company feels about the products it makes.
If you are a pro welder, you need a warranty as you will most likely be using your helmet every day, and you'll expect it to offer good durability and have a decent lifespan.
Customer service should also be a consideration, particularly when purchasing a piece of safety equipment. Companies that establish a relationship with and offer support and assistance to their customers merit attention
Conclusion
There are many helmets in the marketplace that are of excellent manufacturing quality and come with super features to guarantee your safety in the workplace and contribute to your comfort on the job.
When you purchase a welding helmet, you are making a significant investment in your protective equipment. Take time to define the features you need and want.
Many welders keep a second helmet on hand in case of an emergency. When shopping for your best welding helmet, you'll find many brands that will offer solid reliable products for your consideration.
Give priority to your safety and comfort above all when making the final choice. If you can also express yourself through color, graphics, and design, all the better!