Sparks and spatter that fall or fly onto clothing can be a real nightmare for welders, especially professional welders. Not only do these sparks leave unsightly holes in clothing, but they may also burn your skin. So, what does a pro welder do? Starch!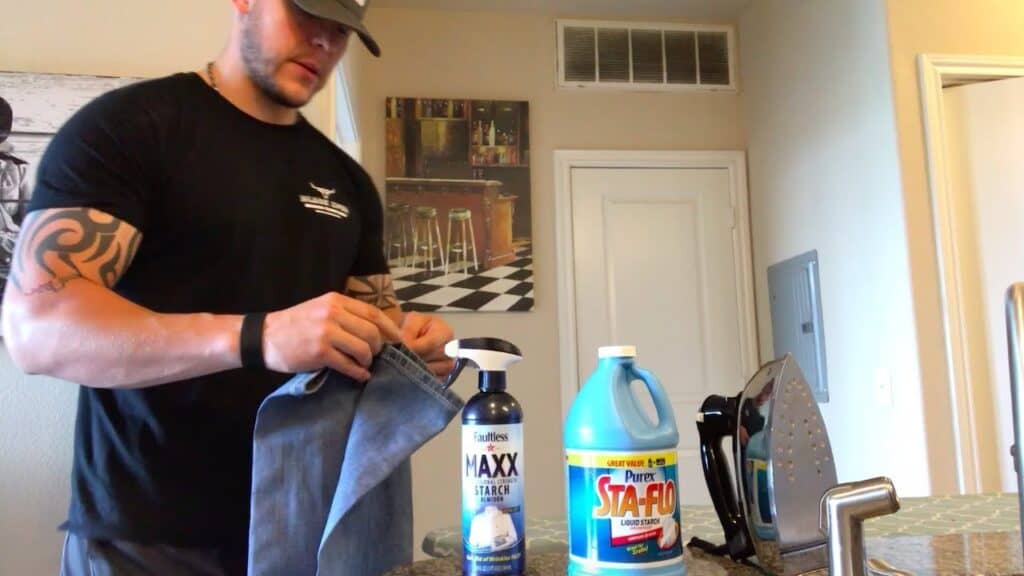 By applying nice heavy starch to your welding clothing, you can reduce the damage to clothing and consequentially to skin. The starch acts as a type of protective barrier both for clothing and the body. Your clothes last longer and you avoid workplace injuries.
Our team of professional welders unanimously opted for Purex Sta-Flo Starch as the best overall starch for welding shirts. This was because since it comes in a liquid formula, you can decide how much of it to use when ironing, giving you total control when starching your welding shirts.
What Type of Clothing Welders Should Wear?
So, what is the right kind of work clothing to starch? Appropriate work clothing for welders should preferably be 100% cotton or 100% wool. Synthetic materials are to be avoided because they can react to a spark immediately and melt within seconds. This means the risk of burns to your skin is practically immediate.  
The natural fibers that comprise both cotton and wool will take longer to catch on fire and thus will be easier to extinguish should the worst happen. Denim is also a wise clothing choice for welders however, it should be 100% cotton denim and not a mix with additional synthetics in the weave.
Wool will be the ideal material choice in cooler seasons and winter, cotton will be best for summer. It's important to remember that cotton or wool clothing cannot and should not act as a replacement for proper PPE.
What are the benefits of heavy starching on welding shirts?
Heavy starching can also save you from hard-to-remove stains. Starching will act as a shield to the fabric, meaning that the dirt and grime associated with welding will build up on top of the starch. That makes for easier stain removal when you wash the shirt or pants.
Another advantage is the nice crisp look that starching will give your clothes. No wrinkles on the job.
DIY Starching
You can take your clothing to a professional dry cleaning or laundry service for searching, or you can save money and time by doing it yourself.
Dry cleaning or professional laundry services can be quite expensive due to the amount of starch added and the number of clothing pieces to launder, iron, and starch. 
From the perspective of overall cost, five shirts together with five pairs of pants for at least fifty weeks a year is going to run up quite a bill. You could be spending that money on something else! The convenient alternative is to do your own laundry and starch your work clothing yourself. 
Starching Equipment
So, if you've decided to do your own laundry, what will you need? To starch, you basically need three pieces of equipment:
an iron

a spray bottle

starch
We asked our team of pro welders what type of starch they, or their wives used for searching their work clothes. The answer was overwhelmingly Purex Sta-Flo, because it is sold in conveniently large-sized bottles and because it can be delivered right to your door. Can't get much easier.
Remember that when you look for an appropriate spray bottle, you'll get what you pay for. If your bottle is downright cheap, you may get cramped hands in the process of ironing and starching.
If you get a nice bottle with an ergonomic design, you'll be happier after a few hours at the ironing board. Some welders even suggested a garden sprayer with a small pressure pump. The important thing is to make your starching as quick and easy as possible.
You'll also require a good iron to iron well. When it comes to irons there are lots of choices, but keep in mind your ironing needs when selecting. How many pieces of clothing do you need to press?
Irons are quite precise when pressing, however, there is the steam press option. A steam press may get your pressing done faster because it can cover quite a bit of material in less time than an iron. The cost will enter into play here as well. What will your budget allow?
If you plan on starching most, if not all of your clothing, a steam press might be a convenient option time-wise. Plus, you should consider that whether you choose an iron or steam press, it will pay for itself after several months if the alternative is paying a laundry service.
How to Starch welding shirts
If you've decided to starch your own work clothes, you'll have two advantages:
you save money

you starch according to your personal preferences.
Starching is actually quite simple. Just do your laundry as you normally would by washing and drying your clothing. We suggest placing a towel under the piece of clothing you intend to starch. Spray the clothing. Allow it to dry for a few seconds and press.
If you use a pressure pump, you may want to hang your clothing in your shower to spray it before ironing so that you limit the amount of mess you might otherwise make. Spray away. Let the piece of clothing dry. Iron to your personal requirements. It's that simple.
Another suggestion from a few of our welders was after washing, to replace the fabric refresher or softener with starch and then hang the clothes to dry.
Once they have dried to spray them to dampen with starch once more before ironing. Other key suggestions were to avoid using a steam iron and not to mix water into the starch.
It will take a little time, a little effort, and a little money, but in the end, you'll be starching to your own taste and saving money while doing it.
To Starch or not to Starch
Obviously, if you are using a heavy woolen welding shirt, starching will not work. Effective heavy starching is basically for cotton fabrics, including denim and linen.
If you purchase a starch spray, it will be most probably formulated with corn starch, although other chemical components may be added to prolong shelf life. Often ready-made sprays will have fragrances added to them as well.
A homemade starch spray is also an option. You basically need cornstarch and water, and a thoroughly cleaned recycled spray bottle.
Just mix the two ingredients until the cornstarch has dissolved completely and put the liquid in the spray bottle and you're ready to press. If you don't consume all of it, you can store it in your refrigerator for next week.
Over-starching
Should you over-starch, and your clothing is stiff, scratchy, and crunchy, have no fear, the remedy is a good washing. If you have used a store-bought synthetic starch, you may require more than a single washing to eliminate the starch. A quick remedy is to add a cup of vinegar to the wash water.
---
Our Overall Best Starch for Welding Shirts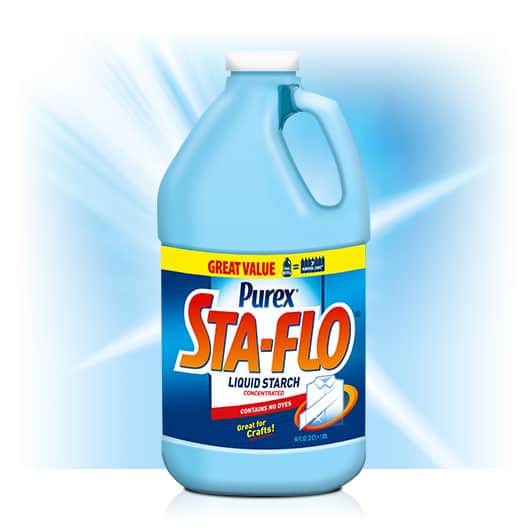 This is a tried-and-true starch that has been on the market for decades. It will provide stiffness and body to clothing manufactured with natural fibers after washing.
It will contribute to a professional finish on your clothing since its trademark formula is created to make shirts wrinkle resistant. Made in the USA.
It is unscented, so ideal for sensitive skin or allergies. It comes in a 64-ounce plastic bottle and as a concentrate will allow you to control how stiff you want your clothing.
It is particularly efficient when used for ironing blue jeans, welding shirts, work shirts, and uniforms.
Pros:
Military grade creases and wrinkle-free ironing

Great for filling spray pumps or personal spray bottles

Can be diluted according to personal preference

Comes in large half gallon bottles
Cons:
Pricey as compared to other starches
---
Best Canned Starch for Welding Shirts
If you like stiff crisp welding shirts, you'll love Niagara and it's a name that is well-known and reputable. It creates a perfectly professional look and there are no flakes or residue to be found when using.
This is a product that makes ironing speedy and easy, so you'll be finished in no time.
Pros:
No stickiness on fabrics or iron

No residue or flaking

No chlorofluorocarbons

Designed for heavier fabrics such as denim, jeans, heavy cotton or heavier linen
Cons:
The finish of the bottle can be slippery when trying to grip

Aereosol can
---
Best Odor-Eliminating Starch for Welding Shirts
3. Faultless Heavy Finish Ironing Spray Starch
Laundry Starch Spray, Faultless Heavy Spray Starch 20 oz Cans for a Smooth Iron Glide on Clothes & Fabric Even Spray
QUICK & EASY IRON AID: Let your clothes come out sharp, crisp and wrinkle-free with Faultless' iron out spray.

Fresh IRON STARCH SPRAY FOR CLOTHES: This ironing spray is leaves no residue behind.

SOFTLY CRISP ORIGINAL HOLD: Get the same quality from professional laundering at a fraction of the cost with this clothes spray.

BUY IN BULK: Our Faultless Original Hold ironing spray is designed for the lone bachelor, and large families in mind.

TRUSTED SINCE 1887: Our laundry products are tested in a lab before they ever reach your home.
Prices pulled from the Amazon Product Advertising API on:
Product prices and availability are accurate as of the date/time indicated and are subject to change. Any price and availability information displayed on [relevant Amazon Site(s), as applicable] at the time of purchase will apply to the purchase of this product.
This starch comes in 2-packs, 3-packs, or 4-packs, depending on your ironing needs. Each cannister is twenty ounces. This manufacturer has been producing ironing products since 1887, so it brings a lot of experience to the table when creating a spray starch to meet customers' needs.
This particular option is the original hold formula that is quite effective in giving clothing a crisp, pressed look. It is light and does not leave any residue on your fabric or iron.
It comes in an aerosol can that is designed to be "no-clog" and does have a fresh scent.  It uses "Fibrefresher" technology to help eliminate odors and keep your clothes smelling fresher longer while on the job.
Pros:
Sold in bulk for money saving

No-clog aerosol spray can

Fibrefresher technology to eliminate odors

Leaves no residue
Cons:
Scented if one has allergies

Expensive when compared to other products

Aerosol can
Check Price and Reviews on Amazon
---
Considerations when Buying Starch
If you are trying to select a heavy starch to iron your welding shirts with, consider the following factors before purchasing:
Brand and reputation for reliability

Quality of the starch

Safety elements

Components, and chemicals present

Customer reviews and feedback

A no discoloration factor. Good quality starches should guarantee that there will be no discoloration or flake build up on your shirt.

Scent or scent-free. If you have allergies, a scent can make a huge difference. Be aware of the starch has scents, dyes, or irritants that can trigger those allergies.
---
FAQ
Can starch go bad?
If your starch is homemade with natural ingredients, it probably will not last longer than a week or two at the most.  Manufactured starches have chemicals added to prolong shelf life.
Is spray starch harmful?
If you inhale it, probably so. Certain ingredients such as formaldehyde can irritate lungs when inhaled, so caution should be used when ironing with starch.
Does starch wash out of the clothing fabric?
Yes. Starch dissolves in water.
What are the disadvantages to ironing with starch?
Sensitive skin may find some starches irritating. Clothes may seem scratchy or stiff when worn. An exaggerated use of starch may weaken fibers in the fabric causing loss of strength and a shorter life span.
---
The Bottom Line
Starching work clothing is a quick trick that welders have been practicing for years. The starch will act as an extra layer of thin protection to help safeguard your clothing and your skin.
Remember to wear clothing made of natural fibers like cotton or wool and avoid synthetics that melt easily.
All clothing will burn in certain conditions and starched clothing is not a substitute for the correct PPE for the job. It's just a little extra protective layer that may come in handy.
You should always have appropriate helmets, goggles, protective safety glasses, welding helmets, and face shields, as well as aprons, capes, leggings, or sleeves to wear over your clothing. When you starch your regular clothing, you are simply adding an extra level of protection to your PPE.