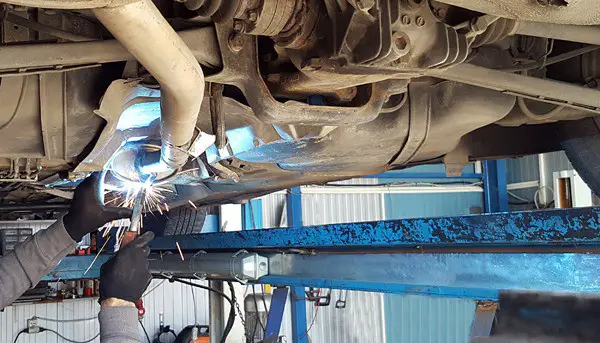 Our panel of experts put a group of MIG welders for small business owners and automotive exhaust shops to the test. They provided us with three MIG welders that they found to be great choices if you specialize in exhaust systems.
As a professional working in an automotive repair shop, some of your work will be dedicated to exhaust system repair. Although many people begin their automotive repair business as a self-starter, good repair work is actually quite a delicate business. 
This profession does, in fact, require specialized skills and experience. Most auto work will be dedicated to repairs and some to maintenance. Welding procedures will figure heavily in the repair category and no one procedure can be considered correct for every situation.
The marketplace offers an incredible number of welding machines, but auto repair welders will have their own set of features along with relative pros and cons. Also, as a highly technical application, safety precautions are a must when welding.
---
Best Overall MIG welder for Exhaust Shops
1. Hobart Handler Exhaust System Welder
Hobart 500554 Handler 190 MIG Welder 230V
Your purchase includes – 10 ft. HR-100 gun | 10 ft. work cable with clamp | .030" contact tips | Power cord with plug | Welding guide and material thickness gauge |.

7 voltage selections, enhanced magnetics and infinite wire feed speed control offers easier fine control of the output parameters for improved arc performance with less spatter.

You are able to quickly reference initial settings for different wires, gases, materials, and thicknesses.

Less of your time consumed in setup by offering three grooves – two for different size solid wire and a third for flux-cored wire.
Prices pulled from the Amazon Product Advertising API on:
Product prices and availability are accurate as of the date/time indicated and are subject to change. Any price and availability information displayed on [relevant Amazon Site(s), as applicable] at the time of purchase will apply to the purchase of this product.
Durability and quality are never compromised when Hobart is the manufacturer. This 230V MIG welder is designed for small auto shop owners but guarantees an industrial grade performance on the job.
It is highly recommended for welding metals that are 24-gauge with a thickness of 5/16s. Weighing in a seventy-eight pounds, it still can be moved pretty easily from one point to another in your shop.  The size is compact with measurements of 12.3 x 10.6 x 19.5 inches.
The welder offers seven voltage choices and boasts a 30% duty cycle at 130 amps. The output amperage is anywhere from 25 to 190. It also can be used with an outdoor generator of 6000 to 7000 watts if the electricity fails.
By adding a spool runner spool gun this welder can even weld aluminum. With the simple flick of a switch, you can move form MIG gun to aluminum gun. Complete with an instruction guide, settings are easy to establish depending on the materials you are working with.
This welder is a terrific choice for automotive body work as well as exhaust systems, so the shop will get a two-in-one with this machine. It also can be used comfortably for lawnmower decks, trailer frames, and much more.
Pros:
190 amp capability allows for welding ample range of thicknesses

Speed control for wire feed, permits welding of thinner metals

Can be used with an outdoor generator

Perfect for welding various types of exhaust systems
Cons:
30% duty cycle is okay for medium repairs but could be frustrating for heavy-duty projects.
Check Price and Reviews on Amazon
---
Best Dual Power Welder for Exhaust Welding 
2. Miller Electric 120/240VAC
Prices pulled from the Amazon Product Advertising API on:
Product prices and availability are accurate as of the date/time indicated and are subject to change. Any price and availability information displayed on [relevant Amazon Site(s), as applicable] at the time of purchase will apply to the purchase of this product.
A dual power welding machine, it can use 110V electrical currents or 220V electricity. This welder has the capacity to weld both 18-gauge mild steel with up to and including 3/8-inch thickness as well as 24-gauge steel with the same thickness.
Twenty-gauge mild steel up to ¼ of an inch can also be comfortably welded with this machine.
The drive system is housed in cast aluminum for power and durability. Ideal for MIG applications, it can also be used for flux core welding.
This welder features the ever-important thermal overload protection built right into the machine and boasts a fan for cooling. 
Ideal for automotive work, it can be used for agricultural machinery and more. Included is the MIG gun which is connected with a ten-foot cable with a clamp at the end.
Also, the welder has a solenoid gas valve that is designed directly onto the machine, a gas hose, dual regulator and a few extras including hook and loop wraps for cord, sample wires and tips.
Pros:
Ample output range of 30 to 230 amps

40% duty cycle that is a bit more than other comparable welders

Great for welding as much as 24-gauge steel with a 3/8-inch thickness

Dual voltage:120V/240V
Cons:
Check Price and Reviews on Amazon
---
Best Transportable Welder for Exhaust Welding
3. Hobart Handler 140 MIG welder
Hobart 500559 Handler 140 MIG Welder 115V
5-position voltage control selector adds a smooth, stable arc at all welding thicknesses.

Welds 24 gauge up to 1/4 in mild steel; Weldable Materials: Steel, Stainless Steel and Aluminum.

Welding Processes: MIG(GMAW), Flux Cored(FCAW).

Operates off 115V standard household current; Wire Feed Speed Range 40-700 IPM, 50-740 IPM at no load.

Welding Amperage Range: 25-140 A; 20% duty cycle @ 90 Amps, 19V.

Whats Included: 10ft HR-100 MIG gun, 10ft work cable with clamp, Power Cord, Dual-gauge regulator with gas hose, .030 in.
Prices pulled from the Amazon Product Advertising API on:
Product prices and availability are accurate as of the date/time indicated and are subject to change. Any price and availability information displayed on [relevant Amazon Site(s), as applicable] at the time of purchase will apply to the purchase of this product.
Manufacturer Hobart offers great quality together with durability in this 140 MIG welder.  The welder uses standard electrical current of 115V. While it's a terrific choice for automotive work, it isn't limited to that.
This welder can also be used for farm machinery, as well as other necessities. If your shop is in a rural area, this could be a great choice if you have varied customers.
The welder features a voltage control switch that has five different positions. It provides for great arc and an arc covering that is smooth and stable with any metal thickness.
It is produced using cast aluminum that is industrial grade, so you'll receive heavy-duty performance.
Its gun has a length of ten feet together with a clamped working cable of ten feet, so you gain some comfort. The regulator is dual gauge with a hose that is built in and a solenoid valve for gas. The hub for spools will accommodate spools from four to eight inches.
We can't say enough good things about this welder. The cast aluminum wire drive system provides a brilliant performance for the arc. Weighing in at only fifty-seven pounds, you can move it from one spot in your shop to another without much difficulty.
Polarity can be changed, and the sloped control panel is a nice touch for convenience. It also has a self-resetting control in case of thermal overload.
Pros:
Starts easily

Smooth stable performance and great arc

Lightweight and portable

Can weld any type of metal
Cons:
Cannot use a generator, must have an electricity source

Ideal for medium to small repairs only.
Check Price and Reviews on Amazon
---
The MIG Welder for Exhaust and Auto Repair
The MIG (Metal Inert Gas) welder is highly popular in the industry. This type of welder is particularly effective for auto repair both for work on the chassis or on the body of the car or truck.
It's pretty easy to use as well as economic and you are at less of a risk for creating distortion than when using other applications. Cleaning is also not problematic after use. 
One of the various welding techniques that use electrical power to melt pieces of metal and join them together, it's convenient for repair shops. Using electricity, an electrical arc is created between the electrical node and the metal that needs welding.
This arc melts an electrode wire creating a weld as it is deposited. When the heat source is removed, the weld pool will cool down. Upon cooling it solidifies creating fused metal or the "weld" for your exhaust system.
The MIG has the ability to weld both thick and thin metals. This is one reason for its popularity among auto repair professionals. The majority of MIG welders will have a power unit that is self-contained and a spool with electrodes.
MIG welders are usually fed electrode wire into a hand-held welder or welding gun while a supply of shielding gas flows into the MIG as well. You can select the speed before beginning. This is another factor in the MIG's popularity. The constant feeding permits the correct fusion of the parent and base metals together. 
These welders will require a gun for welding and a source of inert gas to get the job done. Shielding gas is usually carbon dioxide, argon, or a combination of the two. The use of the gas is to protect the weld pool of fused metal from gases in the atmosphere that could weaken the bond. 
Most MIG welders available for sale will come with a number of accessories such as a gas hose, a regulator, shielded gas, and welding wire. Many use 120V making it ideal for an automotive shop dealing in exhaust repair.
The reason that a MIG welder is the welder of choice for auto pros that work on exhaust systems, is that other welding applications such as stick welding or flux core welding can burn through quickly the type of thin metal used in exhaust systems.
It is an effective option for welding various metals including aluminum, carbon steel, copper, magnesium, nickel, silicon bronze, and stainless steel among other allays.
Effective MIG welding requires clean metals and cuts that are straight, so the pipe is perfectly aligned. Welding beads should be small and placed at less than one-half inch, so you don't burn through.
Automotive Exhaust Repair Welding
Welding an exhaust pipe can be decidedly uncomfortable especially if you are attempting to do it while underneath a car. Let's say it's pretty much impossible.
You should just remove the entire system if you want get the job done correctly. Remember how the exhaust system was positioned so that you weld it back correctly.
Most profession shops will have a hydraulic lift so that it is easy to work underneath an automobile with ample space and in absolute safety.
If you have decided to weld, make sure your exhaust system has been properly with a wire brush. If there is damaged metal or worn-down spots, remove the bad pieces or sections and replace them with some sheet metal strips, or a section of new pipe depending on the size of the hole.
Pipes must be placed in a straight position or at the correct angle for welding properly. 
See also: Best budget gasless MIG welder
Selecting a welder for professional exhaust welding: what to consider
If your shop intends to invest in a good MIG welder for exhaust, here are some basics to consider:
Power. Power input and power output. 
Power Output for the job 
How much power output do you need?  An industrial output such as 140 amps would be a good choice for a shop.
Power Input: Ideally, look for something that keeps down electricity consumption and costs. With a 140-amp welder, 120 volts of power should suffice. However, a welding machine that uses 220 to 240 of electrical current will weld much more than and exhaust system.
Duty Cycle: Duty-cycle indicates how long a welder can operate within a ten-minute time slot without overheating. This is usually measured in percentages. For example, "40% at 100a". means that the welder can run non-stop for a total of 4 minutes followed by six minutes of rest. A lower power-output permits welders to work for a longer period of time without the obligatory rest interval.
Transport: If you will only be using the welder in your shop and it will be positioned more or less in the same spot, a larger a welder with greater output, can be an appealing option. If you think you will need to move it from one place to another, consider the weight.
Wire Feed: There are welders with an automatic feed setting. If the speed of the wire feed is too slow, the wire will disappear upon touching the metal leaving a messy weld. A speed that is too fast will provide too much wire and spatter. Automatic settings usually adjust to the power output.
Safety: Safety is a priority. Some welding machines may offer thermal overload shut down or a contactor that will cool down the wire until the trigger is used. 
See also: Can MIG and TIG welding be done with same machine?
Safety
Like any kind of welding, MIG welders require safety precautions when in use. Immediate dangers are posed by electrical conditions, welding fumes, and arc radiation. Important safety measures include:
MIG welders should be used by a competent automotive repair professional.

Equipment should be tested beforehand to ensure that it is working properly.

Check your fuses and replace any blown fuses before working.

Never remove your welder from a power source while it is still turned on.

Should you pause in your application, make sure to place the welding gun in a safe place during your interruption.

Ensure that the regulator is correct for use with inert gas.

Wear PPE and most specifically gloves, clothing, an apron, and closed-toe shoes to protect from burns and radiation.

Always wear a welding helmet with the correct features for your visual and welding necessities.

Weld in an area with excellent ventilation, even outdoors when possible. A confined space is not recommended if ventilation is not top-notch.
---
FAQ
What type of welder do you use for exhaust?
Both MIG welding and Gas Metal Arc Welding are appropriate. Exhaust pipes tend to be made out of thin metals, so other types of welding may burn through.
Do exhaust pipes need to be welded?
Theoretically, no. An exhaust pipe can be bolted or clamped to the muffler. By welding your exhaust pipe, the attachment will be stronger, tighter, and longer-lasting. If you clamp and it unfastens, you'll risk a broken exhaust pipe that drags along the ground.
Can I weld the exhaust while it is on the car?
Yes, depending on its position. If the space is restricted, it's better to remove the exhaust system to guarantee a good weld. This can usually be accomplished in less than half an hour.
Is welding or clamping a better choice for the exhaust?
Welding is undoubtedly the stronger of the two alternatives. The bond created through welding will last for the entire lifetime of the pipe. The only disadvantage is if you need to repair a broken exhaust pipe, you'll have to remove the system.
If my exhaust pipe is rusty, can I weld it?
Depends. You could patch a small hole or weld in a new section, but what no longer exists cannot be welded.
---
In Conclusion
If you have an exhaust repair shop and are looking for a great choice in industrial grade welding machines, then we recommend the Hobart Handler Exhaust System Welder. It's an easy to operate, versatile machine that gives an industrial grade performance.
If you need power on any type of metal, take a look at the Miller Electric 120/240VAC. This is a versatile, all-round welder that can handle most materials. 
For a more portable and lighter weight option, the Hobart Handler 140 MIG welder is most deservedly worth considering. Welding is an art based on precision, and only the right tool can make the best of your welding abilities.