People often make the mistake of neglecting their feet when working in hazardous work environments. Welding is one such job that pretty much involves all the risks possible.
There are electrical hazards, heavy materials falling or rolling on one's feet, slipping on fuel or oily substances, and the possibility of puncturing the feet.
As we know that there are bona fide PPE's available that are designed specifically for welders, there are also welding boots designed to protect your feet from such hazards.
However, the question here is if a fireman's boots can be used by a welder. The correct answer is YES! Fireman boots have similar features that welding boots have.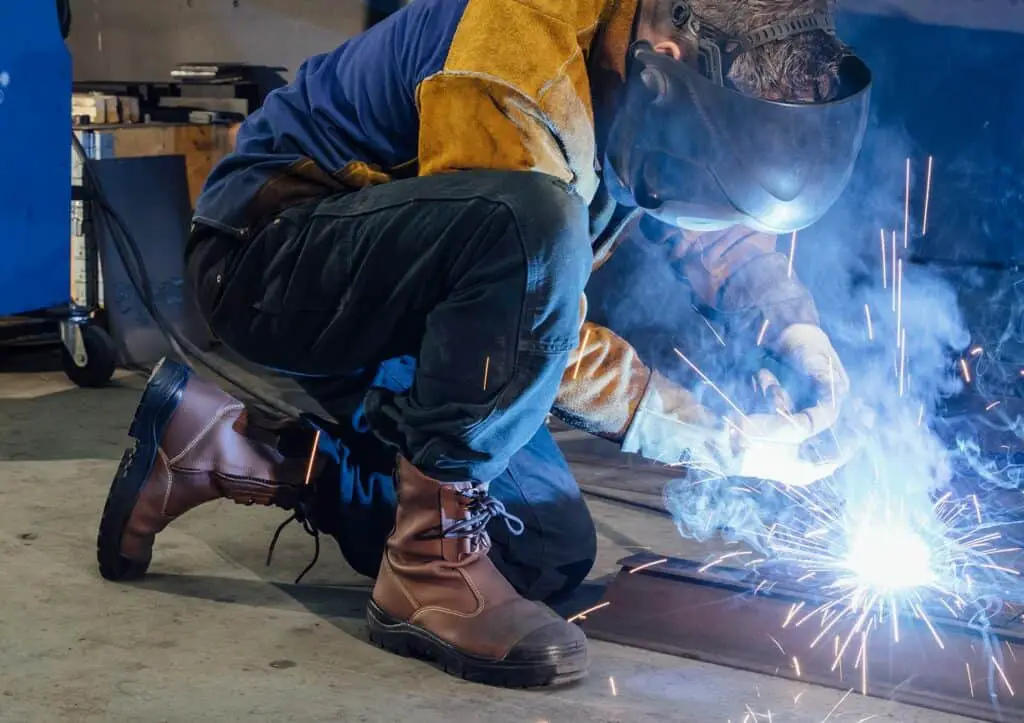 They are both authorized by ANSI (American National Standards Institute) and OSHA (Occupational Safety and Health Administration) for professional firefighters and welders as a part of their safety uniform.
Even though fireman boots are good for welders too, you should know that wearing them may not be the ideal decision because for a firefighter the boots are made tougher compared to welding boots. As the risks are higher for a fireman and the working environments are different.
In this article, I have discussed all there is to know about the importance of wearing proper welding boots for welders.
Why is it important for a welder to wear proper welding boots?
A welder needs to be in complete protective gear before commencing a welding project. As a welder, you need to be wearing safety glasses, welding gloves, helmets, insulated clothes, and welding boots.
Otherwise, you are simply making yourself vulnerable to the risks involved in welding and exposing yourself to all the harmful elements.
Welding boots with all the right components can save you from permanent or long-term damage that can be caused by sparks and spatters. You can never be too careful and cannot always have control over such unfortunate circumstances.
Guide to buying the right welding boots
When you decide to buy an appropriate pair of welding boots, there are a few aspects of the boots that you need to consider before buying one.
To help you make a more informed decision for those perfect pairs of welding boots, I have listed the basic components below.
1.) Comfortable boots: Be it welding boots or any other type of boots or footwear. The idea is to be comfortable in them. Welding is the kind of work where you will be spending most of your time on your feet, either standing or walking around.
Therefore, it is so vital that your boots give your feet the comfort it deserves for better productivity. Examine the boots on the inside to see if they have sufficient cushioning and padding, and a superior footbed like polyurethane provides additional comfort.
Having a shank in the arch will be advantageous too as it will give you arch support. There is absolutely no joy in getting blisters caused by wearing uncomfortable boots so why even take the chance.
It helps if the boots are lightweight so they don't weigh you down while working and it is easier to move around. Most welding boots weigh around 3.8 pounds to 5 pounds, but some boots may weigh more than that too.
2.) Material: Welding boots are generally made of high-quality 100% leather. It is one of the best materials that can combat high temperatures and rough conditions.
Since a welder experience both of these while working, wearing leather welding boots is ideal. The material used for stitching the boots is important too because it guarantees durability.
Boots with Kevlar fibers or threads used for stitching is what you need, as it provides excellent resistance against heat and fire, which also adds to the boot's durability.
Additionally, the boot should feature moisture-wicking technology and be breathable so your feet are comfortable throughout the day.
3.) Resistance features: Welding is the type of work that puts you in a very vulnerable position when it comes to occupational hazards. As a welder, you will be working with electricity, fire, heat, fuel, etc.
Therefore, the boots you choose should come with features like shock-resistant, heat-resistant, burn-resistant, puncture-resistant, and slip-resistant. Having such features will keep you safe and protected against any such accidents.
4.) Safety toe: Welding boots with a safety toe goes a long way. There are chances of objects falling on your feet when working, and the best way to protect them is by wearing boots that come with a proper safety toe made of either steel, composite, or alloy material.
Out of the three materials, steel toe boots are considered to be the safest and toughest that is capable of withstanding the maximum amount of weight of falling objects. However, composite toe and alloy toe boots are not far behind in protecting your feet.
They are preferred by a lot of welders today due to being lighter than steel toe boots. In any case, you should check with your employer if they have specific rules regarding safety toe welding boots before buying one.
5.) Waterproof boots: Welding boots that are waterproof are advantageous, especially for people living in areas with more frequent rainfall and snow.
However, these boots will need proper maintenance to serve you well for years to come. You need to treat them with leather oils and conditioners to keep the waterproof feature intact, so your feet can stay warm and dry while working.
6.) Metatarsal guard: The upper part of your foot also needs sufficient protection from your welding work environment. Similar to how a safety toe cap in boots can help protect your feet from injury against falling objects, the metatarsal guard also shields your feet in the same way.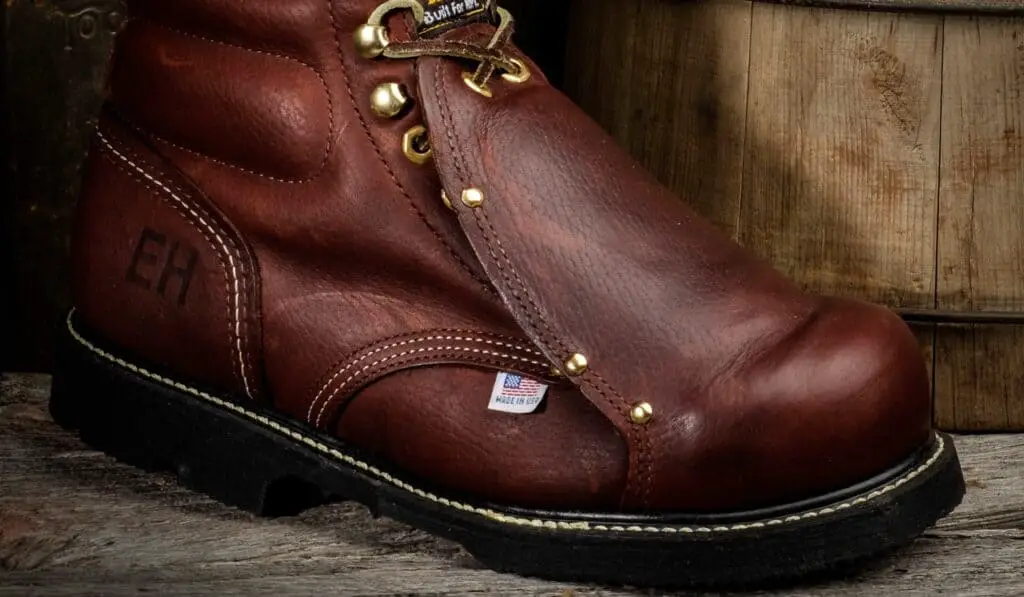 It is specifically a part of welding boots to give your feet additional protection from hot materials, ashes falling on the feet, etc. You will find the metatarsal guard mainly over the lace area to save the laces from getting burnt and damaged from sparks, which in turn protects your feet from getting burnt.
7.) Boot style and size: The style of the boots is a completely personal choice. There are many different styles and designs of welding boots that come with all the necessary features to protect your feet from harm's way.
You can even pick between the lace-up and pull-on or slip-on types of welding boots. Some of you might prefer to wear pull-on boots as they save time from having to tie up the laces.
Also, these types of boots don't have laces for you to worry about getting burnt and then replacing them. There are minimal chances of damaging the boots.
Whereas, there is also the other half of you who like wearing lace-up boots because they give you a slightly more secure fit. But if you are going to get boots with laces, then you should check for the ones that come with the metatarsal guard that covers the laces.
This guard will shield the laces from getting burnt while welding. Therefore, this is really where the phrase to each its own fits.
When we talk about the size, it is always important to wear boots that fit you well. Not doing so can result in several painful experiences while working. It can be extremely uncomfortable to be walking around in ill-fitting boots. 
Is it mandatory for a welder to wear steel-toed welding boots?
Although steel toe caps are considered to be the safest and known to provide maximum protection against heavy falling objects and the likes, it is not mandatory for a welder to wear steel-toed welding boots.
This also depends on the company you are working for because some employers may make it a part of their safety policy requirement.
So, you should definitely check with them before buying the boots for work. Other types of safety toe caps such as composite and alloy will also protect your feet from unforeseen injuries.
What are the dangers a welder can face when not wearing proper welding boots?
If you do not wear proper welding boots for welding work then there is a possibility of hurting yourself quite severely.
1.) Sparks are bound to fly when welding, which can very easily land on your footwear. If you are wearing regular shoes or boots that do not have heat-resistant and spark-resistant features then your boots can catch fire and burn your feet in the process.
2.) In some cases, you or your co-worker might accidentally spill some fuel or oil on the floor. If your boots do not have slip-resistant features then you may slip and fall.
3.) There is the risk of getting electrocuted, and if your boots do not pass the electrical hazards requirement then you are putting yourself in harm's way.
4.) While welding you should always work in a dry location to avoid electrocution, but if for some reason water finds its way to your work location, you should already be wearing welding boots that are waterproof or water-resistant.
5.) If your boots do not have shock-resistant or conductive properties then you may put yourself at risk from even the minutest possible electrical shocks while welding.
6.) Since, you will be working with metal, nails, and other such possibly sharp elements, your boots should have puncture-resistant quality too.
7.) There are chances of heavy items falling or rolling on your feet, so it is always advisable to wear boots with a safety toe cap.
Wrapping up
Now that you understand the importance of investing in a suitable pair of welding boots for your welding work as a hobbyist or a professional welder, you should not be compromising under any circumstance. There can be a heavy price to pay if you decide to neglect the safety of your feet.
You may end up with a broken foot, a dreadful gash, or even a burnt ankle. Safety comes before anything else, so always be mindful. You can check our article on the "Best Welding Boots" where we have reviewed a list of welding boots for you to pick from. Lastly, happy welding!