You may be new to welding all together or you may just be new to aluminum welding. Whichever the case, aluminum welding is somewhat of a specialty.
Professional welders can create aluminum beads that are perfect in appearance and consistent throughout.
We asked the pros which aluminum welder they would suggest for beginners, and we tested for you. Here are our selections.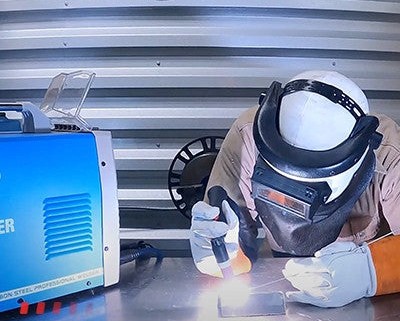 Out top overall pick is the YesWelder TIG-250P Aluminum TIG AC/DC Welder with Pulse because of its outstanding pulse feature and trigger lock.
If you want versatility in an aluminum welder, check out the Hobart – 500553 Handler 210 MVP MIG Welder. 
| Welder | Current | Duty Cycle | Accessories | Features |
| --- | --- | --- | --- | --- |
| YesWelder TIG-250P Aluminum TIG AC/DC Welder with Pulse | 220V | 60%@250A, 100%@183A | 5-pin metal foot pedal, Gas hose, TIG Torch, Clamp and earth cable, 10' cable | Spot-welding timer, Flip-up front dust cover, Square wave mode |
| Eastwood AC/DC TIG 200 Welder | 120V, 240V | 60%@2190A at 240V, 60%@143A at 120V | Gas flow meter, 4.6' gas hose, Adapter plug Ground cable with clamp, Foot pedal | Gas flow meter, 16-foot lead on the foot pedal, High-frequency arc starts, The torch has a flex head |
| Hobart Handler 500563 MIG 210 MVP Welder | 110, 115, 120, 220, 230, 240V | 30%@150A, 20%@90A | Gun, 10ft cable, clamp, built-in gas regulator | Sized for transport, Keeps wire cold electrically |
Aluminum Welding Can Be a Challenge
As a lightweight, non-corrosive, attractive metal, aluminum is used in all kinds of welds. It does present a challenge however because it is a sensitive, soft metal with a tough oxidized layer. When molten, it is susceptible to impurities, and this can result in porous welds that are weak.
Due to higher thermal conductivity coupled with a low melting point, aluminum welding offers a very small time window in which to work and can burn through. 
The principal difficulties when welding aluminum are
1.) Impurities: It is easily contaminated by air, dirt, or water.
2.) Oxidation: Aluminum's top layer is an oxide that melts at higher temperatures. This requires heat, but with the risk that your burn the aluminum underneath this layer.
3.) Porousness: When molten, aluminum will absorb hydrogen as it heats. If bubbles form, they will cause the metal to become porous and weaken.
4.) Thickness: Thin aluminum is at risk for burn-through while thicker pieces require sufficient penetration for a strong weld.
Selecting the Right Type of Welder for the Application
While both TIG and MIG welding can do good aluminum welds, TIG welding is the more often used of the two processes.
The difference, however, between MIG and TIG welding is in the welding equipment used. The TIG welder will use a tungsten electrode.
This electrode maintains a weld puddle. At the same time, the welder will put filler rod material inside the puddle manually. 
A MIG welder for aluminum uses equipment that is specifically designed and manufactured specifically for aluminum. When using a MIG welder for aluminum welding, a spool gun will be included. This type of gun houses an aluminum filler coil inside a cartridge on the gun's handle.
The aluminum filler wire is fed through the gun because it is not rigid enough to withstand being pushed otherwise. The use of MIG welding for aluminum is not common, particularly by beginners.
Making a Budget Choice
If you are on a limited budget or are just not ready to invest a lot of money, economical aluminum welders exist. Elements that will influence the price include the amperage range, cooling system, duty cycle, and accessories.
Standard Required Features
The standard features necessary are:
With a more economical choice, these features will be more limited. Limited features are fine depending on the welding application.
How Often Will You Be Welding Aluminum?
If you only occasionally need to weld aluminum, you may want to consider a more economical option. Because aluminum has a higher melting point than other metals, the welder must arrive at higher amperages to create the necessary heat.
Economic choices use air cooling methods. They do not use methods to cool a TIG torch, meaning that welds will be smaller and shorter. Long or large welds require an arc for longer with too much heat being generated.
An economical choice will also not usually arrive at a sufficient amperage for thick metal pieces. These welders generally don't have adequate penetration power.
Also, more breaks when welding will be required due to the heat. Without breaks, you can damage your equipment. Check out duty cycles when selecting.
Standard equipment with a more economic choice will include a welding torch, a foot pedal, and a regulator. When considering general costs, remember to figure in the argon shielding gas.
More Expensive TIG Welders
A premium high-performance welder will possess the same characteristics as the budget welders but with more! A premium performing TIG welder will feature a water-cooling system that is integrated into the machine.
In this manner, torch heat-build-up will be substantially reduced. As a result, these machines will feature higher amperage and a duty cycle that lasts longer. 
Accessories included will also be of higher quality. Foot pedals and regulators will be precision instruments, torches may be ergonomic, and clamps and accessories for the torch will probably be heavy-duty.
A beginner may not require this level of welder, however, if you have the possibility to invest more, welding will be a bit easier and more enjoyable.
Purchasing Considerations
When you are searching for an aluminum welder you should evaluate 
What you will be welding?
A TIG welder is ideal for aluminum and stainless steel because of the type of penetration possible and thanks to the lack of contaminants present in the weld.
 What features do you need for your welding projects?
AC is optimal for aluminum due to high-frequency pulses for clean weld puddles as well as heat control.
What amount can you spend?
This is important. Decide how much you can spend, what features you need, and then search for the best aluminum welder for your money.
Once you have established these factors, investigate these features
Duty cycle with output power

Foot pedal or not?
Finally, always consider the cost of shielding gas when finalizing your budget.
Our Recommended Best Aluminum Welders for Beginners
Even though aluminum welding is challenging, and more so than other metals, it still can be performed by beginners.
Best Overall Aluminum Welder for Beginners
1.) YesWelder TIG-250P Aluminum TIG AC/DC Welder with Pulse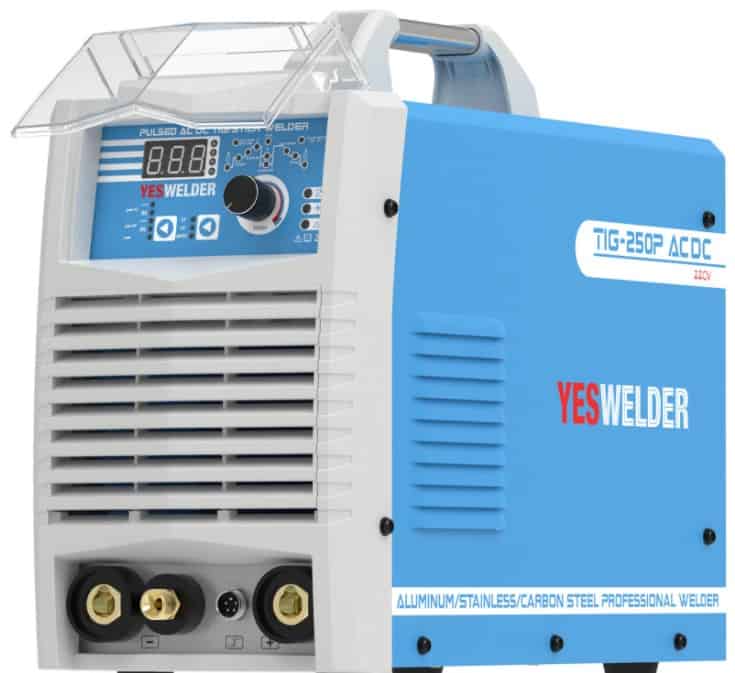 This aluminum welder from YesWelder comes with an outstanding pulse feature. The modulation of the pulse allows you to remove oxidation from the surface.
It also prevents impurities from entering the weld puddle. Digital settings facilitate operation except for the amperage setting which is analog that does adjust easily. The YesWelder adjusts settings while you are welding so that you can keep your arc consistent.
This TIG welder also integrates a 2T/4T trigger locking device so that hand fatigue is reduced if you have longer weld beads to do as in duct seams.
The torch button is a bit stiff to press and maintain held down. This welder comes with a foot pedal that is a 5-pin metal pedal that can help with the torch pin stiffness.
The machine is AC and can weld aluminum without difficulty. A gas regulator could have improved this welder, but nonetheless impresses with its spot-welding timer, square wave mode, and dirty power ability with the use of a generator.
10 to 165 amperage and 5-to-250-amp stick welder round out this attractive TIG welder.
Pros
Pulse feature to remove oxidation

Digital settings

Analog amperage setting

Dynamic adjustment during welding

Trigger lock

5-pin metal foot pedal

AC machine

Spot-welding timer

Square wave mode

Flip-up front dust cover

Dirty power generator friendly 

IGBT Inverter
Cons
TIG torch could be better quality

The torch button is stiff

No gas regulator
Runner-Up Choice Best Aluminum Welder for Beginners
2.) Eastwood AC/DC TIG 200 Welder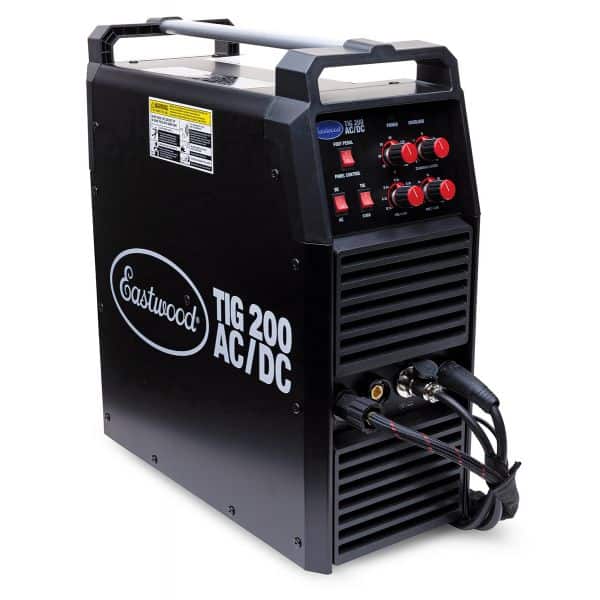 This particular welder is an updated and upgraded version of the previous one and the improvements are impressive and can be very helpful for beginning welders.
The Eastwood TIG 200 features square-wave power so that cleaning is improved on aluminum surfaces. Although great for non-pros, this Eastwood is industrial grade quality. The manufacturer does accept returns without hassles.
This little jewel comes with lots of features like doing beautiful joints on both steel and aluminum whether you are working with very thin sheets to a full ¼-inch metal piece. It's great for automotive bodywork.
A foot pedal features rocking action and the flow meter quality has been improved with this upgrade. The duty cycle is an impressive 60%@2190A if you use 240V power or 60%@143A on 120V.
Pros
Gas flow meter

Duty cycle 60%@190A

16-foot lead on the foot pedal

The torch has a flex head

High-frequency arc starts
Cons
More expensive

No adjustable pulse control

No 2T/4T trigger lock
Most Versatile Best Aluminum Welder for Beginners
3.) Hobart Handler 500563 MIG 210 MVP Welder
Hobart – 500553 Handler 210 MVP MIG Welder
One 10 ft. (3m) H100S4-10 gun, One 10 ft. (3m) work cable with clamp, Built-in gas solenoid value and dual-gauge regulator with gas hose

Welder Dimensions: 10.62" W x 19.5" L x 12.37" H | Welder weight: 79 lbs. | Input Voltage: 110/115/120 V – 220/230/240 V | Material Thickness: 1/4" – 3/8"
Prices pulled from the Amazon Product Advertising API on:
Product prices and availability are accurate as of the date/time indicated and are subject to change. Any price and availability information displayed on [relevant Amazon Site(s), as applicable] at the time of purchase will apply to the purchase of this product.
As aluminum welders go, this welder is quite versatile. Not only will it weld aluminum, but can weld mild steel, stainless steel, and cast iron and steel with the correct filler metals and appropriate gases.
It is designed with beginner welders in mind, and nonetheless, it can weld 24-gauge 3/8-inch stainless steel and do several professional tasks such as maintenance, repairs, etc.
As you acquire experience, you will appreciate the seven different voltage positions because it allows for more precise welding, less to clean afterward, and smart welds. The ARC performance is exceptional with any power source.
This Hobart performs well with 115V or 230V and will adjust automatically to the selected input power. To assist beginners, it comes with a setup chart and an owner's manual.
Pros
Easy setup

Versatile for multiple welding applications

Designed for beginners, but fine for pros

Exceptional ARC performance
Cons
A bit more expensive

A bit heavier when moving
Check Price and Reviews on Amazon
---
What to Search for When Purchasing a Welder for Aluminum
1.) AC/DC
AC is necessary if you want to weld aluminum because the layer of oxidation creates problems. Alternating current helps deal with these difficulties.
2.) Duty Cycle
The Duty cycle is important because it informs you as to how long the welder can work within an interval of ten minutes.
3.) Ease of Use
Because aluminum welding is different from other kinds of welding, you need a welder that is easy to operate. If you aren't able to run the welder correctly, you won't get a precise result.
4.) Heat Control
Whereas MIG welders will create more heat, to weld aluminum a pulse feature will help you control heat. A machine with a pulse feature will switch from a full load to a low load current and the torch will maintain pressure as the head cools.
5.) Output Power
The final welding result will depend heavily on an aluminum welder's amperage. If you need to weld thicker metal pieces, a machine with higher amperage is recommended. For thinner aluminum, a lower amperage will be sufficient.
In Conclusion
When choosing as a beginner, the best welder for aluminum, research the welders that interest you thoroughly and consult professional reviews.
All three of the aluminum welders listed here will get you started and support you well with your new welding application, and remember your PPE.